CenterState Bank, StarterStudio and Embry-Riddle Partner to Support Local Business Entrepreneurs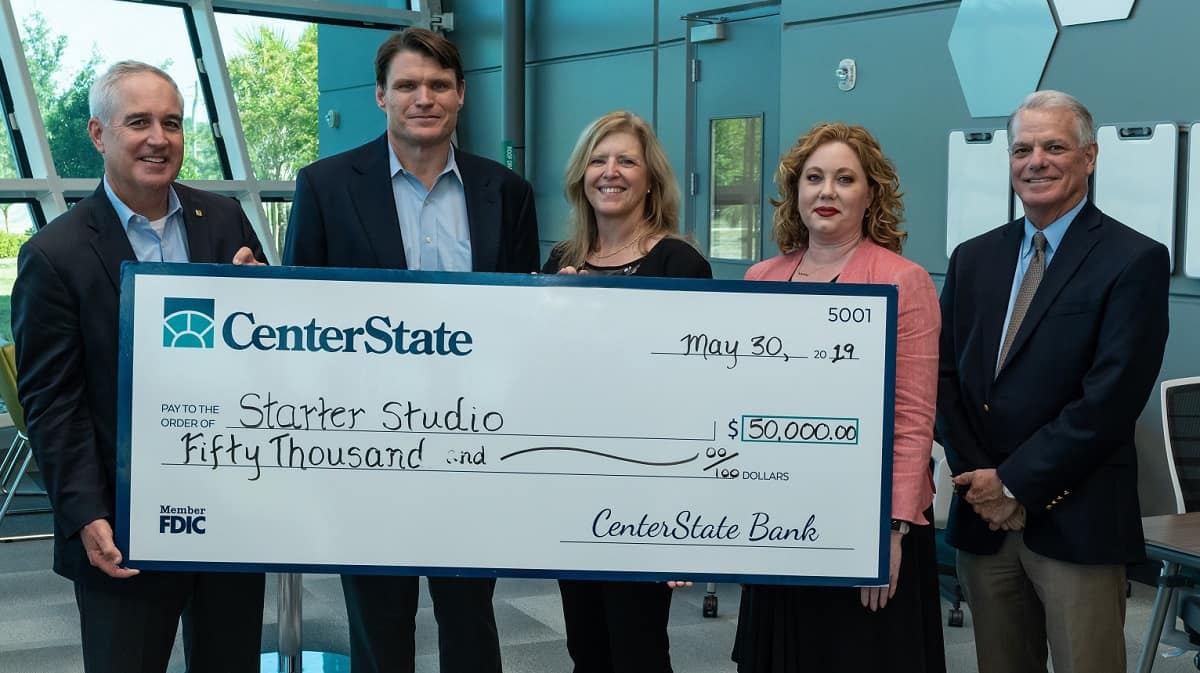 Embry-Riddle Senior Vice President for Administration and Planning Rodney Cruise hosted officers of CenterState Bank and StarterStudio at the John Mica Engineering and Aerospace Innovation Complex (MicaPlex) at Embry-Riddle's Research Park this past Thursday for a check presentation to support small local business entrepreneurs in central Florida and startup businesses at the MicaPlex.
CenterState Bank's President Mike L. Sleaford, Vice President Mellissa Slover-Athey and Senior Vice President Phil Zeman presented a $50,000 check to Donna Mackenzie, Executive Director of StarterStudio, an Orlando-based nonprofit that is creating a robust entrepreneurial community for tech-enabled startups and other innovators that are fueling to Florida's growing technology economy.
Sleaford said CenterState Bank has a history of serving small businesses by keeping decision-making local and addressing their immediate needs.
"StarterStudio's approach of training, mentoring and funding is all-encompassing and provides local businesses all the resources they need to be successful," Sleaford said. "They have an excellent support system in which collaboration is very evident."
In 2017, Embry-Riddle selected StarterStudio (then named FireSpring Fund) to receive $1 million to nurture and support early-stage technology companies at the MicaPlex as one of the original resident Nexus Partners.
"StarterStudio has played a transformative role in accelerating new companies throughout central Florida, including promising startup businesses at the MicaPlex," said Cruise. "And CenterState Bank, with its commitment to the region's business community, recognizes the importance of StarterStudio's efforts to boost central Florida's economy."
About The John Mica Engineering and Aerospace Innovation Complex (MicaPlex)
The MicaPlex is the cornerstone building of the Research Park at Embry-Riddle Aeronautical University in Daytona Beach, Florida. Named for former U.S. Rep. John Mica (R-Florida) in honor of his key role in supporting the university's educational and research endeavors, the MicaPlex presents a unique opportunity for business and the university community to collaborate, develop, refine and bring new products and technological services to market.
As an incubator space, the facilities and tenants of the MicaPlex provide a network of resources that includes Nexus and Resident Partners, the Daytona Beach, Florida and Prescott, Arizona campuses and the extensive network that is the Worldwide Campus.