Business Students Provide Tax Aide to Prescott Community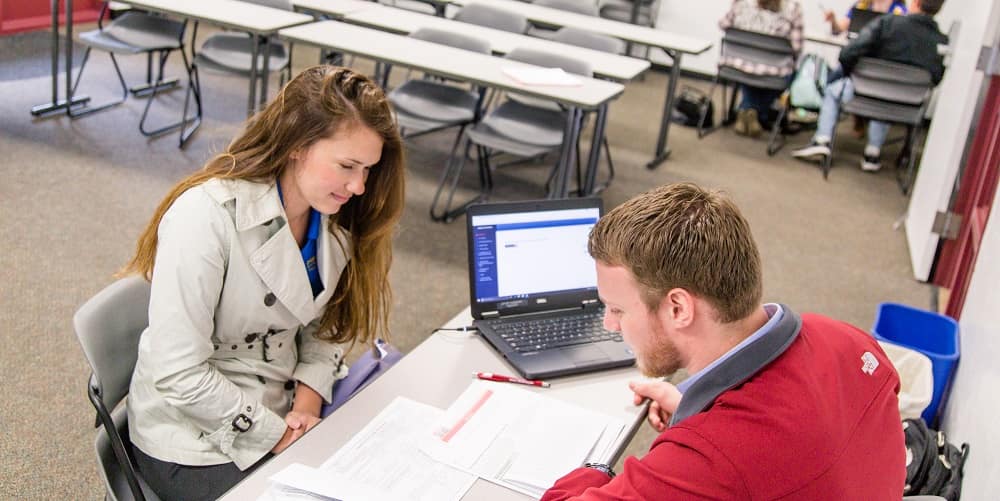 One of the advantages of an education at Embry-Riddle Aeronautical University is the ability to obtain hands-on, real-world experience in a student's chosen field. Such was the case with Dr. Cindy Greenman's BA 439 Federal Taxation class as her students spent half of their spring semester volunteering to provide AARP Tax Aide to the Prescott community.
Over the course of two and a half months, the students filed more than 150 federal and state returns from the on-campus location, free of charge.
"The students now know more about federal taxation they every could of from just sitting and listening to lectures or doing 'practice returns,'" said Greenman. "They met with real clients and dealt with real situations. That is something that cannot be taught or recreated in the classroom."
Many of Greenman's students began prepping long before tax season. Some students spent their prior Winter Break studying to become Federally Certified Tax Preparers. All students were certified to handle basic returns. Others took additional training and tests to become certified for specialized situations such as military, international students, rental properties, etc.
"Being able to apply what I learned in the classroom to real tax preparation was a great opportunity, and I also enjoyed working with people from the community," said Embry-Riddle senior Kayla McLaughlin.
As part of the class requirements, students had to volunteer for a minimum of three Saturdays. All did the minimum and several did much more. A few of the students worked as many as six Saturdays throughout the semester.
Feedback from the community was very positive. As all other Tax Aide locations in Yavapai Country are on a first come, first-serve basis, the Embry-Riddle location allowed residents to set appointments. Many senior citizens expressed their gratitude just for the fact they didn't have to stand in line for 4-5 hours as they had done in the past.
"When my tax preparer passed away last year, I was greatly relieved to find that Embry-Riddle was making appointments for free tax prep," said Prescott resident Iona Singleton. "I deeply appreciated the service and was happy that the student was getting experience and class credit-- It was a win-win, for sure."
Greenman added that it was nice to bring community members onto campus and show them that Embry-Riddle is so much more than aviation.
"I wish we could have accommodated all who called and emailed," added Greenman. "We could have done twice as many returns if we had more volunteers/students."
With the success of this year's Tax Aide, Greenman plans on offering this service to the community every spring semester.
"We would like to thank Dr. Cindy Greenman and the students of the Embry-Riddle forensic accounting class for their assistance with preparing and e-filing well over 100 Federal and Arizona State tax returns this filing season," said Janelle Riedl, state training specialist for Arizona AARP Tax-Aide Program. "The taxpayers who used this valuable service this season have expressed their appreciation for the addition of this new site and I look forward to continuing the partnership next season."