Stepping Up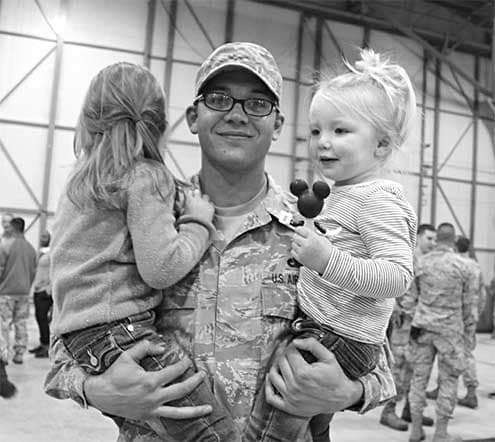 Worldwide Scholarship is helping Air Force mechanic Chris Steppe earn his degrees.
An aircraft fuel systems mechanic in the U.S. Air Force, Chris Steppe knew he wanted to further his education.
"Throughout my life, I have always tried to push myself to my highest limits," he said. "The mentors I've had instilled in me the importance of pursuing a higher education and that there's always room for self- improvement."
But the 31-year-old father of four children had limited time and money. Plus, during his 11 years in the military, Steppe had moved and been stationed overseas multiple times. So he needed an educational program that was flexible and accessible worldwide.
Being selected for this scholarship was an indicator that I was on the right track in pursuit of my education and future. And it shows my children that if you work hard at something, you can succeed.
His supervisors at Luke Air Force Base in Arizona encouraged him to pursue his bachelor's degree through Embry-Riddle Worldwide. Steppe went even further and enrolled in Embry-Riddle's 4+1 Program, which will allow him to complete his master's degree in Information Systems Security and Assurance after completing his bachelor's degree.
"The 4+1 program was a perfect fit for me," he said. "I'm able to complete requirements towards my Bachelor's and Master's degree programs, which allows me to spend more time with my family."
However, Steppe says his educational goals would have been hard to attain without scholarship support. When his tuition assistance from the Air Force was completely maxed out for the year, he received a Worldwide Campus Patron's Scholarship from Embry-Riddle that help him cover his educational expenses.
"As a father to four children, it goes without saying that money can be hard to come by at times, and this scholarship was a complete blessing in the support of my pursuit of higher learning," he says.
Steppe said working toward his degrees has improved his self-confidence and career options while in the military and will continue to help him after his eventual retirement from the Air Force.
"Being selected for this scholarship was an indicator that I was on the right track in pursuit of my education and future," Steppe said. "And it shows my children that if you work hard at something, you can succeed."