Wind Tunnel Insights Help Make Ship-Deck Landings Safer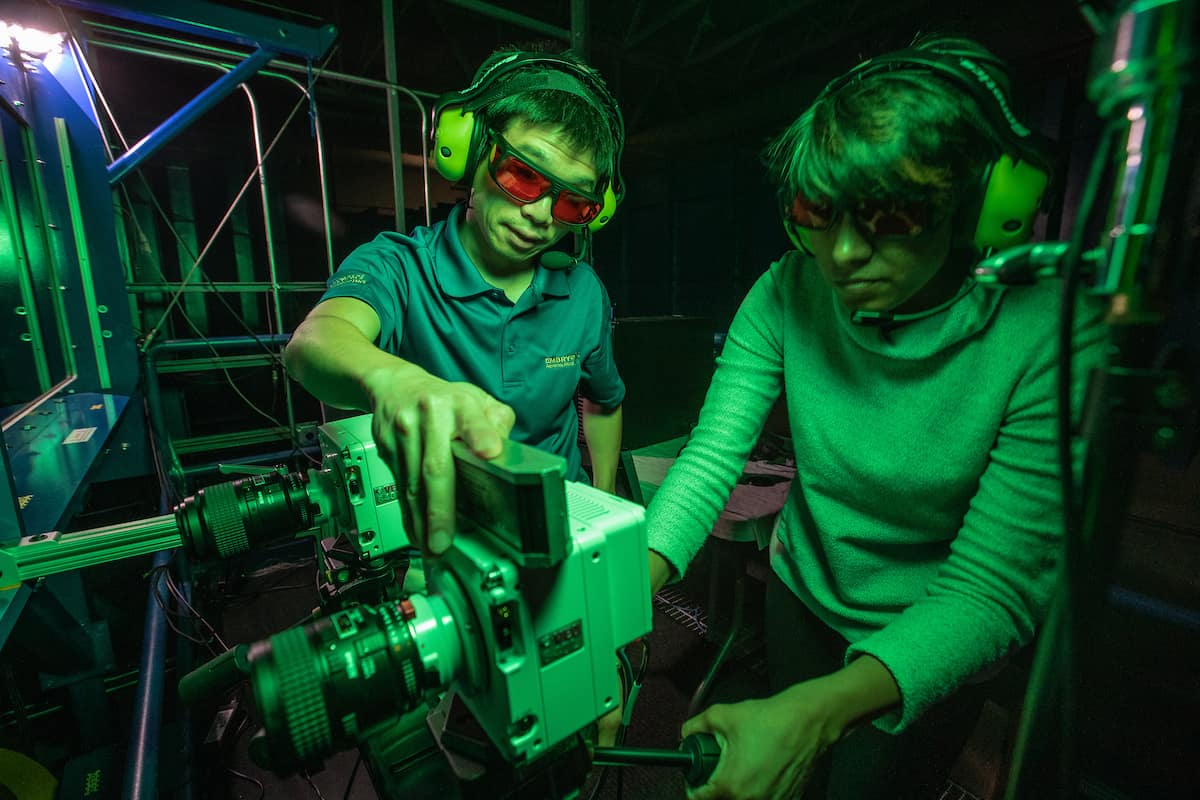 Cutting-edge research employing Embry-Riddle Aeronautical University's newly constructed subsonic wind tunnel will provide crucial data to increase the safety and success of helicopter, airplane and drone landings on ships.
Embry-Riddle Ph.D. candidate Dhuree Seth, whose work investigates the "airwakes" of ships and the many challenges faced by aircraft making at-sea landings, said such experimental aerodynamics represents one of the most important tools in the aerospace industry for analyzing and solving engineering problems.
"Distinguished Professor of Aerospace Engineering Dr. J. Gordon Leishman gave me an opportunity to work in one of the best wind tunnel facilities in the world," said Seth. "This was a great way to explore, learn and indulge in experiments that involve various experimental techniques."
The project, which employs the wind tunnel's Particle Image Velocimetry (PIV) technology to study the airwake of a five-foot-long simplified model of a U.S. Navy frigate, will contribute to a bigger research project on computational fluid dynamics of ship airwakes. The larger project is being managed by Penn State University's Vertical Lift Rotorcraft Center of Excellence on behalf of the U.S. Department of Defense. Leishman is the principal investigator of Embry-Riddle's part of the project.
Understanding the complex aerodynamic flows produced by the non-streamlined shapes of Navy ships is both important and extremely complicated. The airwake of such ships can contain eddies and vortices that can render ship-deck takeoffs and landings difficult and sometimes deadly. Determining what to anticipate in such takeoffs and landings is a process requiring extensive data and computation. The research being done at Embry-Riddle's advanced wind tunnel is among the first such research to involve high-speed PIV. This technology measures the temporal details of air flow motion using sub-micron smoke particles in combination with advanced time-resolved cameras. The research also employs several dedicated supercomputers for image acquisition, processing and storage.
Eventually, the results from the research will make their way into the models that are used in flight simulators, which can help pilots better train to safely land their aircraft on ships.
Seth began her research, which received funding for five years, in the summer of 2016. After studying computer science and engineering as an undergraduate, she earned a Master of Science degree in aerospace engineering at the University of Dayton, where her interest in research using wind tunnels was sparked. When she began her Ph.D. program at Embry-Riddle, she worked as a graduate teaching assistant for the Experimental Aerodynamics lab class, in which students work both with Embry-Riddle's open-circuit wind tunnel and with the wind tunnel facility in Embry-Riddle's Research Park. The facility, directed by Leishman, is one of the most unique and capable university-level wind tunnels in the United States.
Advancing Research and Education
This new wind tunnel supports undergraduate education. In wind tunnel lab classes, students learn about the components of the wind tunnel and their functions, said Dr. Zheng Zhang, a senior research scientist of Aerospace Engineering and co-director of the wind tunnel facility. Students learn how wind tunnel facilities can be applied in future projects in aerospace engineering and related fields. In the lab, students perform a wind tunnel test with a practical purpose, such as conducting a calibration of the flow and turbulence intensity in the test section or measuring the aerodynamics of a wing. During their lab time, the students operate the wind tunnel control and data acquisition systems, with instruction from Zhang or Leishman. After the lab, they analyze their data and write a technical report on their observations.
"I believe these labs are very important experiences for students who want to commit themselves in the areas of engineering or STEM," said Zhang. "The tests focus on not only basic aerodynamic theory, but also the needed engineering skills using classic and modern experimental methods and equipment. In this class, the students will learn and practice experimental techniques, technical report writing, as well as the design of experiments. All of these skills help students to expand their career options in the fields of wind tunnel, ground and flight testing."
Posted In: Applied Science | Research