Student Research Symposium Teaches Real-World Skills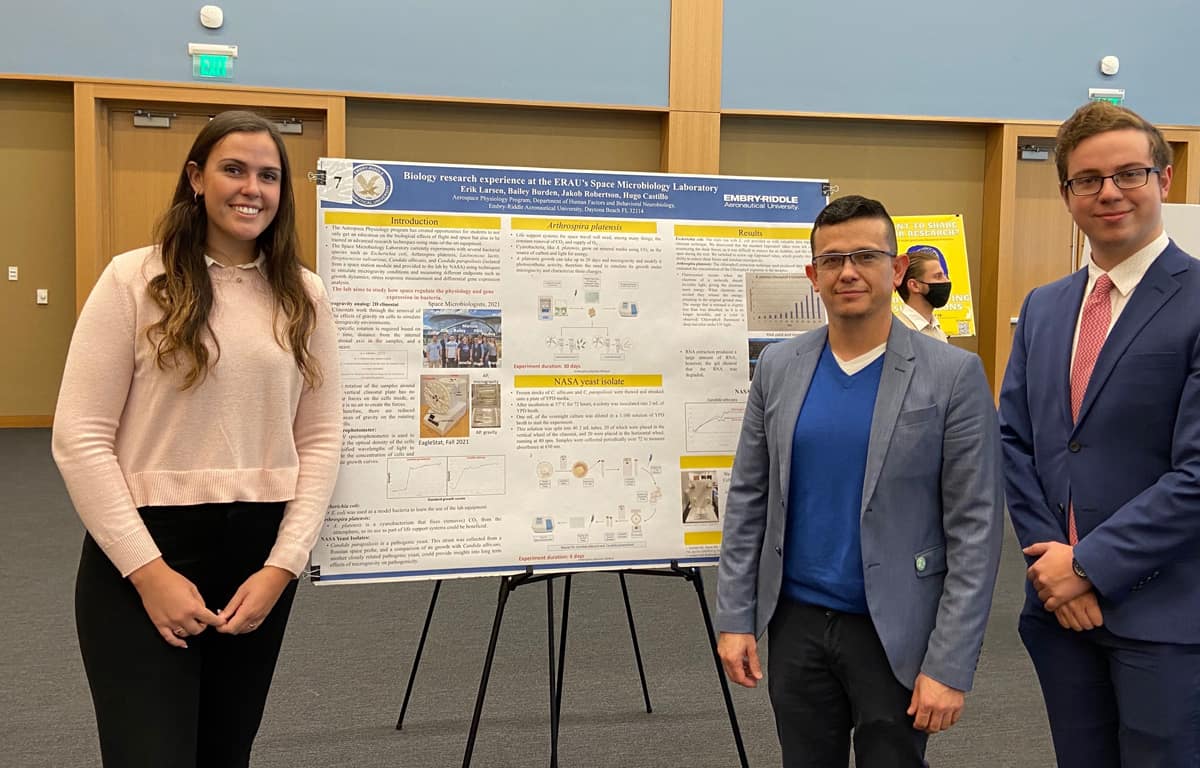 While preparing for Embry-Riddle Aeronautical University's 2021 Student Research Symposium, Aerospace Physiology senior Erik Larsen learned that bacteria grow better in microgravity. More importantly, he said, he learned that research "takes time and dedication."
Larsen and the research team he led, including seniors Bailey Burden and Jakob Robertson, made a professional commitment to their research. To their faculty mentor, Dr. Hugo Castillo, their effort was evident.
"Erik, Jakob and Bailey are three remarkable students that, despite their heavy academic load and extracurricular activities, always find time to do research," said Castillo, assistant professor in the Department of Human Factors and Behavioral Neurobiology. "And they are great at it! During the presentation, [Larsen] stood in front of that poster and described it to the judges and students with great pride and certain of the great value of his work. The three of them did, and I will most definitely miss having them in my lab once they graduate."
The experience that Larsen's team gained shows exactly why the university holds the research symposium each year, according to Dr. Wes Lewis, director of the Office of Undergraduate Research on the Daytona Beach Campus.
"We want students to be able to share their research and work out bumps so that when they are ready to go out into the wider world, they're able to communicate effectively with any audience," Lewis said. "That's a big thing, to make sure they aren't speaking jargon or shop talk and can effectively communicate with anybody. That's an important job skill."
This year, about 150 students participated in the symposium.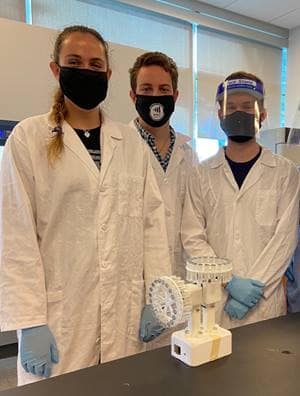 Senior researchers Bailey Burden, Erik Larsen and Jakob Robertson.
Larsen's project, which simulated microgravity conditions and experimented with the growth, stress response and differential gene expression of three species of bacteria, won first place in the team-based projects category.
The graduate team-based projects award went to a project that evaluated the effects of Covid-19 on schools that offer Aviation Maintenance Science programs, which was led by Robert E. Gallagher.
A project by Michael McPherson, "How U.S. GDP Affects Prison Population," won first place in the individual projects category.
"The best part of the presentation was he went into the research with an open mind, like a true economist," said Dr. Jayendra Gokhale, associate professor in the David B. O'Maley College of Business, who acted as McPherson's faculty mentor. McPherson is a senior in Aerospace Engineering.
First place in the graduate individual award category went to Krysh Rajendran, for a project titled "Phonocardiogram Signal Classification using RNN."
Joseph "Seph" Adams was first in the virtual category with his project, "Sexuality: The Empathetic Liberator." His faculty mentor, Dr. Emily Faulconer, associate professor in the Department of STEM Education, said she thought being able to participate virtually was of great benefit to Adams, who is an Embry-Riddle Worldwide student, a sophomore studying engineering.
"I think the symposium was a perfect opportunity for Seph to gain experience in sharing his research ideas and methods with a wider audience using digital communication tools, which is increasingly relevant as many conferences have transitioned to an online or hybrid platform in recent years," Faulconer said. "As his mentor, I am proud of the progress he made and the quality of his final product shared in the symposium."
The graduate student award for a virtual presentation went to Edmond E. Larsen, for his "Predicting Solar Flares with Machine Learning."
Learn more about the 2021 Student Research Symposium.
Posted In: Applied Science | Research