Virtual Training Expands Learning Opportunities for Embry-Riddle Students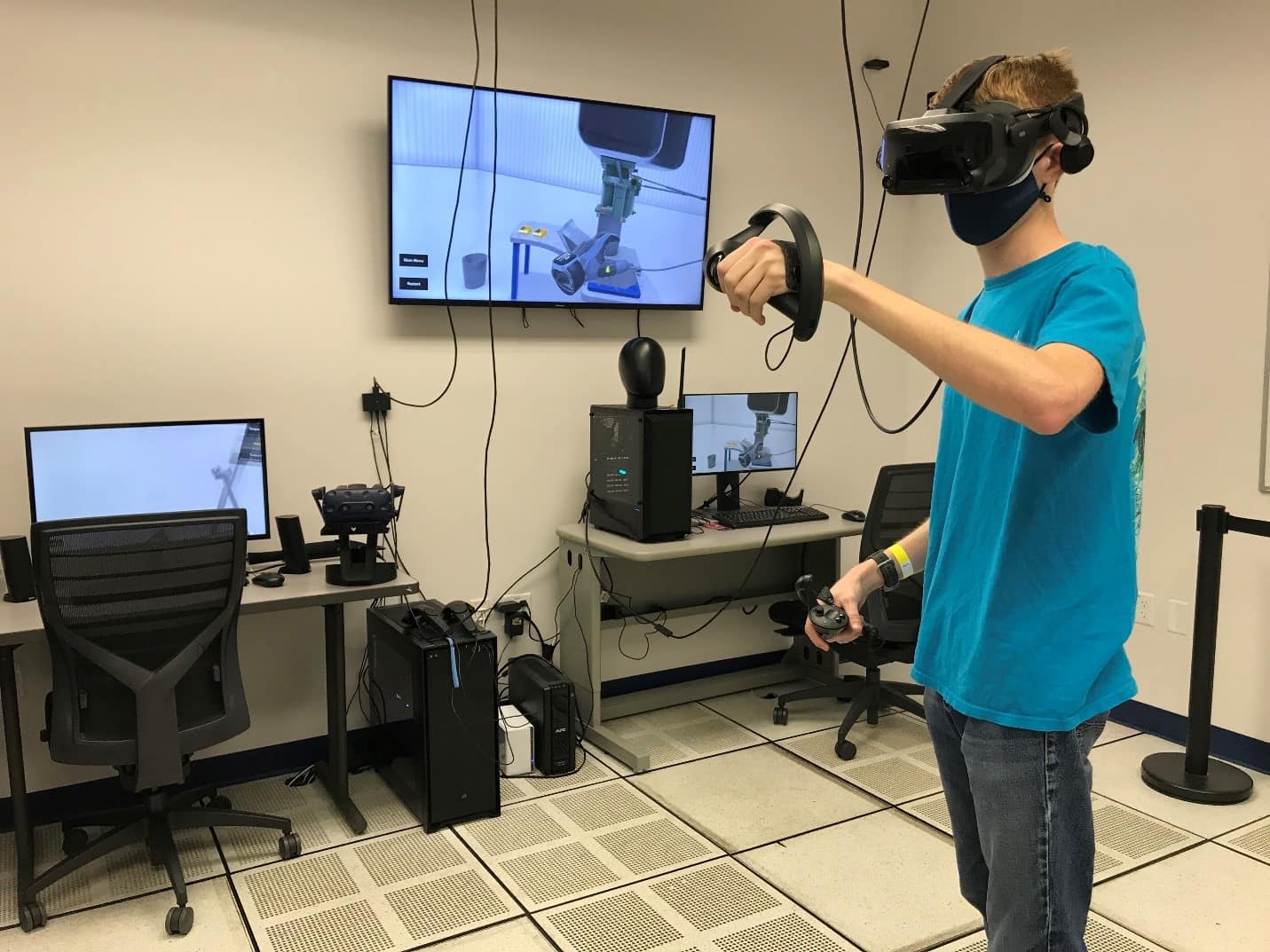 New extended-reality applications — allowing simulations of procedures from replacing an airplane carburetor, to performing a pre-flight engine check — are coming online at Embry-Riddle Aeronautical University, expanding learning opportunities for students in a number of majors.
Cameron Pike, a senior in the Aviation Maintenance Science program, worked on a computer program that would allow students to complete a carburetor removal and replacement project in a virtual-reality (VR) environment. First, Pike along with Aviation Maintenance instructor Jay Lacy, helped design and build a training stand to accommodate an actual carburetor, built alongside cockpit controls situated at eye level, recreating in a VR environment where the controls would be accessible in real life.
Integrating the procedure into the virtual space fell to Extended Reality Lab Manager Trevor Goodwin, whom Lacy calls "the VR guru of Embry-Riddle." The lab is housed in Embry-Riddle's College of Aviation.
Pike, who has been doing beta testing on the VR application, said the system is performing beautifully.
"It looks phenomenal. It looked like I was actually in front of the stand that I built," he said. "In my opinion, it's a carbon copy of the actual procedure. Every step is the same."
Lacy agreed.
"It looks like you're in an airplane hangar," he said. "It's really startling. You find yourself grabbing a wrench out of a toolbox, as well as being able to pick up the controls and manipulate the throttle."
Lacy said the application — which was supported by Aviation Maintenance Science Department Chairman R. Eric Jones and Associate Dean of Aeronautical Science Daniel Friedenzohn — will not only provide practice runs for students learning how to replace a carburetor. It will also be used to do research in such areas as Human Factors and performance management.
Embry-Riddle's other new extended-reality setups include an engine disassembly application, which features a turbine engine, a piston engine and a turboprop. As part of the training exercise, a fault is programmed into the engine, and students are tasked with identifying it then explaining why/how the part is malfunctioning.
The virtual environments available to Embry-Riddle students are extremely faithful to real life — even enhanced. All of the nuts, bolts, washers and other small parts can be removed with recognizable tools and replaced. All of the engine parts "animate" and can be grabbed and worked on. If the wrong gasket or another inappropriate part is used, the system records the error so instructors can emphasize the correct step in future lessons.
Goodwin noted that the application does not replace classroom lessons; rather, it allows for "mixed learning." With future software and hardware advances, replacing some classroom lessons with VR applications could become a possibility.
Mixed reality is incorporated into another configuration being developed by Aviation Maintenance Science, as well. Making use of a retired Mooney aircraft that has been cut in half so that the cockpit is separate and exposed, developers are creating a mixed-reality wherein students can physically work the cockpit controls to simulate an engine pre-check, and a software system will sense the controls' movements and register them on the cockpit instruments.
"They'll be able to teach and move everything in that cockpit and physically feel the controls," said Christopher Piccone, instructor of Aviation Maintenance Science.
Cost was a main consideration in developing the engine pre-check system, according to Piccone. An actual engine pre-check, which is performed by pilots at the end of the runway and after repairs are done, burns expensive fuel, so practicing the procedure in a simulator is much more efficient — as well as safer.
Additionally, the simulated engine pre-check could become a useful tool during the pandemic. The back of the cockpit is completely open behind the pilots' seats and, unlike in an actual airplane, no instructor is required within the cockpit during the check, ensuring social distancing is taking place.
The system will be used for supplemental practice at first, Piccone said, but in the long term, it could be leveraged to assist students in earning their Federal Aviation Administration (FAA) requirements.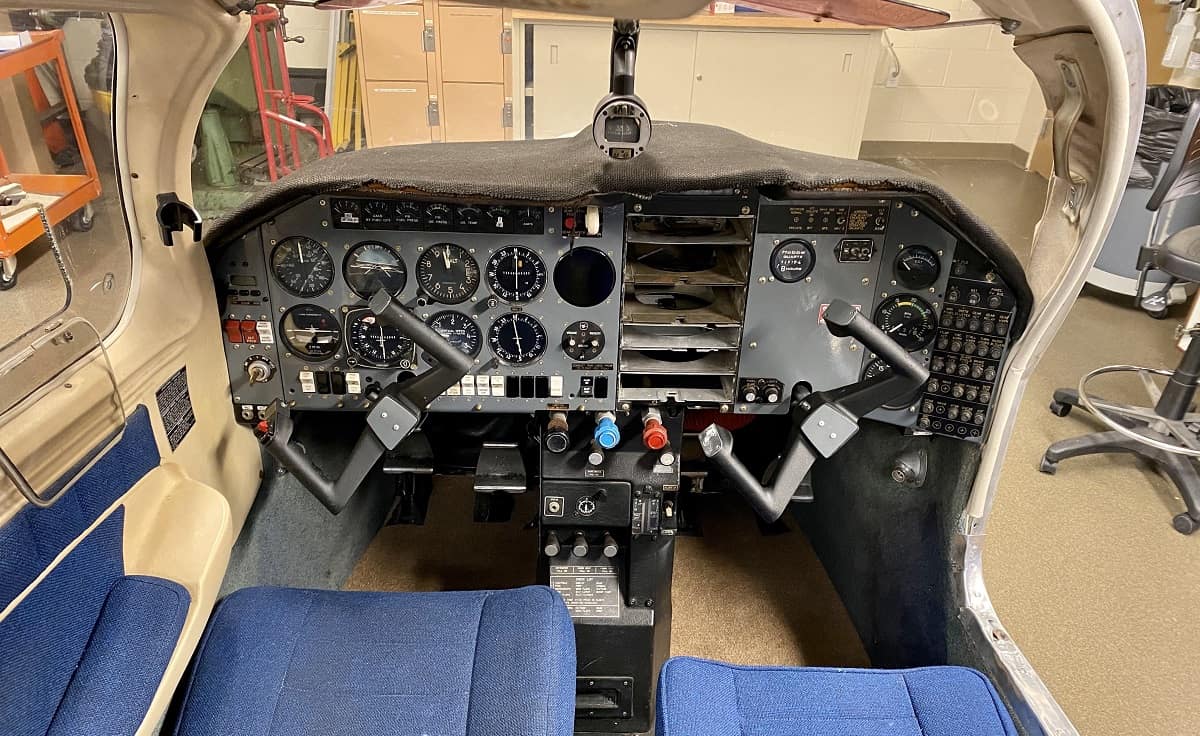 A retired aircraft, cut in half to expose the cockpit, is available to aviation students to practice engine pre-checks in a mixed-reality environment, which offers enhanced safety, efficiency and accessibility. (Photo: Embry-Riddle/Chris Piccone)
"It will be used as a steppingstone to provide data on learning outcomes, leading to further development of augmented technologies and eventually replacement of FAA-approved projects after further testing," Piccone said, adding that his department will share the university's simulator data with the regulating agency.
In the meantime, Embry-Riddle's Worldwide Campus has been upgrading its online Virtual Lab to provide hyper-realistic explorations into aviation safety and unmanned aircraft system operations.
Scott Burgess, associate professor of Aeronautical Science, said the lab, which is virtually accessible from anywhere, "continues as a useful academic tool." It has also attracted attention during the pandemic from entities outside of Embry-Riddle, including the FAA, for whom Burgess did a presentation outlining how the lab functions to benefit students.
The Worldwide Campus also offers the eUnion portal for students who have their own VR goggles, as additional, voluntary course supplement.
"The VR version is a cool bit of tech that may help students make course or program decisions or learn about virtual environments on their own," Burgess said.
Posted In: Applied Science | Aviation | Computers and Technology