Turning Dreams into Reality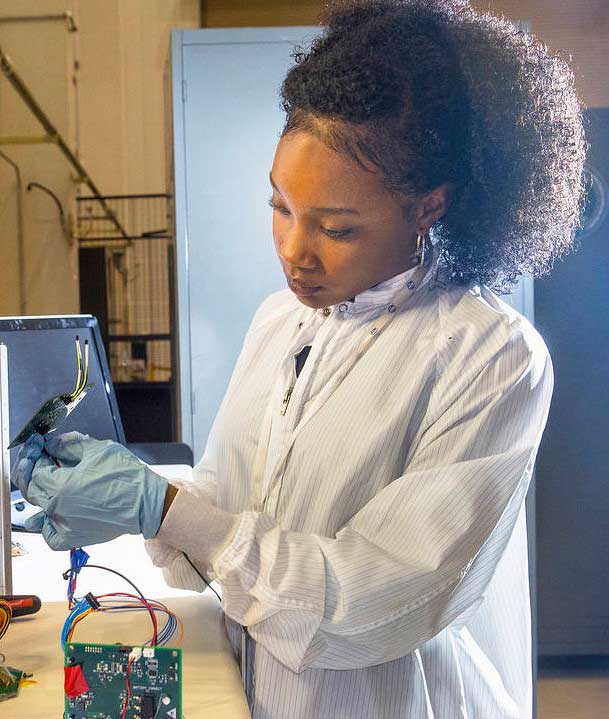 First-Generation Student Naia Butler-Craig is pursuing her dreams, thanks to scholarships
Naia Butler-Craig has been fascinated with engineering and math since elementary school.
"I have wanted to be an engineer for as long as I can remember," said Butler-Craig, who grew up in Orlando, Florida. "I remember at age 9 drawing the entire underbody of a vehicle when I decided I wanted to create the first air-powered car."
After taking an Honors Earth, Space and Science class in eighth grade, she also found a passion for space. In high school, she completed a week of camp at Embry-Riddle, which solidified her decision to study aerospace engineering at the university's Daytona Beach Campus. But she was worried about how her family would afford it.
"My parents were shaking in their boots about the cost, but they said, 'Don't let that stop you,'" Butler-Craig said.
It means a lot that these donors are so generous. It helps me, and it solidifies that I'm supposed to be here.
Luckily, scholarships have helped Butler-Craig and her family bridge that gap.
"Scholarships are the reason that I am in school," said Butler-Craig, a first-generation college student. "If it weren't for the scholarships, I would be in a lot of trouble."
With dreams of earning her doctorate in aerospace engineering and becoming an astronaut, Butler-Craig has never lacked in ability or determination. She has received the university's Stimpson Scholarship, Chancellor's Scholarship, Women of Excellence Scholarship and Donor's Scholarship.
"It means a lot that these donors are so generous," she said. "It helps me, and it solidifies that I'm supposed to be here."
She is also active in National Society of Black Engineers, including overseeing membership for the organization's southeast region as the Region 3 membership chair. Her passion for dance spurred her to create the Dancing Eagles team her freshman year, which performs at Embry-Riddle basketball games.
This past summer, Butler-Craig worked as a systems engineer intern at NASA's Glenn Research Center, investigating CubeSat nanosatellite technology. As a McNair Scholar, she was able to turn her experience into a research project. The research took first place in the physical sciences category for a poster presentation at a McNair Scholars undergraduate research conference, hosted in the fall by Florida International University in Miami. She also received second place for her presentation in the university's undergraduate research expo, Discovery Day.
"If there's a will, there's a way," she said. "And scholarships are one of the ways to help make my dreams more tangible."