Top 10 Ways to Feel at Home at Open House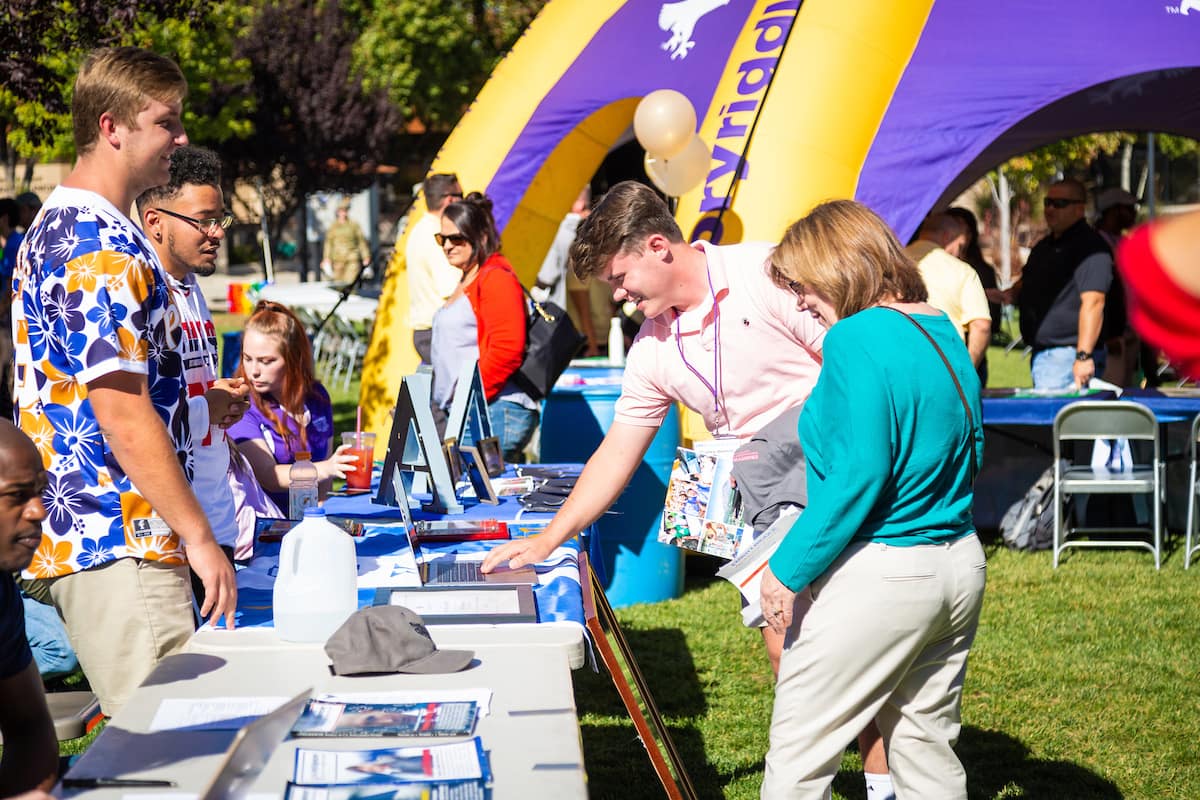 Open House at Embry-Riddle Aeronautical University is a day of discovery – for you and your family.
While most people know all about our global reputation as an aerospace education leader, it will be the first time some of our visitors have seen the campus in person or had a chance to talk directly to our faculty and current students.
"Attending Open House allows for a deeper connection to campus than your average tours," said senior aeronautical science major Dylan Horan, who will be a tour guide at this year's event. "Each college is prepared to show you what those individual degrees can help you accomplish and what facilities they will use in the course."
While we have loads of cool activities aimed at educating and entertaining, a successful open house visit ultimately depends on you and how you approach the day. Horan says he has some vivid memories from his first visit.
"As a huge aviation nerd, touring the flight line and seeing all the new aircraft on the ramp along with the well-oiled operations of the flight dispatch office made me super excited to start my college experience," he said.
So how do you make the most of your campus visit?
"I highly suggest prospective students take a look at all of the clubs and organizations on campus," says Horan. "Getting involved is easy and in my opinion provides the best experience."
Here are 10 simple tips that can help maximize your Open House experience:
Wear comfortable shoes. There is plenty of walking involved and you don't want to be derailed by blisters or sore feet before the day is even over.
Make sure you get a schedule. It's the best way to be sure you don't miss an event or session you're interested in and the handy map that's included can help you get around campus.
Get your swag. That's one of the perks of the visits. We have some free gifts for you and you also can check out the campus bookstore for a lot more cool ERAU school spirit stuff.
Ask every question you can think of. That includes you, too, parents. We are here to give you answers, no matter how serious or silly the questions might seem to you. If it matters to you or your parents, we want to hear about it.
Branch out a bit. You may be pretty sure about what you want to major in, but that shouldn't stop you from checking out presentations or Q&A sessions from other majors or degree programs. You never know what might catch your attention – or change your life.
Make sure you eat. You may be eating here daily for the next several years, so it's important you like what we're cooking (and we think you will.)
Set aside some time to scope out the surrounding area. You won't be spending ALL your time on campus, so it's a good idea to see what else the city has to offer. In our case, whether it's beaches or mountains you love, our residential locations offer more than you can imagine.
Check the weather and dress for it. You will be spending time both in and outdoors. Wear something that will keep you comfortable no matter where you are or what the weather is doing.
Join the club! We have literally hundreds of diverse clubs on campus, covering everything from scuba diving to hiking to designing and building rockets or battle bots. Take time to find a club that's right for you.
Enjoy yourself. Yes, choosing the right college is serious business but our Open House also showcases many of things that will help make your education unique and rewarding – and that includes having fun while you're learning.