Teenage Eagles Earn Black Belts, Become Upperclassmen Before 18th Birthdays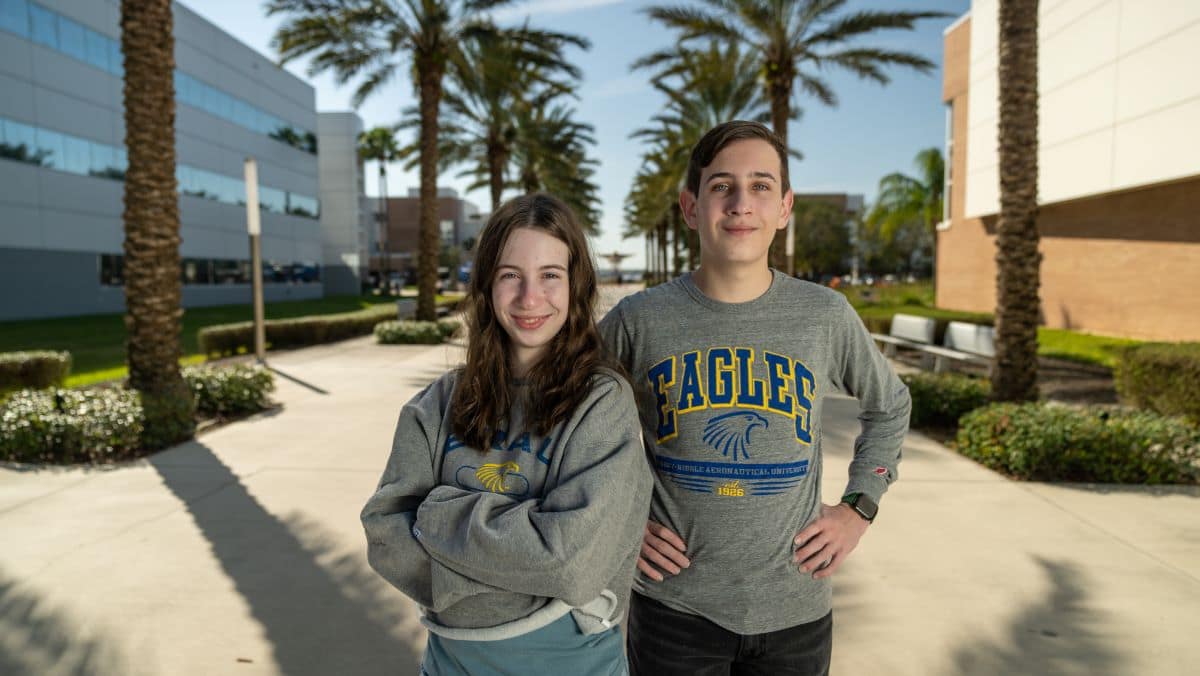 Luca Guida was just 12 years old when he took his first college course.
"When I first went to our local community college, some of the professors saw me walking around and thought that somebody had decided to bring their child to campus," he recalled.
Now 15 years old, Luca became one of the youngest students at Embry-Riddle Aeronautical University's Daytona Beach Campus this fall, along with his sister Sofia, who is 17 years old. The siblings, from Tampa, Florida, are both in the university's Honors program and arrived on campus with enough college credits to qualify as upperclassmen.
Their mother, Meghan Guida, said it was tough to let them move across the state, but the siblings had reached a point where they needed to be more academically challenged.
"It wasn't fair to stifle them academically because of their age, and we felt that Embry-Riddle was really a great fit for them," she said. "The faculty did such a great job reaching out to them and making them feel welcome and letting us feel comfortable as parents that they wouldn't be just a number."
Luca and Sofia said they chose Embry-Riddle for the strong programs offered and the smaller campus, which allows for a more personal experience.
"The Embry-Riddle campus makes a good first impression," Luca said. "It's beautiful, easy to get around, and since it is a smaller campus and student population, everybody sort of knows everybody."
Sofia agreed, saying it has been an adjustment living away from her parents, but home is just two hours away.
"The faculty has been very welcoming and very willing to help us with anything we need," she said. "They really want to make sure their students succeed."
Discipline Drives Success
Luca and Sofia said they don't think of themselves as child prodigies, instead attributing much of their academic success to being homeschooled for years as they traveled nationally and globally to compete in various circuits.
"Homeschooling let us go faster and at our own pace," said Luca.
Both he and Sofia are second-degree black belts in Taekwondo and first-degree black belts in Goju-Ryu. Luca started martial arts at age 4, and Sofia began at age 7.
"I think their martial arts background contributed a lot to their success — just the discipline, focus and drive they had to have," said Meghan, who is a pediatric physical therapist.
Sofia said the discipline needed for her and Luca to earn black belts has helped keep them stay on course in college.
"It has allowed us to see that hard work pays off," she said. "While setting goals is important, without having enough self-discipline to put in the hard work, you will have difficulty reaching these goals."
Homeschooling also allowed them to tailor their education to their martial arts travels and experiences, said Sofia. For example, when they were training for a World Championship tournament in Ireland, they spent time leading up to the trip not only training but studying about Ireland.
The siblings took a step back from martial arts competitions when the coronavirus pandemic hit in 2020. Since then, they've focused more on school.
At Embry-Riddle, Luca is majoring in Computational Math and has been accepted to the accelerated master's degree in Data Science program. After graduation, he is considering going to law school. Involved in the astronomy club, he wants to get involved in research and is currently working with Dr. Terry Oswalt, associate dean of the College of Arts and Sciences and professor of Physics and Astronomy. Oswalt is leading an NSF- and NASA-funded project researching a method of determining stellar ages known as gyrochronology.
"Luca has attended several of my research group meetings last semester," said Oswalt. "I'm hoping he'll take on a portion of the project this semester. Astronomers are collecting and analyzing huge amounts of data these days, and we need a lot more data science expertise."
For Sofia, Embry-Riddle's Interdisciplinary Studies program has allowed her to focus on cybersecurity while weaving in her other interests with minors in business administration, computer science, cybersecurity engineering and cybersecurity application management. She and Luca have dual Italian citizenship, and she plans to study abroad in Milan, Italy.
"The interdisciplinary studies program did a good job helping me piece together a major for essentially what I wanted to do," said Sofia, who also plans to earn an accelerated Master of Business Administration.
She said she also appreciates the support she receives from her faculty mentor and program coordinator, Dr. Joanne L. DeTore, associate professor of Humanities and Communication and undergraduate program coordinator for Interdisciplinary Studies.
"Our Interdisciplinary Studies program embraces students who must have a program that pushes limits and plays to their unique strengths and interests," said DeTore. "I am thrilled that we have the right environment at Embry-Riddle to foster such a special and uniquely talented student like Sofia."
Although they have separate lives and their own interests and schedules, the siblings also find support in each other.
"Unless we have something we need to do, we always make sure to have dinner together every night," said Luca. "It's sort of a tradition at this point."
Posted In: Space