NSF Grant Advances Search for Ancient Stars and Student Career Options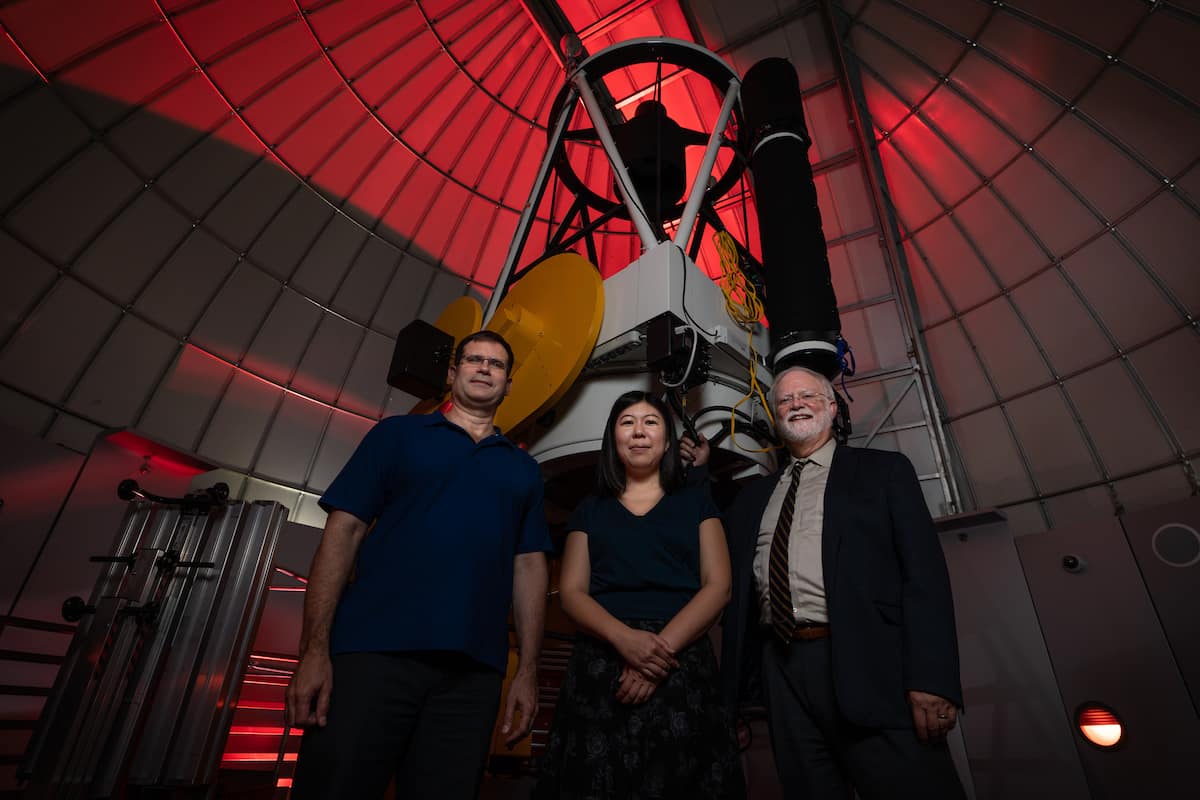 The search for life on a distant exoplanet could get a big boost by determining the ages of stars in the Sun's neighborhood. That's because, although no one knows for sure how long it takes for life to form on a planet, it can take a very long time. On Earth, one-celled organisms appeared a half-billion years after the formation of our solar system. Then it took 3.5 billion more years for multi-celled organisms to appear.
"The main question relevant to the search for life is, 'Which stars are most likely to host habitable planets?,'" said Dr. Terry Oswalt, professor of Engineering Physics and chair of the Physical Sciences Department at Embry-Riddle Aeronautical University, "and the age of a star is one of the main factors in the answer to that question."
An Embry-Riddle project, newly funded by the National Science Foundation (NSF) with a recent grant of $400,000, will assess the ages of some 3,400 star pairs — stellar "twins" born when clouds of condensing gas and dust broke up into two pieces. The work will contribute to the search for far-flung life forms and deepen our understanding of our galaxy, the Milky Way. It will also provide important research experiences for students on Embry-Riddle's Daytona Beach Campus, where the undergraduate-level Astronomy and Astrophysics program is rapidly emerging as one of the nation's largest.
"This type of research experience is essential for the career development of our students," Oswalt said. "Two-thirds of astronomy graduates in the United States are working in industry because the physics and math skills they acquire are in big demand. Looking for a tiny planet circling a pinpoint in space or looking for a neutron star in a fuzzy nebula is not much different than looking for a blip in the stock market or a hazy spot in a mammogram. Sifting information from big data sets is what astronomers do."
In Search of Ancient Stars
Oswalt and his colleagues — Dr. Tomomi Otani, assistant professor of Physics and Astronomy at Embry-Riddle, and Dr. Derek Buzasi, the Whitaker Eminent Scholar in Science at Florida Gulf Coast University — will leverage data on stellar pairs collected by NASA's Kepler extended "K2" and NASA's new Transiting Earth Survey Satellite (TESS) missions. The data will be used to measure the target stars' rotation rates, by detecting the slight dimming that occurs as rotation brings "starspots" across the side of the stars facing Earth.
Otani will train and supervise undergraduate students in the use of Embry-Riddle's one-meter telescope in Daytona Beach, Florida's largest research-grade telescope. They will obtain follow-up imaging data on the Kepler and TESS stars that show evidence of rotation periods a bit too long to be accurately measured by the space missions. The team of researchers will also use ground-based telescopes in Chile, Arizona and Spain operated by the Southeastern Association for Research in Astronomy, a 15-university consortium led by Embry-Riddle.
The research will compare the rotation rates of the stars within each pair. Since they were formed in the same original nebula, the companions within a given pair are the same age. Theory predicts that they should have consistent rotation rates.
"In principle, stars, like people, get less active as they age," said Oswalt. "The boiling motions caused by heat trying to get out of the interior of a star like the Sun interact with a star's rotation to create a magnetic field. That magnetic field reaches out into space and, in the case of the Sun, is the cause of the Earth's Aurora Borealis or Northern Lights. Stars, including the Sun, also slowly lose material in a so-called 'stellar wind.' These two effects slow the rotation of the star over billions of years."
The theoretical relation between age and rotation, called "gyrochronology" has been tested using clusters of stars like the Pleiades, where all of the stars in the cluster may safely be assumed to be of the same age. However, only a dozen or so clusters of stars are close enough to study in detail. Using 3,400 nearby star pairs, with the assumption that each star should have a rotation rate consistent with its companion, will provide a broader and more rigorous investigation into gyrochronology's ability to determine a star's age, "from relatively young stars all the way up to the oldest stars in our galaxy, which are about 10 billion years old," Oswalt said.
In cases where the stars in a given pair do not have consistent rotation rates, the team will use large ground-based telescopes at the national observatories to help determine whether they are actually true pairs. "If you can show they are moving in different directions in space, then they are just a chance alignment, and therefore they have different ages and don't belong in our sample," Oswalt explained. "But we can't take such problem stars out of our investigation without this kind of evidence."
"Knowing the ages of the stars is important," said Otani, adding, "Ages are among the most difficult-to-measure properties of stars. Gyrochronology is believed to be among the best methods of stellar age determination. I am excited that we will be able to put it to the test using our own ground-based telescopes and NASA mission data."
In addition to providing hands-on research, publication and professional presentation experiences to Embry-Riddle undergraduates, the project will contribute to public astronomy lectures, outreach to local high schools and a new undergraduate collaboration with Bethune-Cookman University, a historically black university in Daytona Beach. At least half of the students recruited for work on the project will be members of NSF-identified minorities or women, according to the project's documentation.
Posted In: Applied Science | Research | Space