Students Learn Success Secrets from Former Alaska Airlines CEO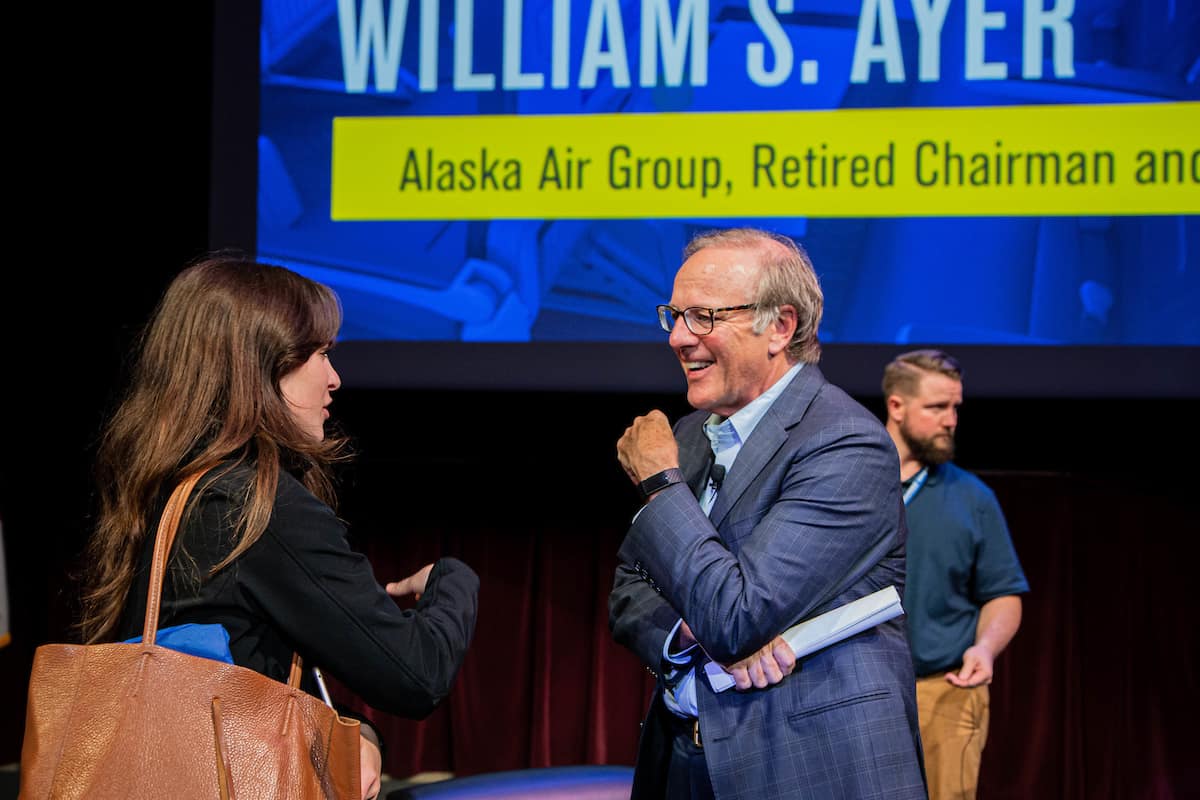 "Students are really well set up, coming out of this university," former Alaska Airlines CEO William (Bill) Ayer said during a recent visit to Embry-Riddle's Daytona Beach Campus where he identified eight leadership priorities that help foster excellent customer services.
In 30 years with Alaska Airlines, Ayer managed challenges related to growing a small-town brand with regional and seasonal demands, industry deregulation in 1978, a shifting competitive landscape of mergers and acquisitions, and a fatal crash in 2000 that prompted him to recommit the company to safety, above all.
The Presidential Speaker Series event featuring Ayer was moderated by Embry-Riddle senior Owen Theeck, who is majoring in Aviation Business Administration with a concentration in air transportation. Theeck is a student assistant in the dean's suite of the David B. O'Maley College of Business, a Business Eagle and a peer mentor. Last summer, he worked as a network planning and scheduling intern for Delta Airlines. This summer, he will join American Airlines as a hub and gateway operations strategy intern.
During a 90-minute conversation at Embry-Riddle, Ayer focused on eight leadership priorities that fostered a company culture that supported outstanding customer service. "Fundamentally," he said, "business is about two things. It's about people and it's about change."
Watch the disussion in full, on YouTube.
Safety – for customers and employees – is non-negotiable, according to Ayer. "You can succeed with a plan that is 80 or 90 percent optimal if you execute well. However, your safety plan and execution must always be 110 percent. After 2000, I started every single employee meeting with the statement: Safety Is Number One." The organization adopted the ASAP programs, FOQA, AQP and "every type of audit to learn what was going on in our flight decks and maintenance."
Resilience in the face of inevitable challenges comes from a balance of optimism and realism, says Ayer. Confidence that the team could find and fix problems kept Alaska Airlines operating when competitors told stock analysts that a downturn in the industry was cyclical. Alaska was one of only two airlines that did not declare Chapter 11 between 2002 and 2007. After 17 consecutive years of profitability, Ayer says there was a temptation to view losses in Year 18 as an anomaly. "Losing a couple hundred million creates a sense of urgency. We soon broke through and decided to work on what was structural."
Communication through honest, clear and direct messages empowers teams. "Things are complicated enough in business, and in airlines in particular, that if communication isn't clear, you just compound your problems." Ayer adopted the practice of encouraging ownership by asking: "What is the best question I can ask in this situation to get my team headed in the right direction?"
Collaboration is an advantage, but it carries the risk of people going along to get along. "An airline is a complicated thing so you want the pieces to be working together. Collaboration is a value – but you don't want to back off from asking hard questions." Ayer believes a "healthy tension" that allows for disagreement respectfully can generate the best solutions. He told his team, "We don't have time or energy for internal competition. The competitor is outside the company. Let's all understand that."
Execution delivers more value than planning, in Ayer's view. "Planners always want just a little more time. Good decisions must be timely. In the early 2000s, we may not have stayed around if we waited for the perfect plan. You can adjust as you go."
Prioritize top goals for optimal use of people and resources, says Ayer. At first, Alaska Airlines fell into the trap of tackling too many fixes, but soon shifted to a few strategic changes with assigned owners, metrics and schedules. The organization created simple scorecards to focus everyone on gaps between performance and goals. "Progress is not a straight line. The trend line will have a positive slope, but there are wiggles along the way. Transformation has mistakes baked in. If perfection is your standard, you will only get demoralized. Get the right partners and the right people on the bus, as Jim Collins says in Good to Great."
Cross-Train employees and they will become leaders with a depth of understanding and strong support networks. Ayer benefited from broad exposure to the business, starting in marketing and planning at Horizon. "We did a whole fleet deal. I got to schedule airplanes. I got to set prices. I got to integrate fleets and people and pilot domiciles. I got to learn about the operation. I got to spend time in maintenance and flight operations." His career path made him a proponent of lateral moves across the organization chart. "Taking on different roles helps you understand interdependencies and earn trust throughout the organization." In his view, mentoring is also a means to identify and develop people who are learning-oriented and eager to add value.
Dare to do what will teach you the most. During Alaska's most turbulent years, Ayer learned a personal lesson. "Don't confuse being popular with doing the right thing. You need to get the job done, not run around polling people on whether they like what you are doing. Popularity will come with success, not during the process." He encourages students to consider an employer that is not the top performer. "Don't shun the company that is having problems. That's a place you can learn and there could be more upside for both the company and for you in a career with them."
Ayer closed the evening by fielding questions from students on a wide range of operational issues. Students asked about the financial challenges of operating a mixed fleet, how to balance quality and profitability, how to control maintenance costs, how airlines can reduce carbon footprint, the future of the Boeing 737 MAX and how major players can compete with ultra-low-cost carriers.
"I am just blown away at how great this place is," Ayer said of Embry-Riddle.
The
Presidential Speaker Series
at Embry-Riddle's
Daytona Beach Campus
welcomes industry leaders, prominent alumni and trailblazers in aviation and aerospace, who address our students, faculty, staff and the community. The next guest speaker is Tom Conard of the Boeing Company, on April 13.