Student-Led Startups Secure Funding at Launch Your Venture

An Embry-Riddle Aeronautical University effort to advance innovation in Florida recently provided $18,000 to a trio of aspiring entrepreneurs during the 2019 Launch Your Venture competition, sponsored by Boeing HorizonX and the International Speedway Corporation (ISC).
The statewide competition, organized in partnership with Embry-Riddle's Center for Entrepreneurship, focused on disruptive technologies that could transform the aviation, aerospace and engineering industries. Finalists presented their pitches on April 19 at the John Mica Engineering and Aerospace Innovation Complex (MicaPlex) in Embry-Riddle's Research Park.
Winning First, Second and Third place in the competition were:
Bryson Pritchard, a Stetson University sophomore, took the top prize for his company, Dyad Syringe, which he said could reduce hospital-born infections, eliminate waste and save healthcare providers millions. Pritchard's revolutionary idea is, essentially, one syringe that does the work of two: a dual-compartment container capable of both administering medication and flushing the unit with saline.
Taking second place and winning $5,000 in funding was ExtremeComms Lab, led by Konstantinos Tountas, of Florida Atlantic University. Focusing on "connecting our oceans to the Internet," this firm proposed establishing wireless networking hubs throughout the world's oceans in order to improve underwater communication. "Existing underwater communications technology is very slow," Tountas said. "It's like using a '90s modem."
FLuix Engineering, a company founded by Abhi Sastri, of the University of Central Florida, and specializing in liquid-cooling custom gaming PCs, won third place and $3,000. "A PC case is basically a PC gamer's extension of self," Sastri said. "We're trying to make building high-end liquid-cooling gaming systems as easy as building a LEGO battle station."
Firms that placed were also awarded in-kind prizes, such as coaching and networking opportunities.
"Boeing HorizonX's sponsorship of the 2019 Launch Your Venture competition was instrumental in our ability to expand its reach and impact to students across Florida," said Dr. Stephanie Miller, executive director of technology transfer and Research Park initiatives at Embry-Riddle. "The prize money awarded is sometimes the first dollar in the door to start a new company that will spur innovation and drive job growth throughout the state."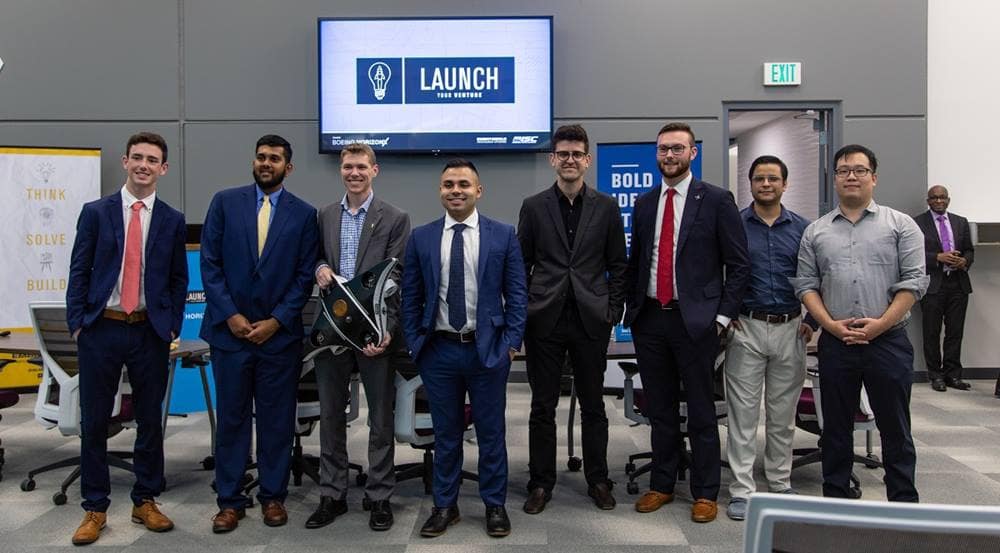 Six finalists competed at Embry-Riddle's annual Launch Your Venture competition, which awarded cash prizes to three firms. (Photo: Embry-Riddle)
Engineering New Healthcare Solutions
At the April 19 event, Pritchard stood before a panel of executives, investors and entrepreneurs, and he flipped to the first slide in his presentation. Pictured was an emergency room in disarray, the floor littered with used syringes, the counters and instruments dripping with blood. The photo was shocking — but then, it was meant to be. The young entrepreneur, also a pre-med student, was making a point: This is the unseen side of healthcare. This is how infections spread.
A total of 4.4 billion syringes are used in hospitals across the country each year, Pritchard explained, but he has developed a product, the Dyad Syringe, to cut that number in half.
"Hospitals know that there's a problem and, at the end of the day, they're the ones paying for it," he said. "People are desperately looking for some type of solution."
The judges, who awarded Pritchard's firm $10,000 in funding, believe Pritchard might have just found one.
Down to Business
Pritchard never thought he would be a business major. He's always wanted to be a doctor, so much so that, for his 14th birthday, his parents gave him a medical kit. While working through his med school prerequisites, though, certain themes began to draw him toward a broader path.
"Healthcare is constantly innovating," he said. "There's always a push to get what's new and help people even more. I think that goes hand-in-hand with entrepreneurship."
Still on track in his pre-med plan, and having worked in intensive care units the past two years, Pritchard set a double major in sales and entrepreneurship to round out his curriculum.
"I found out you could do a lot more with this degree," he said. "So why not broaden your scope of knowledge?"
For Pritchard, business and healthcare are intertwined. Whether a pre-med student hopes to open her own practice after graduation, for example, or if he plans to launch an industry-disrupting product, understanding markets is key.
Lou Paris, Stetson's assistant director to the Prince Entrepreneurship Program, connected Pritchard with Stetson's Innovation Lab. They brainstormed design, tested 3D-printed prototypes, applied for provisional patent protection, and reached out to industry members to learn about competitors.
Within eight months, the two were enrolled in their first startup competition, where Pritchard won 2nd place and $3,500. Since then, he has pitched his idea in four additional competitions, including Launch Your Venture, and won first place in each one. His company's total funding is now up to $31,000, to go along with a residency at the UCF Business Incubation Program — a $10,000 value.
After testing his concept in competitions, Pritchard's next challenge will be finalizing his patent, a process that could take over two years. In the meantime, he plans to shift his focus away from competitions and into building the foundation of his firm.
"Launch Your Venture motivates students to take their technological innovations one step further — to the market place," added Dr. Mike Bowers, director of the Embry-Riddle's Center for Entrepreneurship. "Just look at the success of the last two winners, both from ERAU: Sensatek Propulsion Technologies and GRD Biomechanics. Both are hiring employees into high-value jobs. Both are serving customer needs."
Posted In: Applied Science | Business | Institutional News | Research