Tips for the (Virtual) TREP Expo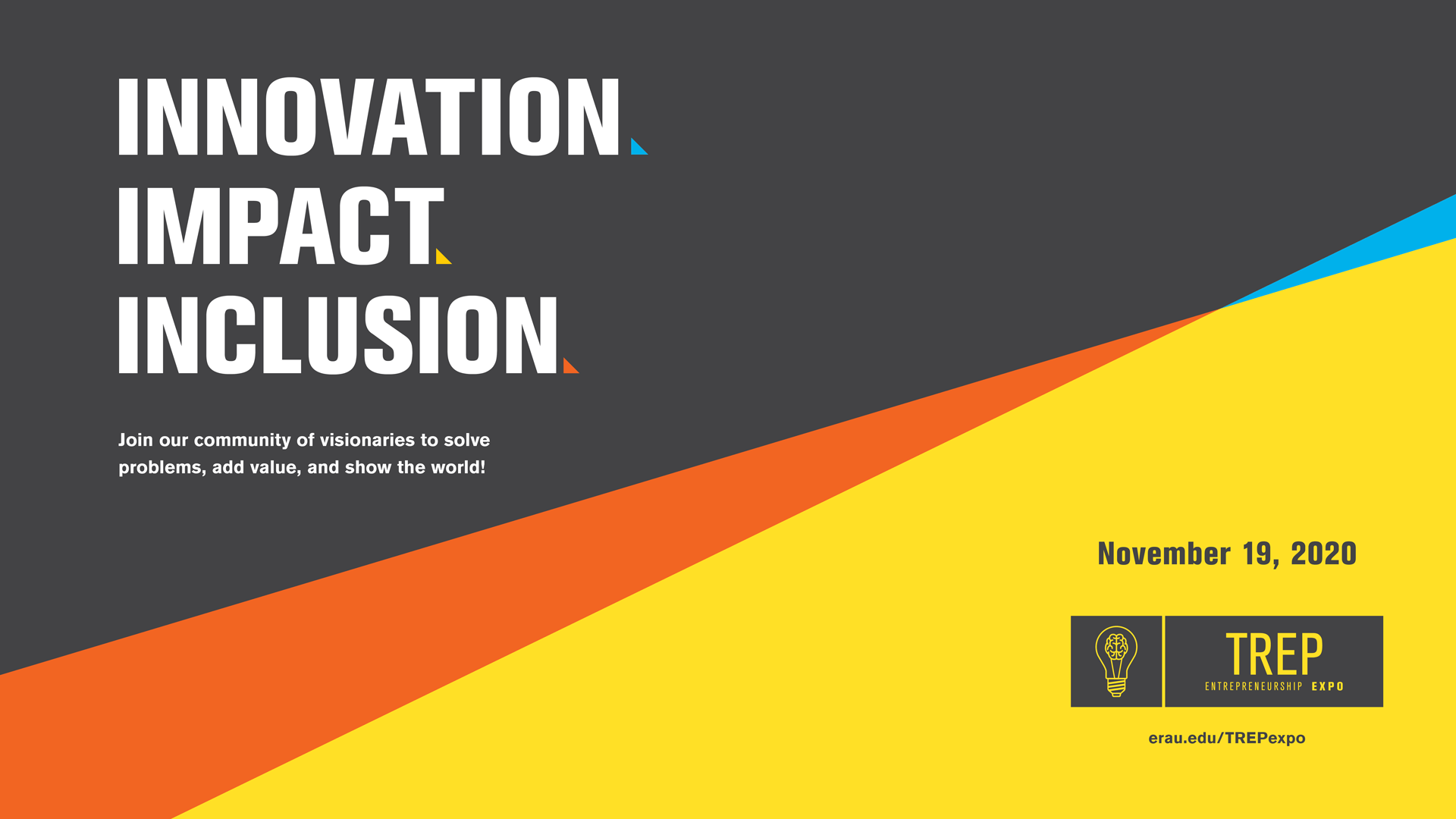 Aspiring entrepreneurs across all three Embry-Riddle Aeronautical University campuses will take their first steps in showcasing their venture concepts at this year's TREP Expo, Nov. 16-18, for the first time being held virtually to allow for submissions from students, faculty, staff and alumni all over the world. An award ceremony will be held Nov. 19.
Since 2014, TREP Expo has offered Eagles a platform on which to share their business ideas and receive expert guidance from industry leaders. The event offers those ready to make a real difference in the world a community of visionaries and problem-solvers with which to network and lean on, a support system that's especially valuable during the current turmoil caused by the Covid-19 pandemic.
For Center for Entrepreneurship Director Mike Bowers, however, it's important to remember that transitional periods in the market are often when innovative startups emerge — Airbnb, for instance, got its start amid the Great Recession in 2008, with consumers looking for more affordable ways to travel.
"Big companies take longer to adapt and transform — that's when a small, nimble player can come in and take advantage," Bowers said. "Whenever the world experiences sudden, sprawling change, people begin looking for new ways to do things. If there ever was a time when there was an abundance of problems to be solved, and an abundance of opportunities to take advantage of, this is the time."
Tips to help participants prepare for and excel at this year's TREP Expo are listed as follows:
Attend the workshop
The Center for Entrepreneurship is hosting a workshop to help participants prepare for the expo. Workshops will be held both in person and streamed online, at 5 p.m. on Oct. 21.
The workshop will provide information about the TREP Expo, how to develop a business model, why to participate and how to effectively pitch your idea. Check the TREP Expo for more.
Focus on the problem your venture solves
Your venture should solve a unique problem and be original. Many make the mistake of focusing on the solution first, instead of truly understanding the problem. It is important to know how customers feel about a problem in order to find the right solutions. Also, make sure to do your research to find similar products or inventions and how you can improve on what already exists — or create something that hasn't been done before.
Perfect your pitch
A good elevator pitch should include the problem, how your idea solves that problem and what makes your idea different. Studies show that businesspeople typically have a minute or less to catch someone's attention in a pitch, so a good one should get to the point immediately. A good pitch should make your potential investor or customer care about what you do and provide a call to action on how to get involved.
Make your presentation stand out
While there is no standard model for what makes a good presentation, participants must have a poster to display information about their ventures. They are also encouraged to provide accompanying visuals, such as prototypes and graphics. They will not only help your audience to understand your idea but will also show how serious you are.
Presenting digitally, however, presents its own unique challenges.
"You'll want to have a PowerPoint, but you'll also want to show and tell," said Bowers. "Get a visual aid, and make it animated in order to keep your audience's attention."
Additionally, presenters should invest in a decent camera that offers flexibility during video conferencing. They should avoid backlighting, instead opting for lighting from the front and sides. And, always place the camera straight on at face-level.
Technical considerations are important, Bowers said, but "the ultimate advice is to practice, practice, practice."
Have an open mind
Even if your venture doesn't win an award, take advantage of the networking and learning opportunities from meeting judges whose business experience spans across a wide variety of industries. It is your first step toward your goal. It will open doors for you to learn more about entrepreneurship and grow your entrepreneurial mindset. You will get a lot of feedback from your audiences and judges during the TREP Expo. It will guide you to take the next step for your business and bring your idea to the next level.