Student Duo Shines at International Safety Conference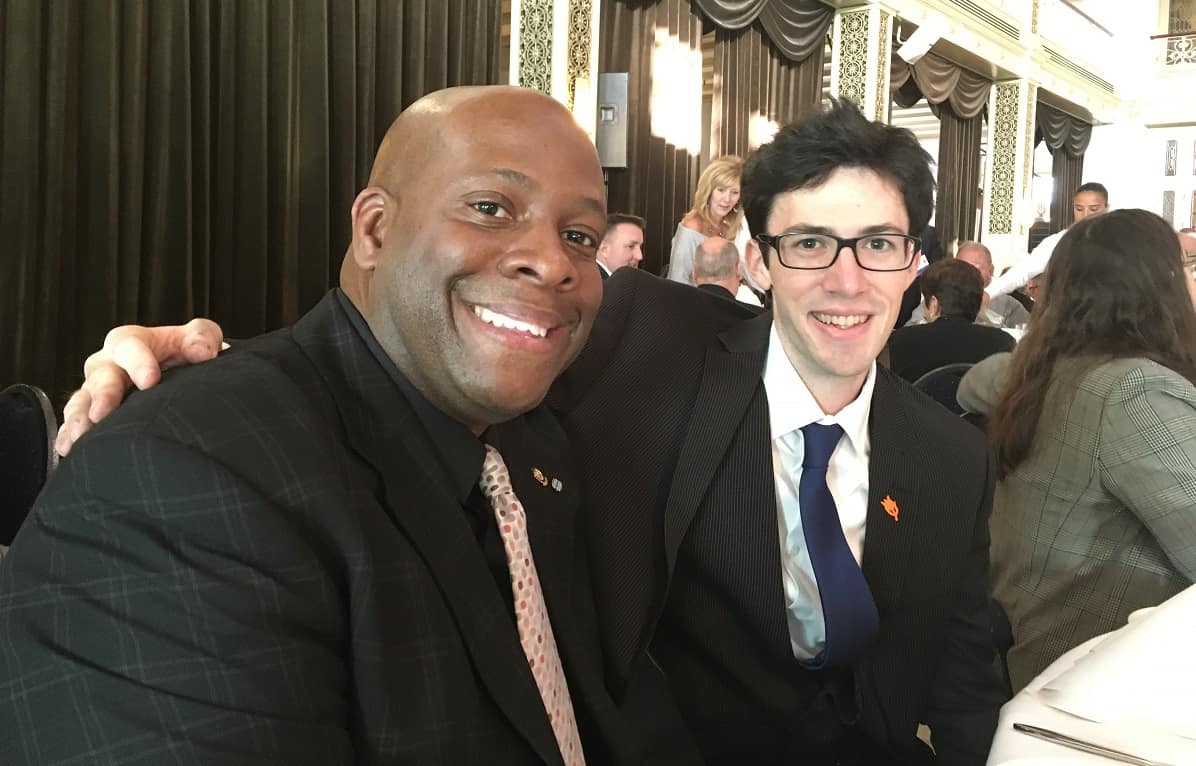 Understanding aircraft accidents is key to ensuring they don't happen again -- and that pursuit has become a passion for two Embry-Riddle students.
Stacey Jackson and Alexander Hall were among just four students from around the world selected to present papers at the recent conference of the prestigious International Society of Air Safety Investigators (ISASI) in The Hague, located on the North Sea coast of the western Netherlands.
"It was a phenomenal experience," said Jackson, who earned her Bachelor of Science in Aeronautics degree through the Embry-Riddle Worldwide Campus and is now pursuing her master's in Human Factors. "It was a global symposium of experts in accident investigation and it was a thrill to be part of it."
Embry-Riddle was granted a student chapter of ISASI in 1993 and Anthony Brickhouse, a veteran air safety investigator and an associate professor in Embry-Riddle's College of Aviation, said that "thanks to ISASI, students have literally traveled around the world" attending air safety events and networking with professionals.
Jackson and Hall researched two trending topics in the world of aviation safety and accident prevention, he said.
"They did good research to support their positions and did outstanding jobs presenting their topics to a room of close to 300 international safety professionals," Brickhouse said. "Many students would be nervous and intimidated by this, but they were poised and commanded the stage."
STACEY'S STORY

Stacey Jackson's love affair with flight started early.
By the time she was 26, the Canadian native now living in Fort Worth, Texas, was among the only female captains flying the Dash-7, an iconic plane made by Canada's de Havilland company, now part of The Boeing Company.

Student Stacey Jackson, Anthony Brickhouse and ISASI Treasurer/retired National Transportation Safety Board investigator Robert Macintosh (Photo: Anthony Brickhouse)
She flew in the Caribbean, Afghanistan and Africa, where she began taking online courses through Embry-Riddle, aiming for her bachelor's degree in Aeronautics. She finished one homework assignment with a gunfight going on outside her room in the South Sudan because a coup was taking place.
"Everyone thought I was crazy, but we were locked in our rooms, in our compound, and there was nowhere else we could go. The assignment was due and I wanted to finish it. It was a great distraction," said Jackson, who is now a pilot with WestJet and an elected member of the Air Line Pilot Association's Accident Investigative Board (AIB) and head of Toronto's Women in Aviation chapter.
Jackson's ISASI paper was called "Future Safety: Apply Lessons Learned in Human Factors to Commercial Space Operations," and it focuses on the 2014 accident during the testing of Virgin Galactic's Spaceship Two.
She also looked at the role human factors have played in aircraft crashes and how lessons learned from those tragedies can be applied to commercial space flight.
"It's about why and how, and the role human factors plays," she said. "We have to learn from mistakes so they aren't repeated."
Jackson, whose husband, Paul, is also pursuing his master's in Aeronautics at Embry-Riddle, says the university's online delivery format – especially combined with the support of her academic advisor, Andrea Hill – has made the biggest difference.
"It allows both traditional and non-traditional students to achieve their academic goals," she said. "It removes the barriers to education that some people might be experiencing, if they were already in the workforce, had a family or had other responsibilities. It also allows individuals who are already developing their careers to further their knowledge by completing their degree, which results in a more robust workforce."
ALEX'S STORY
Alex Hall learned to fly in high school and decided to apply to Embry-Riddle after meeting some students at an aviation conference. Once he started classes, he developed an interest in accident investigation and safety.
"It really turned into a passion," he said.
Hall, 22, cites help from Embry-Riddle instructors Brickhouse, with his vast experience in air safety, and Elizabeth Matthews, a linguistics expert, for the successful submission of his paper, titled "The Challenges of Investigating Language in Aviation Accidents: How Applied Linguistics Can Reveal Subtle Communication Errors."
Hall looked at the horrific 1977 collision of two 747s – a crash that left 583 people dead – and other accidents where communication and language issues played a significant role.
"Latent language errors are an issue that can be overlooked," said Hall. "Because I love aviation, I want to do what I can to be sure we have the safest industry possible."
His experience at the conference was special, he said.
"It was just incredible," said Hall, a senior in Aerospace and Occupational Safety Program at the Daytona Beach Campus. "Presenting in front of that group, with all those investigators and pilots, was really intense."
Hall credits Embry-Riddle with helping him secure internships at Delta Air Lines and Textron Systems. He is considering staying at the school, where he hopes to find a job and pursue his master's degree in Data Science, looking to use that discipline to bolster his accident investigation skills.
Whatever path he ends up on, Hall is glad to have the Embry-Riddle name behind him.
"I never appreciated the value of networking until I came here," he said. "The Embry-Riddle name opens doors all around the world."
Posted In: Aviation | Human Factors | Research | Security Intelligence and Safety