Embry-Riddle Space Physics Students Assist Neutrino Detection Research at Los Alamos National Laboratory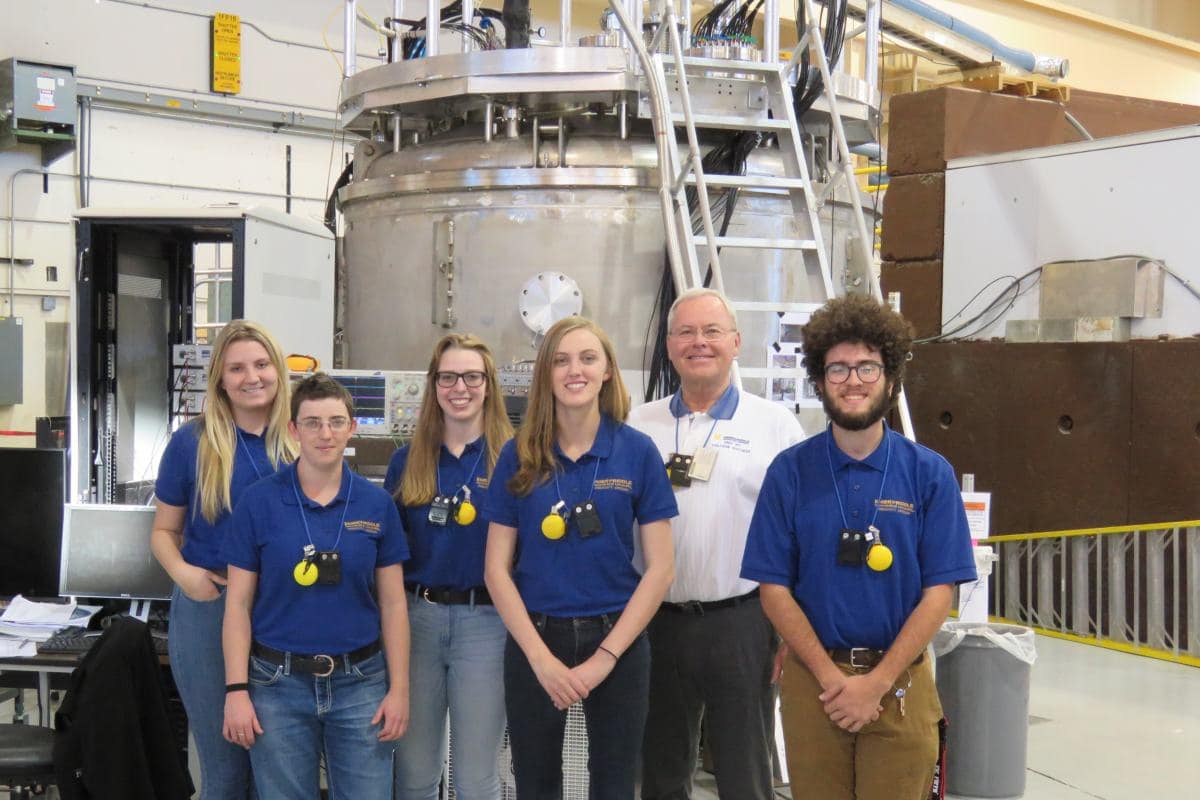 Five undergraduate Space Physics students were selected to assist in conducting experiments with the CCM (Coherent Captain Mills) neutrino detector at the Los Alamos National Laboratory (LANL), N.M. The experiment is designed to search for "sterile" neutrinos, a possible source of dark matter.
Students Rachel Lake, Kate Walker, Ashley Elliot, Emily Strawn, and Ryder Moreno, accompanied by Physics Professor Darrel Smith, Ph.D., were selected to take part in the experiment thanks to Smith's previous collaboration searching for neutrinos with LANL.
"These students were looking for an undergraduate research project, and they expressed an interest to work on a particle physics experiment that has astrophysical ramifications if the preliminary results are confirmed," said Smith. "In order to bring students and myself to Los Alamos for extended stays, we needed to have a working agreement, where we spell out liability and safety issues, and other things we will encounter during the course of our research."
In the early 1970s, particle physicists formed the Standard Model as an attempt to explain the nature and construction of discovered sub-atomic particles. This model unified three families of neutrinos—ubiquitous particles produced from the Big Bang, stellar fusion reaction, and radioactive decays.
"The masses of these three families of neutrinos are quite small, and it appeared that they would not make a significant contribution to the dark matter component of our universe," said Smith. "However, recent results from neutrino experiments give evidence of a fourth neutrino dubbed the 'sterile' neutrino with a mass substantially larger than those observed in the three neutrino model. Hence, this new 'sterile' neutrino could make a substantial contribution to the dark matter component of our universe."
According to their website, LANL is a Federally Funded Research and Development Center, with priorities ranging from national security, science, energy, and environmental management. Their focus is on developing partnerships with government agencies, laboratories, universities, and industry to deliver science and technology research for the nation.
"Students will learn how to use high-speed data acquisition electronics, including the use of photomultiplier tubes that are sensitive to the light production in the detector down to a level of a single photon [single particle of light]," said Smith. "They will also learn how to analyze the data both here at ERAU and at Los Alamos." said Smith.
Smith and his students completed their collaboration with LANL in December, but hope to return in March and May to continue working on the CCM detector.
"The CCM experiment is currently going through its 'testing phase' to determine if it will function as expected," said Smith. "After analyzing the recent data from this last December, it appears we may be in a position to complete the full installation of detectors and electronics and start running again later in 2019. These are exciting times."
Posted In: Applied Science | Research | Space