Embry-Riddle Researchers Study Lightning Effects on Mars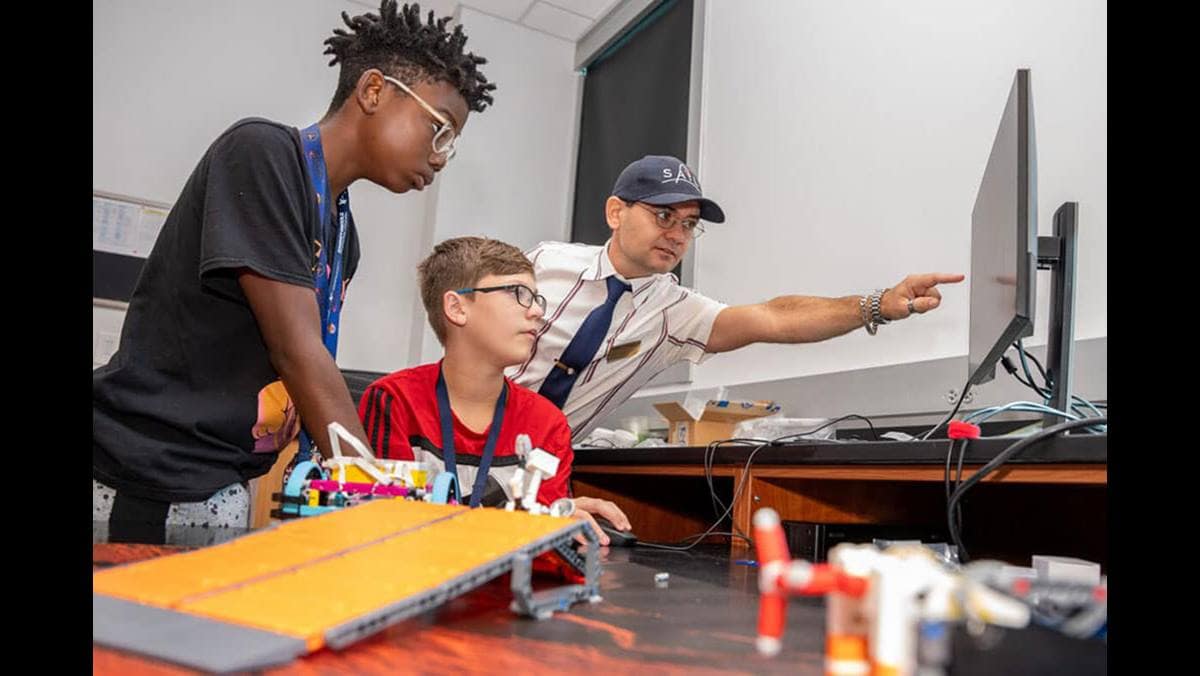 Backed by an NSF CAREER grant of $676,000, Dr. Jeremy Riousset, assistant professor in Embry-Riddle Aeronautical University's Physical Sciences Department, studies atmospheric electricity on Mars, which has implications for the safety of missions to the planet and even on the search for extraterrestrial life.
As Riousset explained, atmospheric electricity, whose most well-known manifestation is lightning, occurs on other planets besides Earth and is thought to occur on Mars. It can be triggered by man-made objects, in the same way that electrical activity can occur at the tip of a ship's mast.
"That means that even on a planet like Mars, rovers, landers and future habitats could bring elements that cause sparks that would not have happened naturally. The consequences could be catastrophic if the damage were to impact a water system, an oxygen maker or a communications device," he said.
Riousset also pointed out that the famous Miller-Urey experiment linked the production of amino acids, which are the fundamental component of DNA, to electric discharges.
"Mars is one of our preferred targets in our search for extraterrestrial life," Riousset said. "Therefore, it is important to answer the question: Is lightning possible in the Martian atmosphere?"
Riousset first came to Embry-Riddle in January 2016 but left for another opportunity in 2017. He returned in August 2022 with his wife, Dr. Saida Caballero Nieves, who is also an assistant professor in Embry-Riddle's Physical Sciences Department.

Dr. Jeremy Riousset is conducting research funded by an NSF CAREER grant on atmospheric electricity on Mars and the Earth. (Photo: Embry-Riddle/David Massey)
"Embry-Riddle has a good understanding of the requirements of running a successful science program. It is able to adjust the course load to allow more time for research," Riousset said. "There is an understanding that teaching, research and services [such as serving on or chairing departments or campus committees, or being a faculty advisor for student organizations] all take time when done correctly. We both appreciate being evaluated on our entire effort."
Riousset's five-year CAREER grant, which began in summer 2021, will allow him and his research team to study the physics and observations of electrical discharges in diverse atmospheric conditions, especially those similar to the conditions on Earth and Mars. Such research will aid in the design of instruments to detect extraterrestrial atmospheric electricity and in the assessment of the risk of surface objects causing discharges during Martian exploration. Riousset's research is done in the Space and Atmospheric Instrumentation Lab (SAIL), which is part of the Center of Space and Atmospheric Research.
Involved in the work is student researcher Annelisa Esparza, a Ph.D. student in Engineering Physics. Esparza, who started working with Riousset at the Florida Institute of Technology in 2020, said his "work ethic and general approach to research were a great match for the dynamic I was looking for in an advisor." She said that the research they are doing, "gaining a better understanding of phenomena capable of frying electronics or taking out power grids," is crucial to "the progress of modern civilization and off-Earth exploration."
Esparza also said she really appreciates Riousset's emphasis on making sure that his student researchers attend conferences, "which provides us with opportunities to learn more about the fields we're exploring, gain exposure for our research and network amongst other scientists in industry and academia." Esparza earned second prize in the international Student Paper Competition at the URSI General Assembly and Scientific Symposium in Sapporo, Japan, for her paper, titled "Fractal Modeling of Shallow Lightning on Jupiter." Her work focuses on the simulation of lightning and other electrical discharges in extraterrestrial atmospheres.
Engineering Physics Ph.D. student Jared Nelson, who is also a member of Riousset's research team, said the research has allowed him to apply skills and techniques that are generally learned in a professional workplace. Nelson was awarded the second prize in the Student Poster Competition at the CEDAR (Coupling, Energetics and Dynamics of Atmospheric Regions) workshop, for his work, titled "Electric discharges in air and CO2 in non-planar geometries."
"I have developed hard skills such as soldering, circuit development, machining and CAD design," Nelson said, in addition to coding, data analysis and circuit design.
Part of Riousset's grant project involves disseminating the work to the public. In addition to organizing public events for community outreach, Riousset held a free interactive summer camp in July for middle schoolers, called SPARCLE-R (Space and Planetary Adventures in Research through Coding with LEGO at Embry-Riddle) that introduced the young students to programming and space science with LEGO SPIKE and Mindstorms.
Posted In: Applied Science | Research | Space