Six Questions with a Civilian Space Traveler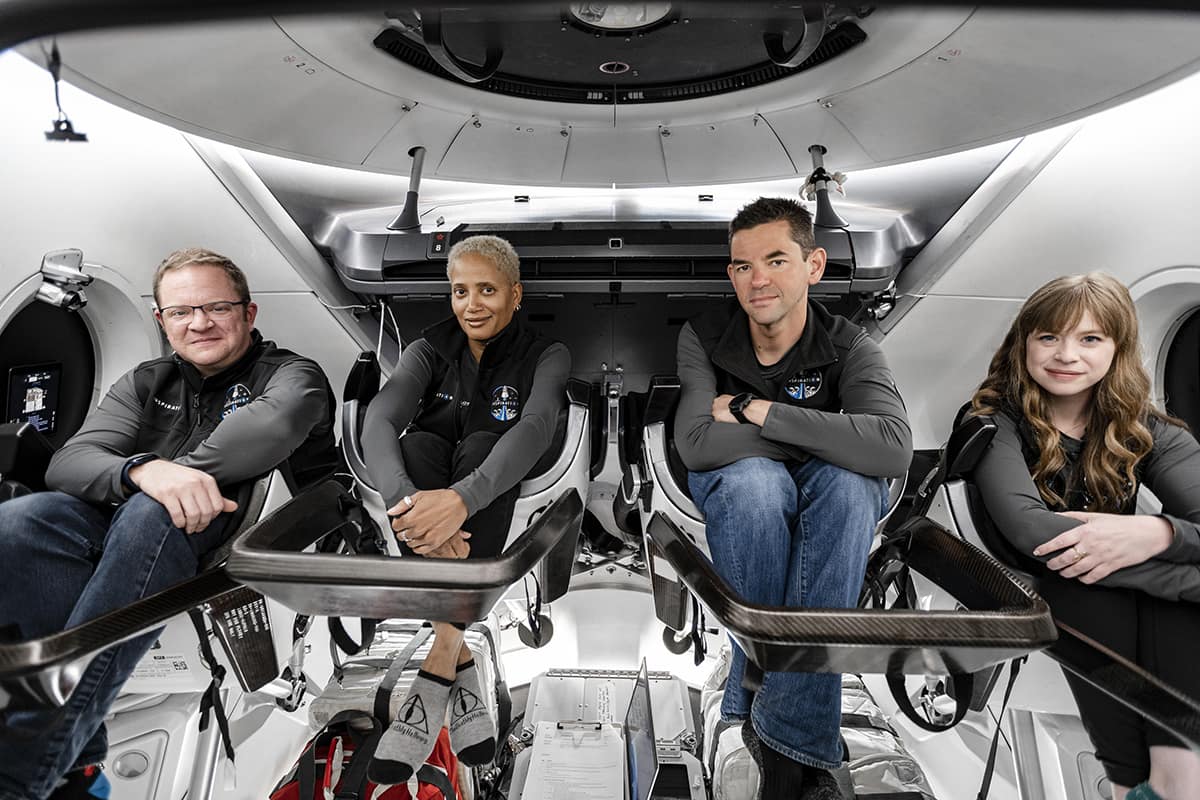 This fall, Embry-Riddle alumnus Chris Sembroski ('07) will join Dr. Sian Proctor and Hayley Arceneaux aboard SpaceX Crew Dragon on the three-day Inspiration4 mission to Earth's orbit, conceived and commanded by another Eagle alumnus, entrepreneur Jared Isaacman ('11).
The first orbital flight crewed entirely by civilians also will help raise money for St. Jude Children's Research Hospital. Sembroski, an Air Force veteran and an engineer for Lockheed Martin who earned his bachelor's degree at the Worldwide Campus, won a crew position representing "Generosity" through the fundraising initiative for the hospital.
In advance of the scheduled Sept. 15 liftoff, Netflix will air a docuseries about the flight called Countdown: Inspiration4 Mission to Space. The first two installments will air Sept. 6 followed by another two on Sept. 13 and then a live post-mission finale set for the end of the month.
Since the crew was announced in March, Sembroski's life has become a dizzying whirlwind of preparation for this once-in-a-lifetime event. During a rare break in his training, Sembroski reflected on his life -- and the role Embry-Riddle played in bringing him this far.
What first sparked your interest in a STEM career?
My interest in science, technology, engineering, and math was strong long before there was a popular acronym. I grew up playing strategy games at home with my family. In kindergarten, I remember going down to the computer lab to practice reading with a special pilot software program at my public elementary school. Then in second grade, I was given a chance to push ahead and try on some advanced math problems outside of the regular classroom. Doing something academically challenging and thinking about problems in different ways was always a big draw for me.
How did Embry-Riddle help prepare for your current position at Lockheed Martin?
Going to Embry-Riddle opened up some new doors that I did not know even existed. Being able to explore interests in high-powered rocketry, government space policy, engineering, human factors, computer science, and even in stage production and drama, I was able to follow my passions and learn about the world of aerospace at a place that is like no other. Lockheed Martin values teamwork and solving problems that need new and innovative solutions. Embry-Riddle helped me develop those passions into practical skills.
Prior to the Inspiration flight, what had been the highlight of your career?
If the job is challenging and engaging, then there are many moments that stand out. In the Air Force, it was knowing that each trip to the missile fields of Montana helped preserve peace through sustained deterrence. However, as a controls automation technician, energy manager, and data analyst professional, a key highlight for me was being able to present at an awards ceremony on behalf of a major Seattle hospital that the decisions and actions we made had resulted in hundreds of thousands of dollars in savings in just the first year. My company created the opportunities and rolled out the platforms that allowed us to recognize, decide, act, and measure results that earned the hospital that national award from the Pacific Northwest National Laboratory (PNNL). In turn, those savings went right back into the mission of the hospital to heal the sick and save lives.
What are you looking forward to most about your space flight?
There are so many things. Besides the experiments, we will be conducting and the incredible sensation of sustained microgravity, I am looking forward to seeing us hit our fundraising goal of $200 million in support of St. Jude. I can't wait to open up the nosecone of the Dragon, spacecraft which will expose some of the most intensely amazing views through that brilliant cupola window. Looking back at earth from more than 300 miles up is a moment I really want to soak in.
What plans do you have for after your return from orbit?
I am first and foremost going to celebrate this adventure with my family. But beyond that, all of us on the crew are staying focused on what is in front of us. We need to get this mission right so that the next all-civilian flight, and the one after that, can take place. There is so much history and hard work that precedes us; we owe it to them to honor their legacy by giving our full attention to this flight.
What advice do you have for students who may want to follow in your footsteps?
My advice is to pursue things that will lend themselves to the opportunities you want. Whether it is something in science, aerospace, or in art, strive to be the person others think of first when they need someone with your skillset. And be sure you're doing something you love! Others will be drawn to your enthusiasm and be energized to help make dreams come true.