Six Embry-Riddle Students Win Full-Ride Scholarships, Job Prospects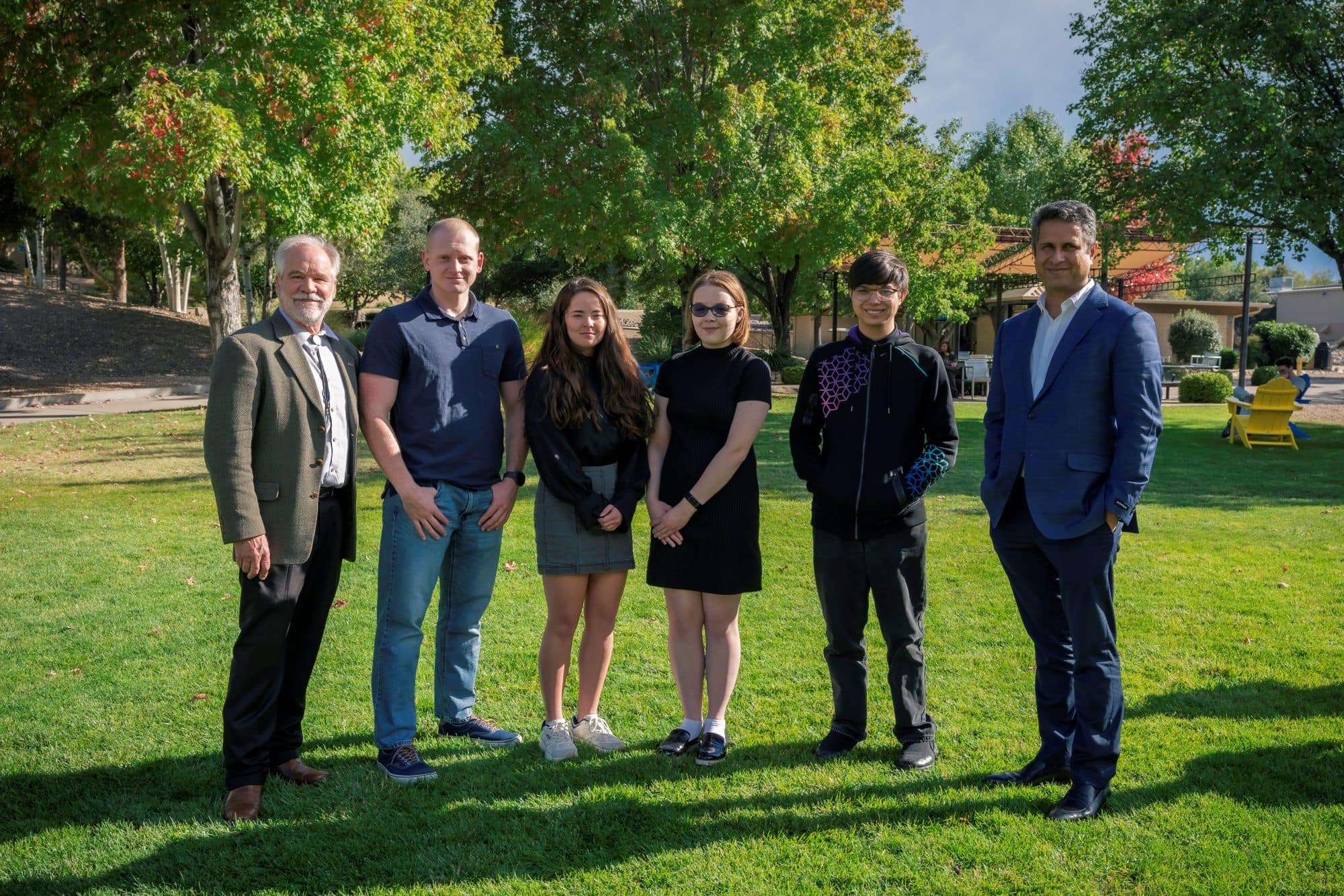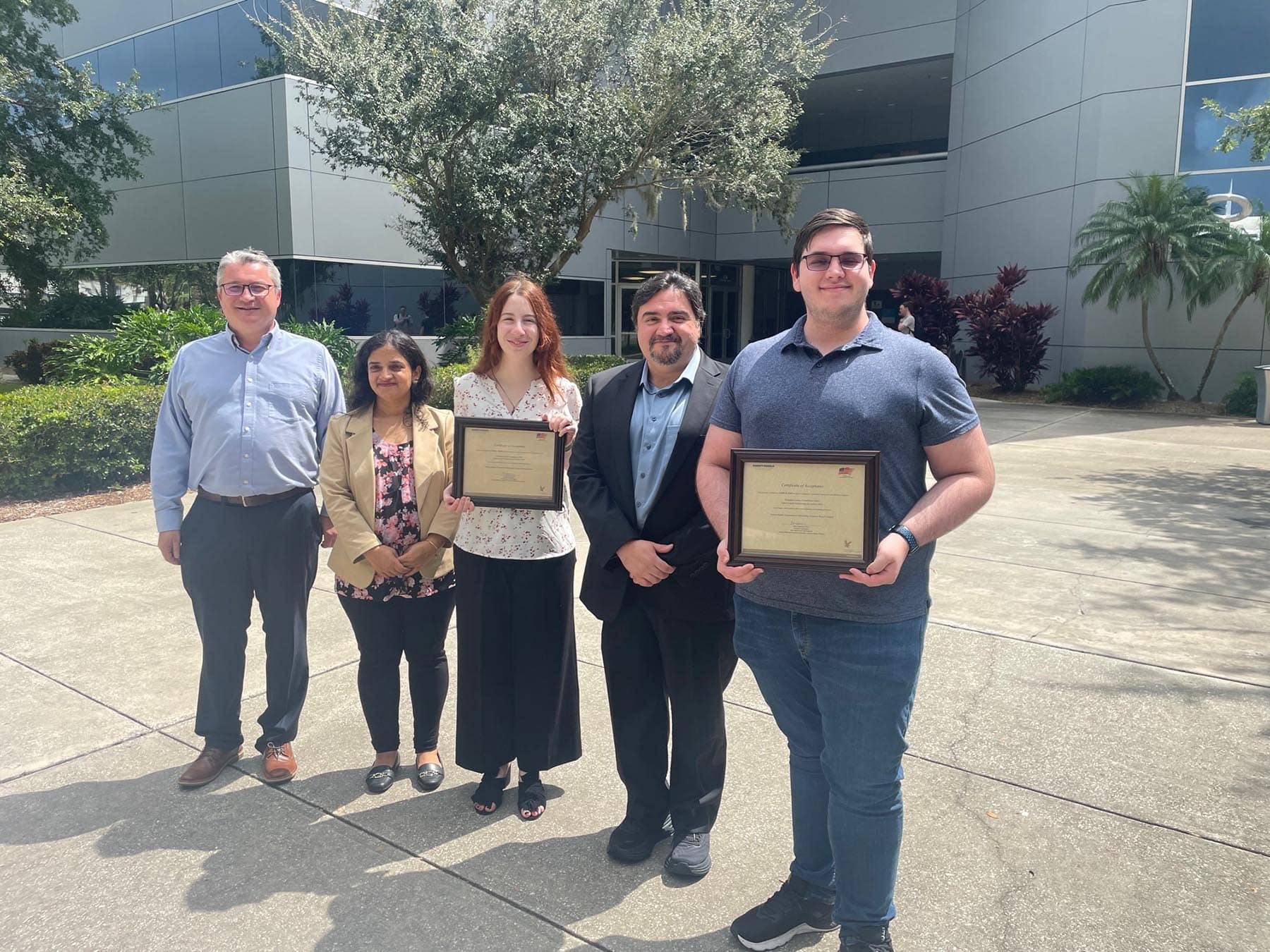 Embry-Riddle Aeronautical University student Sofia Guida will be just 19 years old when she graduates this spring with her bachelor's degree, along with a National Science Foundation (NSF) CyberCorps® Scholarship for Service (SFS) that will pay for her graduate school and provide excellent prospects for a government internship and job.
"It's the opportunity of a lifetime," said Guida, an Honors Program student who is pursuing a bachelor's in Interdisciplinary Studies with minors in Cybersecurity Engineering and Cybersecurity Application and Management. "One of the best things is the mentoring and internship opportunities, which will help give me invaluable experience within the cybersecurity field."
Guida, who is from Tampa, Florida, is one of six Embry-Riddle students chosen for the prestigious SFS program, which aims to recruit and train the U.S. government's next generation of cybersecurity professionals.
"It's a high-status scholarship, but it also comes with a commitment to service," said Dr. Radu Babiceanu, professor of Systems Engineering.
The program provides scholarship recipients up to three years of tuition and fees, annual living stipends of $27,000 (for undergraduates) and $37,000 (for graduate students), and an annual $6,000 professional allowance for travel to job fairs, conferences and the SFS annual job fair in Washington, D.C., and for professional cybersecurity certifications. In return for the scholarships, funded through National Science Foundation grant money, recipients commit to work for the U.S. government in cybersecurity for a period equal to the length of the scholarship.
The six scholarship recipients, who comprise Embry-Riddle's second cohort of students benefitting from this program, were selected from the university's two residential campuses, in Daytona Beach, Florida, and Prescott, Arizona. The first cohort started the program last fall, after Embry‑Riddle was chosen by the NSF in 2022 to receive $3,875,000 in funding through 2027, as part of a national effort to build aviation and aerospace cybersecurity.
"I think Embry-Riddle's niche domain of cybersecurity stands out," said Babiceanu. "And we have outstanding students."
Meet the Scholars
In addition to Guida, Caleb Hall, a Software Engineering senior at the Daytona Beach Campus, said receiving the scholarship will give him the financial support he needs to be able to fully focus on his studies. He is involved in research with Dr. Omar Ochoa, associate professor of Software Engineering and Computer Science, and Dr. Laxima Niure Kandel, assistant professor of Computer Science. He has interned as a cybersecurity analyst at Copyright Clearance Center, a data analyst at Darling Consulting Group, and a software engineer for the U.S. Department of Energy.
"This program gives a leg up to my resume, as employers can see this program and immediately see I am a hard worker," said Hall, who is from Green Cove Springs, Florida.
Not only will this help ease the financial pressure of college on my family, but this will also allow me to pursue my dream of obtaining a master's degree and doing meaningful work.
Dr. Krishna Sampigethaya, associate professor and chair of the Department of Cyber Intelligence and Security at Embry-Riddle's Prescott Campus, reinforced the university's expertise in the field.
"We are proud of our SFS scholars and happy at least half of them are women, who are currently a minority in the cybersecurity industry," he said. "Our SFS scholars go beyond the inclination for public service, demonstrating not only exceptional talent but also a promise that, with this outstanding support, they will become cyber leaders of our nation."
Together with Dr. Jon Haass, professor of Cyber Intelligence and Security, Sampigethaya currently mentors a total of seven SFS scholars at the Prescott Campus.
Cameron Devaney, one of the four Prescott students selected for this year's cohort of scholarship recipients, is an IT/security technician who spent the summer interning at American Express. A Cyber Intelligence and Security senior, he plans to continue on to the master's program next year. He also competes in Capture the Flag (CTF) competitions and was recently on the first-place team for two events.
"The connections I will make with this scholarship are incredible," said Devaney, who is from Bonney Lake, Washington. "It will help me stand out."
Jesse Hix is a 19-year old senior pursuing dual bachelor degrees in Cyber Intelligence and Security and Global Security & Intelligence Studies, in addition to minoring in Chinese and Defense Studies and being involved in the Army ROTC program. She has also interned at Peraton Inc., a national security and technology company. She, too, plans to continue to a graduate program, which will also be funded by the SFS program.
"My involvement in Army ROTC shows I was already interested and invested in a future in the U.S. government and serving my country," said Hix, who grew up in Fallbrook, California. "I hope to be able to travel in whatever position and organization I end up in."
Victoria Plinski, a senior Cyber Intelligence and Security major with a minor in Mathematics, had two internships with the U.S. Department of Energy, one at the Waste Isolation Pilot Plant in Carlsbad, New Mexico, and another at Lawrence Livermore National Laboratory, in California. Plinski, who is president of the Cyber Defense Club, also has spent the past two years collaborating with Sandia National Laboratories to organize the Tracer FIRE competition at Embry-Riddle Prescott.
"I no longer have to work multiple jobs to pay for college with this scholarship," said Plinski, a Las Vegas, Nevada, native.
Justin La Zare spent the summer interning with the Cyber Data Science team at American Express, where he worked in cybersecurity and generative Artificial Intelligence. He also took a leadership role in developing an aviation-themed cybersecurity competition, on behalf of the university, at the DEF CON 31 hacker conference in Las Vegas.
"This scholarship came at a super opportune time," said La Zare, a Chandler, Arizona, native currently pursuing his bachelor's degree in Cyber Intelligence and Security with plans to earn his master's, as well. "Not only will this help ease the financial pressure of college on my family, but this will also allow me to pursue my dream of obtaining a master's degree and doing meaningful work."
Posted In: Security Intelligence and Safety