Research on Driving Behavior Lands Embry-Riddle Professor NSF CAREER Award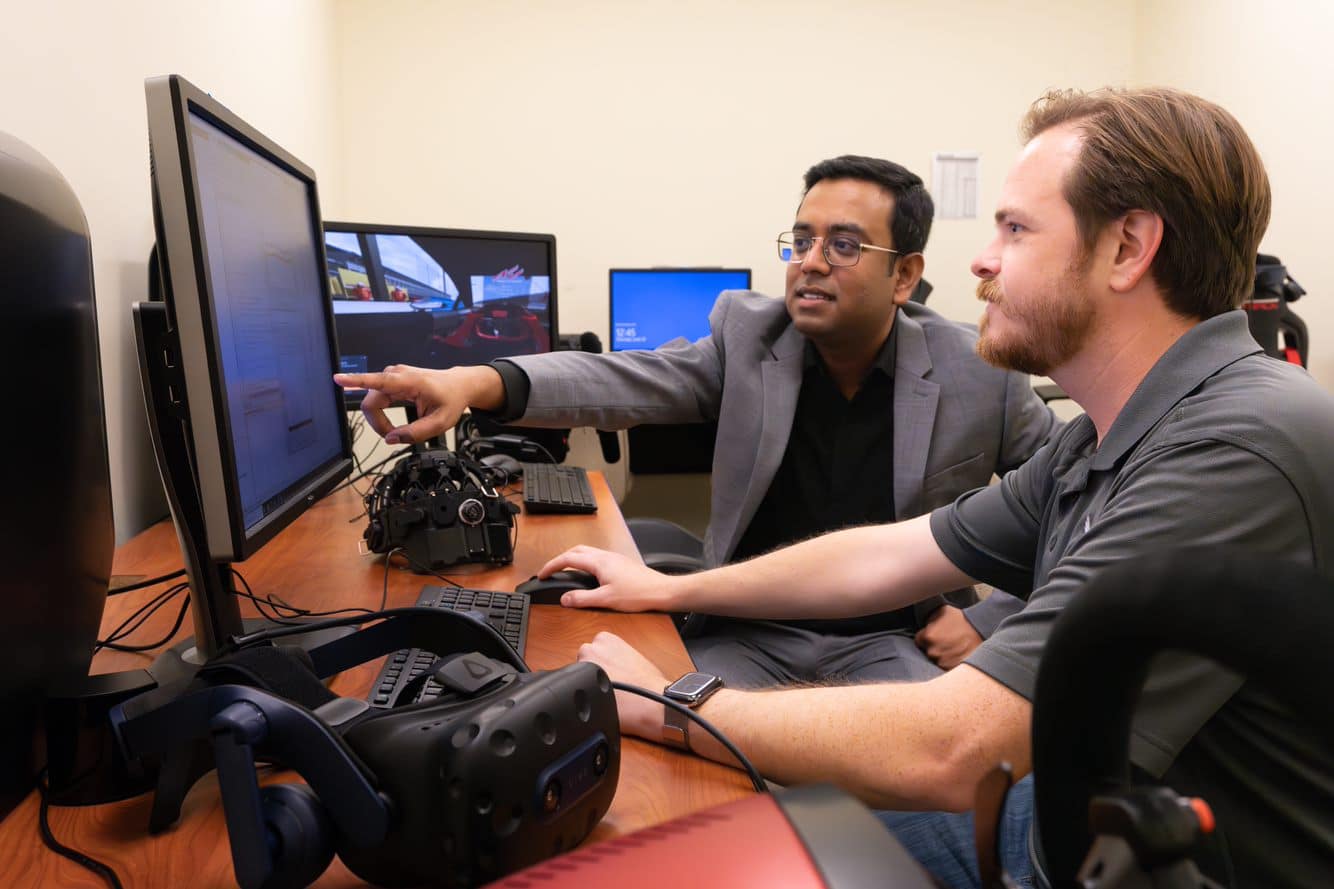 Research led by Embry-Riddle Aeronautical University's Dr. Subhradeep Roy, which will use virtual reality (VR) technology while collecting data to better understand, quantify and model automobile driving behavior, has received a prestigious, five-year National Science Foundation (NSF) CAREER award of $557,000.
The funding will be applied toward improving our understanding of the complexities of drivers' behavior in a facility with networked simulators. The simulators will be used to collect data from multiple drivers while they drive in shared scenarios, allowing for the study and quantification of their interactions, as well as to develop data-based traffic models that will aid in improving traffic safety.
"This cutting-edge facility will enable us to revolutionize our understanding of human driving behavior through the collection of valuable data and, thus, discovery of data-driving traffic models, by integrating untapped cognitive information in unprecedented ways," said Roy, assistant professor of Mechanical Engineering. "Existing traffic models rely on assumptions, cannot accommodate the heterogeneity of drivers and are not generalizable."
Dr. Jim Gregory, dean of the College of Engineering, said Roy's research will "shed new light on how humans interact in complex and changing environments, leading to better insights on how to design human-machine systems that promote safety."
The project idea draws inspiration from Roy's prior work on studying traffic systems.
Roy came to Embry-Riddle in the fall of 2021 and is the director of the Complex Dynamical Systems Laboratory, which also studies such topics as the modeling of animal group behavior.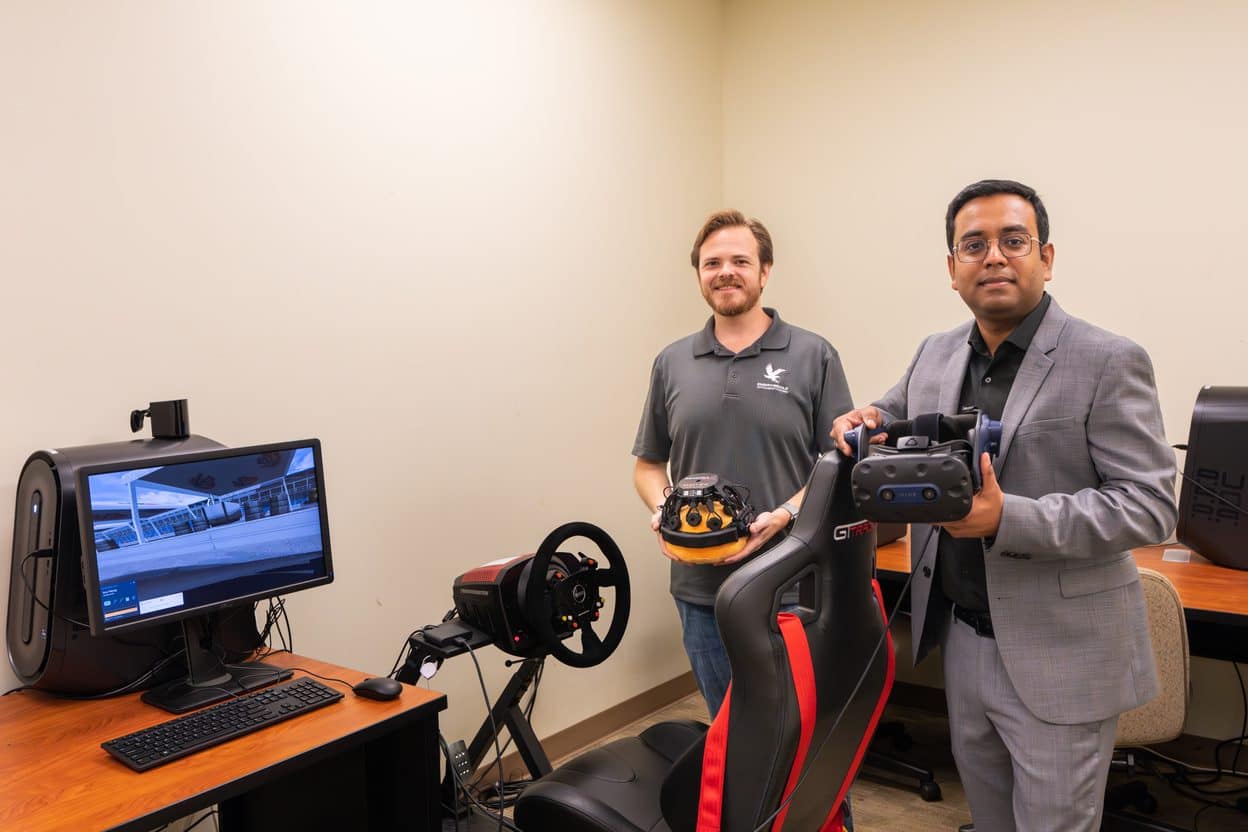 Dr. Subhradeep Roy (right) and Ph.D. student Daniel Lane (left) will utilize VR equipment and an electroencephalogram cap with the driving simulator to better understand automobile driving behavior. (Photo: Embry-Riddle/Bernard Wilchusky)
By leveraging the data collected from brain scans, or electroencephalograms, of drivers in the VR environment, Roy said, the research "can provide insights into how individuals interact, cooperate and compete in dynamic environments," moving beyond the scope of the driving behavior research and "ultimately leading to a better understanding of the complex interplay between social factors and cognitive processes."
He said the project will offer new opportunities to initiate collaborations with cross-disciplinary researchers and neuroimaging experts from his alma mater, Virginia Tech, as well as professors in Embry-Riddle's Department of Human Factors and Behavioral Neurobiology.
Roy predicted that the project, which will investigate such driving maneuvers as lane changing, passing and stopping, will "have potentially transformative implications for cognitive and behavioral neuroscience" and "a lasting impact on the field of complex systems and the study of human behavior."
As part of the project, Roy will develop educational modules and activities designed for a range of academic levels, including adding new modules to a new graduate-level complex systems course he created that was offered for the first time in Spring 2023. A summer outreach program will also be developed to promote traffic safety awareness for K-12 students recruited from the Volusia County Schools system. The summer program also aims to inspire K-12 students to pursue STEM degrees.
Two other Embry-Riddle researchers are also receiving NSF CAREER funding this year. Dr. Victor Huayamave, assistant professor in the Mechanical Engineering Department, will conduct research to improve the prevention and treatment of such infant joint disorders as hip dysplasia. Dr. Jeremy Riousset, assistant professor in the Physical Sciences Department, has brought NSF funding from the Florida Institute of Technology to Embry-Riddle to study atmospheric electricity on Earth and Mars.
Roy called his NSF CAREER award a "validation for the hard work and dedication I have invested in my research program."
"It is a realization that my ideas and contributions are being acknowledged and supported on a national scale. It has further solidified my commitment to advancing knowledge, mentoring future scientists and pushing the boundaries of research in my field," Roy said.
Posted In: Applied Science | Engineering | Human Factors | Research | Security Intelligence and Safety