Embry-Riddle Prescott Flight Team Takes Home 12th National Championship at NIFA SAFECON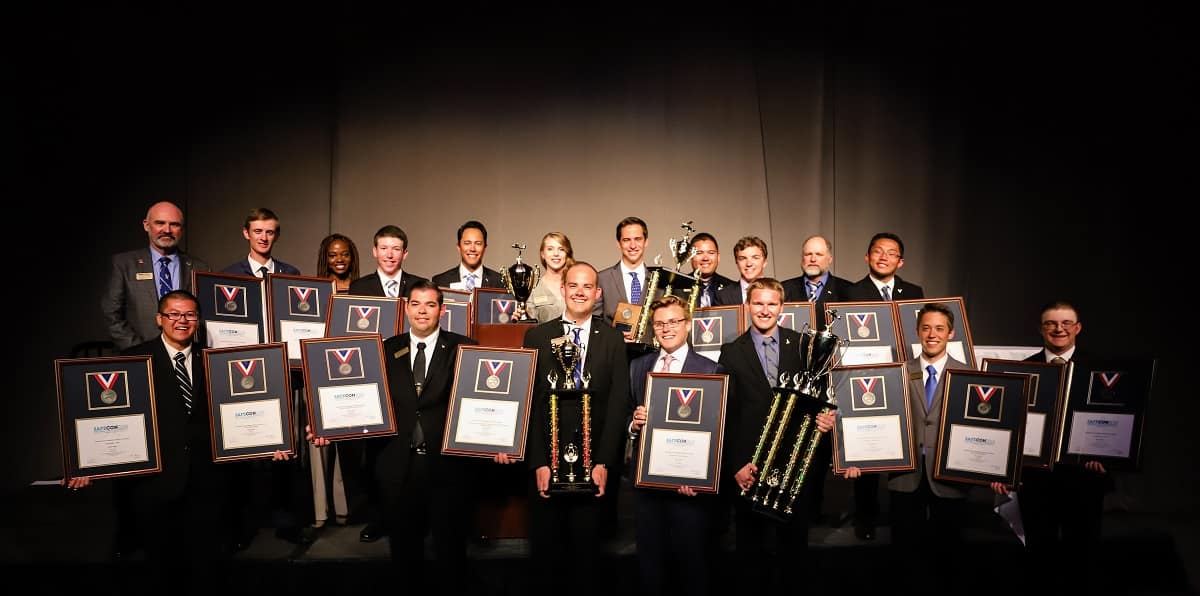 The Daytona Beach, Fla., Campus team bested its sixth-place finish from last year, earning fourth at this year's competition, held April 30-May 5 this year at Indiana State University.
The event, which brings together collegiate aviation teams from around the United States to compete in flight and ground events such as navigation, computer accuracy, preflight inspection and more, featured more than 350 students from nearly 30 of the nation's top colleges with aviation programs. Competing schools included the United States Air Force Academy, University of North Dakota, Purdue University, Florida Institute of Technology, Southern Illinois University, Auburn University, Kent State University, The Ohio State University, Western Michigan University and others.
In addition to being the first competing team to win three times in a row, Prescott's Golden Eagles finished with 544 points, the highest not only in the team's history but most points earned by any team since the establishment of the competition's modern scoring system. They also won all team-based honors including the coveted Judges Championship Trophy, Flight Events Championship Trophy and the Ground Events Championship Trophy.
With three of the Top 10 Scoring Contestants overall – Prescott's Jacob Cobain, Ryan O'Connor and Nick Moore – Embry-Riddle was the most represented school for individual scores in the top 10.
Overall, the Golden Eagles Flight Team members finished in the top 10 in 12 categories. First-place winners in the individual categories include Colin Ho-Tseung in Aircraft Recognition, Colin Kennedy in Computer Accuracy, Nick Moore and Anthony Platt in CRM/LOFT, Madeline Mearsch in Ground Trainer, Bat-Amgalan Batbileg and Spencer Thomas in Navigation, and Jacob Cobian in Power-Off Landing. In the Top Pilot competition, Golden Eagles Ryan O'Connor, Jacob Cobian and Madeline Mearsch all made the top 10.
In addition to its fourth place overall, the Eagles Flight Team of the university's Daytona Beach Campus earned six top 10 rankings individual categories, including the top spot in Instrument Simulated Flight for Michael Benson. The team placed fourth in the Judges Championship, fifth in the Ground Events Championship and sixth in the Flight Events Championship.
Ben Klinkman-Sinatra of Prescott and Michael Benson of Daytona Beach each earned the Outstanding Team Member Award. Regional Top Pilots were Nick Moore of Prescott and Michael Benson of Daytona Beach.
The dedication, commitment to excellence and unparalleled skills of our student flight teams from the Arizona and Florida campuses is exemplified by their continuing success in this important competition," said Embry-Riddle President Dr. P. Barry Butler. "We are proud of their accomplishments individually and as teams representing their campuses and their passion."
With the 2018 top title, Prescott's Golden Eagles have now won the NIFA SAFECON national championship 12 times since 1993. The team also has an unbroken 34-year record as regional champion.
Under head coach Sam Morris, assistant coach Rachel Hutzell, team mechanic and coach Farrell Harris, volunteer coach/photographer Stephen Anderson and faculty advisory Dr. Juan Merkt, the Prescott Golden Eagles team consists of Bat-Amgalan "Bella" Batbileg, Jacob Cobian, Kevin Fickenscher, Jason Fung, Colin Ho-Tseung, Joseph Kao, Colin Kennedy, Ben Klinkman-Sinatra, Brian La Fetra, Benjamin Lamer, Daniel Lee, Matthew Masangcay, Madeline Mearsch, Nick Moore (captain), Karl Neserke, Aisen "Sammy" Ngo, Ryan O'Connor, Arinola Ojehomon, Kevin Peace, Anthony Platt, Richard Santi, Erin Teal, Spencer Thomas, Jonathan Van Schooten, Trevor White and Joshua Wiese.
"As a team alumni and as a coach, I could not be more proud of the team and what it has accomplished. Each year the team takes on a new personality and it was clear, early on, that this team had the potential to make NIFA history," said Golden Eagles Coach Sam Morris. "This year's team showed an outstanding ability to adapt. The location of the competition was new for every competitor, the conditions were challenging, and coming off a back-to-back win, it was clear the team would be subject to intense competition. Under the leadership of Captain Nick Moore, this team found ways to take its weaknesses and turn them into strengths. Members took obstacles thrown their way and turned them into advantages."
For more information on the Embry-Riddle Prescott Golden Eagles, go to its official website at flygoldeneagles.com or on Facebook at facebook.com/TheGoldenEaglesFlightTeam.
The Daytona Beach team, which finished sixth in last year's competition, won the national championship in 1992 and placed second in 2009 and 2010.
The Daytona Beach Eagles team consists of head coach Richard Garner, assistant coach Winsun Lu Yang and competitors Michael Benson (captain), Daniel Byrnes, Nicolas Carbone, Robert Drouin, Manuel Escobar, Saiful Jihad, Christopher Krempa, Kam Wai Leung, Patrick MacKinlay, Tyler Rispoli, Scott Rudkin, Joshua Suarez, Steven Remingten Ten and Tsz Him "Issac" Yeung.
"The Eagles Flight Team did a great job this year. Improving from sixth last year to fourth place this year involved several significant changes, and the team's ability to adapt showed in the results," said Eagles Flight Team Coach Richard Garner. "Because of our recruiting efforts during the past year, we are set to improve even more during next year's national competition. I'm proud of the team's efforts and looking forward to the upcoming year."
For more information on the Embry-Riddle Daytona Beach Eagles, go to the official website at eaglesflightteam.com or on Facebook at facebook.com/eaglesflightteam.
For a complete list of the 2018 NIFA SAFECON national competition results, go to nifa.aero/wp-content/uploads/SAFECON-2018-Overall-Results.pdf
Media Contacts:
Melanie Hanns, Senior Communications Advisor, Embry-Riddle Aeronautical University; Office: (386) 226-7538; melanie.hanns@erau.edu
Jason Kadah, Director of Communications and Marketing, Embry-Riddle Aeronautical University, Prescott, Ariz., Campus; Office: (928) 777-6731; jason.kadah@erau.edu
James Roddey, Director of Communications, Embry-Riddle Aeronautical University, Daytona Beach, Fla., Campus; Office: (386) 226-6198; james.roddey@erau.edu.
---
About Embry-Riddle Aeronautical University
Embry-Riddle Aeronautical University, the world's largest, fully accredited university specializing in aviation and aerospace, is a nonprofit, independent institution offering more than 80 baccalaureate, master's and Ph.D. degree programs in its colleges of Arts & Sciences, Aviation, Business, Engineering and Security & Intelligence. Embry-Riddle educates students at residential campuses in Daytona Beach, Fla., and Prescott, Ariz., through the Worldwide Campus with more than 125 locations in the United States, Europe, Asia and the Middle East, and through online programs. The university is a major research center, seeking solutions to real-world problems in partnership with the aerospace industry, other universities and government agencies. For more information, visit www.embryriddle.edu, follow us on Twitter (@EmbryRiddle) and facebook.com/EmbryRiddleUniversity, and find expert videos at YouTube.com/EmbryRiddleUniv.
About NIFA SAFECON
The National Intercollegiate Flying Association SAFECON is a national championship flying competition for collegiate teams from across the country. NIFA was formed to develop and advance aviation education; to promote safety in aviation; to foster communications and cooperation between aviation students, educators, educational institutions and the aviation industry; and to provide an arena for collegiate aviation competition. For more information, go to nifa.aero.