Prescott Campus' STEM Education Center Under Construction, Will Support New Degree in Simulations Science, Gaming and Animation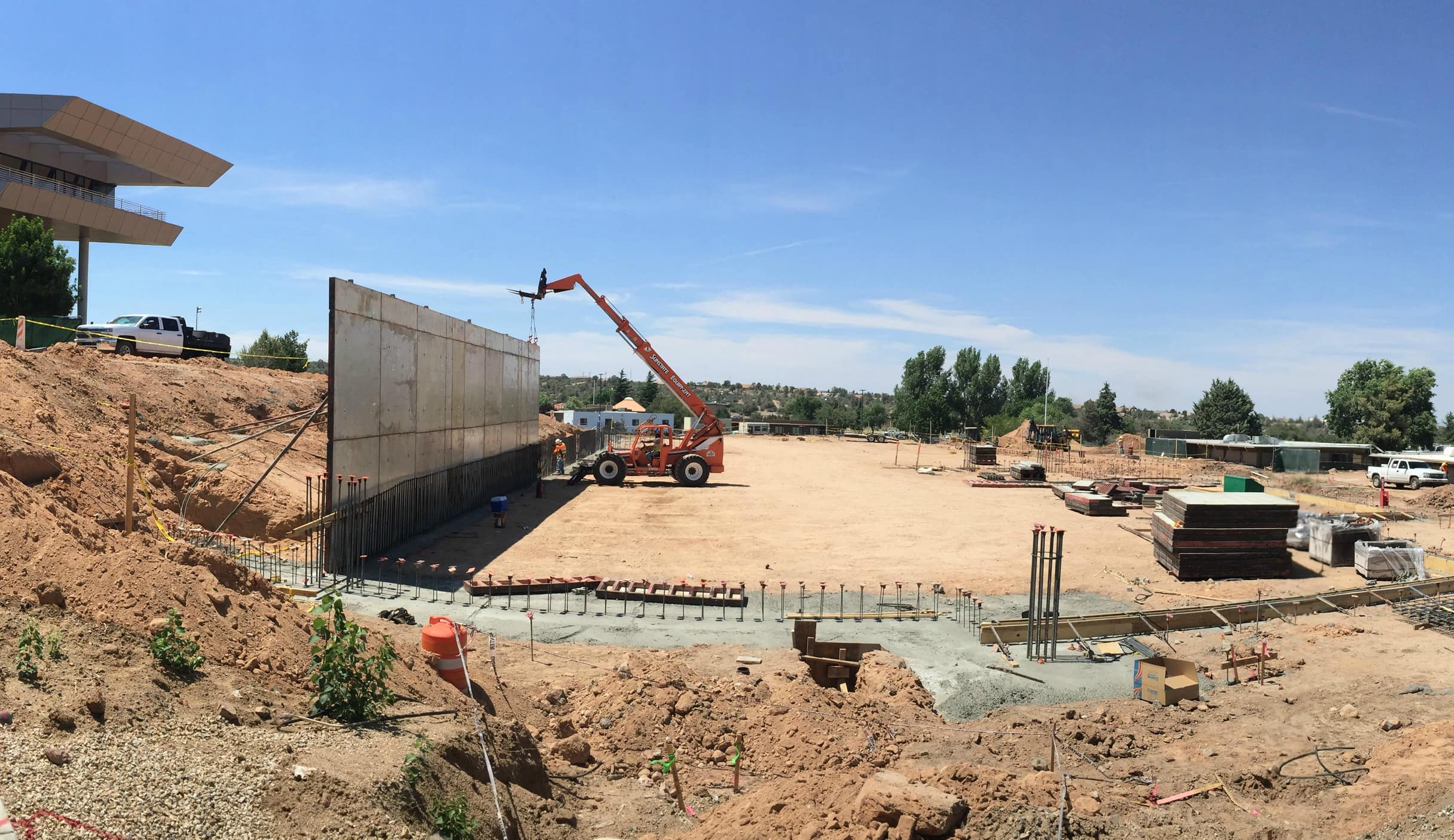 Construction is underway on a 52,500-square-foot STEM Education Center at the Prescott Campus of Embry-Riddle Aeronautical University, with the $22 million building designed by Leo A. Daly scheduled for completion at the start of the Fall 2017 semester. Work is coming along quickly, and video of the center's planetarium dome being installed can be seen in a time-lapse video below.
"The STEM Center will be a hub for the education and enrichment of students, faculty, researchers and the community, inspiring generations of students to pursue education and careers in the rewarding and in-demand fields of science, technology, engineering and mathematics," said Dr. Frank Ayers, Chancellor of the Prescott Campus. "Embry-Riddle has focused on STEM education throughout its 90 years in existence and with this new center we're poised to advance to the next level."
The building will contain classrooms, meeting rooms, a multimedia center and a planetarium dome for the campus' top-ranked astronomical observatory. It will also house 20 state-of-the-art labs for faculty and students, including the following:
Robotics Labs. This suite of labs will support the fastest-growing program on campus, mechanical engineering, which launched in 2006.
Undergraduate Science Labs. State-of-the-art biology, chemistry and physics labs will enable enhanced programs in biology and pre-med.
Raisbeck Engineering Design Studio. Students will get hands-on experience working on the next generation of commercial aircraft, military aircraft and unmanned aerial systems in this design/build/test lab.
Fann Contracting Advanced Computing & Simulation Lab. A small supercomputer system will be available for use by students and faculty in computational and simulation sciences.
Space Lab. Small satellite and space systems development will be conducted in this lab.
Besides engineering programs, STEM Center facilities will support degree programs in astronomy, forensic biology, space physics and wildlife science as well as a new bachelor's degree in simulations science, gaming and animation. The new program will prepare students to design and build virtual worlds using mathematical algorithms and technologies underlying aviation simulators, computer-aided design systems, computer animation software, streaming video networks and computer games.
Members of the local community will find the STEM Center a welcoming place, according to Dr. Archie Dickey, Dean of the College of Arts & Sciences. "The multimedia immersive learning center will host virtual reality demonstrations and IMAX-style movies, the planetarium will hold open houses, and summer camps will introduce middle school and high school students to a wide variety of aviation, aerospace and science topics," he said.
The STEM Center is attracting major supporters for naming opportunities. They include the Dr. Fielding McGehee Physics Lab, Fann Contracting Advanced Computing & Simulation Lab, John Holley Classroom, Prescott Campus Faculty/Staff Classroom, Raisbeck Engineering Design Studio, Robinson Helicopters Atrium and Universal Helicopters Commons. For more information, contact Steve Bobinsky, Embry-Riddle Executive Director of Development, at steven.bobinsky@erau.edu or (928) 777-4210.