Prescott Campus Introduces New School of Business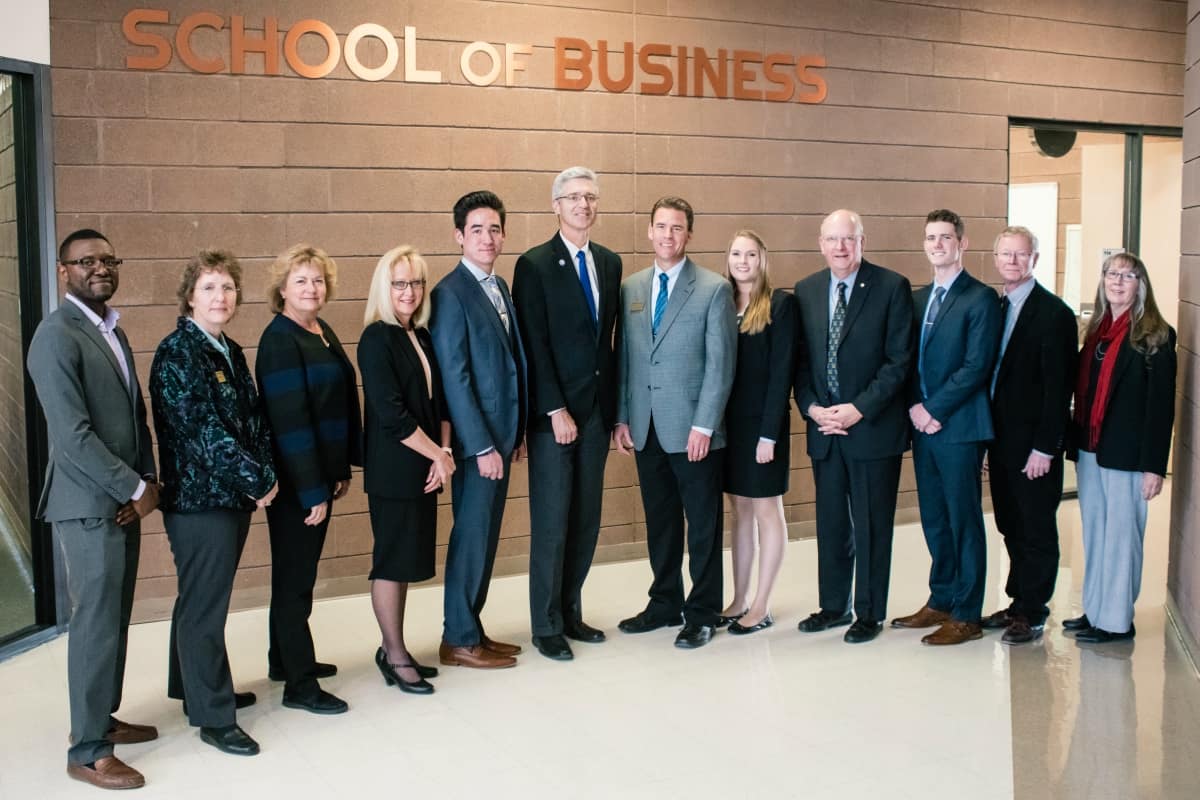 Embry-Riddle Aeronautical University is proud to announce the Prescott Campus' new School of Business. The official unveiling of the school took place at a launch party on Feb. 1 attended by campus and community members, followed by a visit from University President Dr. P. Barry Butler on Feb. 9.
"This is truly an exciting and transformative time," said Dr. Thomas Drape, Interim Chair of the new school. "With Embry-Riddle's elevation of our department to a Business School, the University is confirming its commitment and dedication to our outstanding business students, our amazing faculty and to our strategic initiatives for future growth and development."
Several signature areas distinguish Embry-Riddle's programs from other business programs in the region, including experiential real-world global consulting and internship opportunities, dedicated and talented faculty with business acumen, impressive industry networking and unique program offerings. Four core business programs will initially anchor the new School of Business:
B.S. in Aviation Business Administration, with six concentration options, including the new Supply Chain Management in Aviation and Aerospace
B.S. in Business Administration, with three concentration options (Management, Accounting or Finance)
B.S. in Forensic Accounting and Fraud Examination
B.S. in Global Business, with three concentration options (Language and Culture, Management, or Aviation/Aerospace)
The newest program, Forensic Accounting and Fraud Examination, blends a strong accounting foundation with fraud detection classes such as personality and profiling, deception and cyber forensics. In addition, Embry-Riddle Prescott's B.S. in Aviation Business Administration is the only program of its kind accredited by the Aviation Accreditation Board International (AABI). The Global Business program integrates a global supply chain focus with study-abroad and internship opportunities around the world, including Morocco, Hong Kong, Germany, Spain and China.
"Other institutions have management degrees, but we offer the full suite of business courses —accounting, marketing, finance, information systems, and economics — that one expects from a Business School," said Drape. "This is another reason why our three-year employment average is very strong, with 90 percent of our graduates gaining employment or graduate school acceptance within one year of graduation."
Further benefiting students are Embry-Riddle's reputation and legacy industry relationships. Recently, The Boeing Company selected the new School of Business as a "focus" school for recruiting students pursuing careers in Supply Chain Management. Students also participate in a signature capstone consulting experience in which all graduating business students work closely and independently with actual public and private sector clients from around the world.
"Our faculty-mentored student-consulting projects provide a wonderful advantage for our School of Business students," added Drape. "They learn to apply business knowledge and develop their emerging professional and entrepreneurial skills in a challenging, fulfilling experiential learning environment led by our expert and committed faculty."
For more information on Embry-Riddle's new School of Business, go to http://prescott.erau.edu/college-arts-sciences/business/index