Positive Impact: Tom Davis Scholarships Help Embry-Riddle Students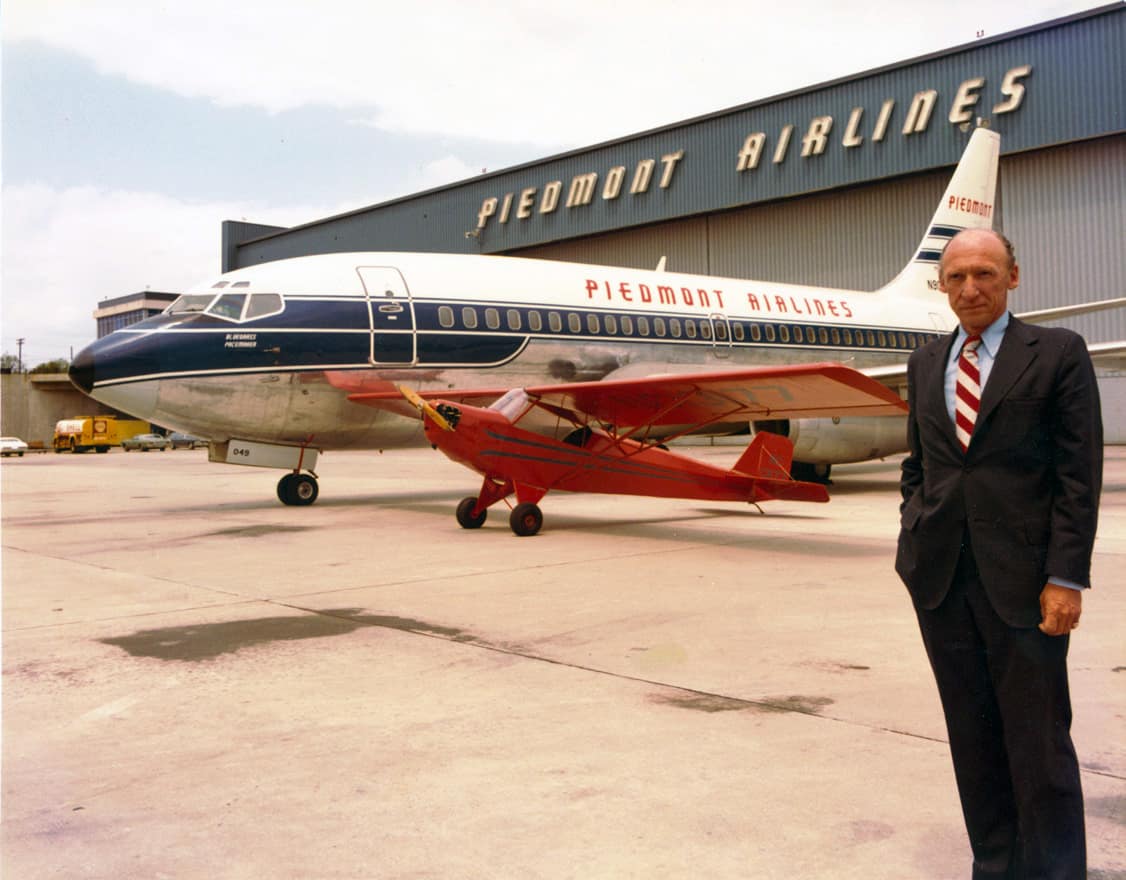 Nicholas Pierce has fond memories of flying in a Taylor Cub or Beechcraft Baron as a child, next to his grandfather Piedmont Airlines founder Tom Davis.
"We were always at the airport flying something," said Pierce, who is a pilot for American Airlines. "He liked nothing better than flying his Cub on a nice day."
The family's passion for aviation led to the creation of two scholarships at Embry-Riddle that they named in honor of Davis, who passed away in 1999. The Tom Davis/Piedmont Airlines Presidential Endowed Scholarship is available for full time undergraduate students with financial need, and the Tom Davis Memorial Flight Training Scholarship specifically assists students with the cost of flight training.
With a current pilot shortage, scholarships that foster the next generation of pilots benefit the aviation industry as a whole, said Alan Stolzer, dean of the College of Aviation at Embry- Riddle's Daytona Beach Campus.
"The Tom Davis scholarships are excellent examples of the positive impact that industry leaders can have on our students' lives and careers," said Stolzer. "Nicholas Pierce understands well the contribution these scholarships have on our student selectees, but also on the aviation industry, which richly benefits from these awards."
Looking Skyward
Growing up in Winston-Salem, North Carolina, Davis was "one of those kids that was always looking at the sky and was fascinated with airplanes or flying machines, as they called them [then]," said Pierce.
As a boy, Davis met Charles Lindbergh when he visited his hometown in the late 1920s, which further sparked his interest. Davis flew his first solo flight at age 16 in a Taylor E-2 Cub.
After briefly studying pre-medicine at the University of Arizona, Davis moved back to Winston-Salem, where he sold Piper and Stinson airplanes and gave flight lessons at the Camel City Flying Service. In 1940, he became the company's principal stockholder and renamed it Piedmont Aviation Inc. It later expanded, selling more planes and training military pilots.
In 1947, Davis formed Piedmont Airlines, a regional airline that began offering commercial flights in 1948. When Piedmont was acquired by USAir Group in 1987, it was one the country's most profitable airlines with more than 21,000 employees. US Airways merged with American Airlines in 2013.
Davis continued to fly up until a year before his death at age 81, including piloting his original Taylor E-2, which he restored. In 1984, he received the Daniel Guggenheim Medal for his achievement in aeronautics.
Helping Future Aviators
A commercial aviation pioneer, Davis was known for his innovation, commitment to his employees and generosity. Therefore, Pierce said it is fitting that his family's foundation focuses on giving young people an opportunity to fly or to be exposed to aviation.
Pierce shares his grandfather's passion for flight, starting flying lessons himself when he was 15 years old. He began his career as a flight instructor and charter pilot; he became a commercial pilot in 1993.
Pierce created the flight training scholarship at Embry-Riddle after talking to Ken Byrnes, flight department chair and associate professor of aeronautical science at the Daytona Beach Campus, at the annual EAA AirVenture Oshkosh fly-in and convention.
"Ken mentioned there was no one who supported flight training on a scholarship level and some kids couldn't complete their flight training to become pilots, because they did not have enough funds," Pierce said. "So I told him that I wanted to help."
Byrnes said both scholarships serve to continue Davis' positive influence on the aviation industry.
"Tom Davis had a profound impact on the aviation industry," Byrnes said. "Through his passion for aviation and his thoughtful leadership skills, he developed one of the most successful airlines in U.S. history. We are beyond grateful that we are able to honor his legacy."