Embry-Riddle Named One of Nation's Best Colleges for Military Students and Veterans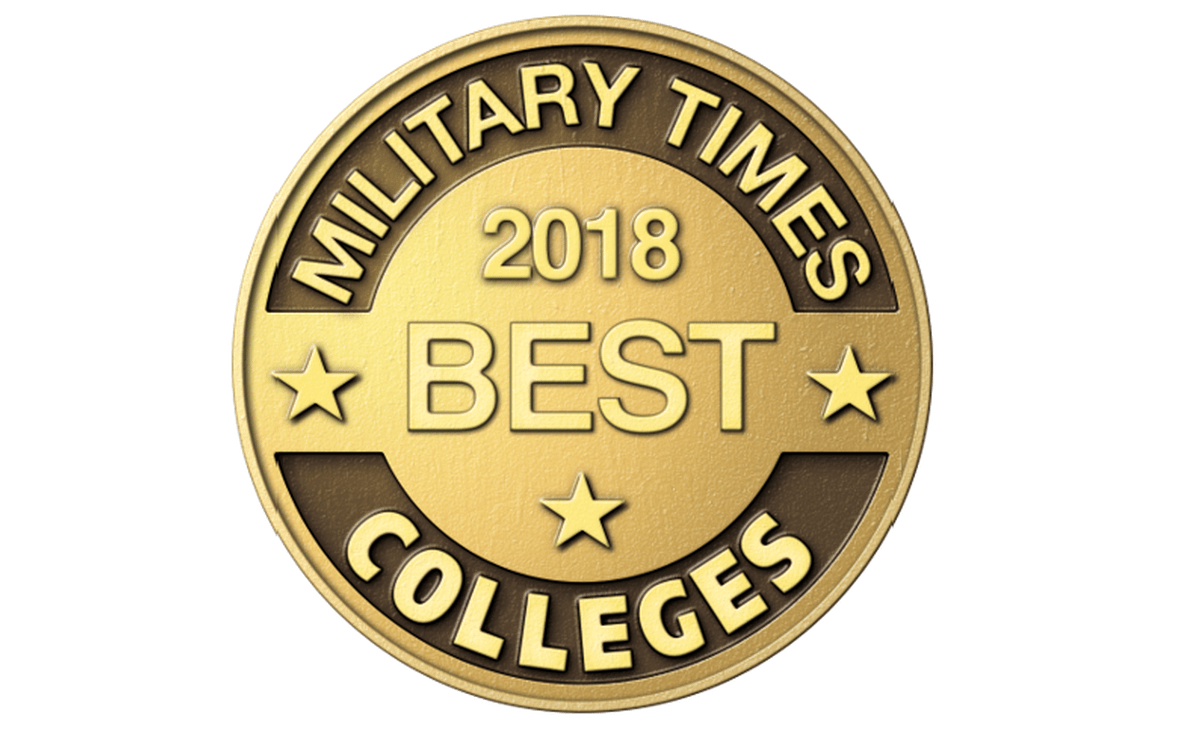 In a national nod to its ongoing efforts and commitment to provide quality educational opportunities to U.S. veterans and military-connected students, all three of Embry-Riddle Aeronautical University's campuses have been recognized by the online and print publication Military Times in its 2018 Best Colleges survey.
Out of 600 colleges that took part in this year's Military Times Best: Colleges rankings, only 218 made the final list across all four categories – four-year, two-year, online/nontraditional and career & technical colleges.
Embry-Riddle Worldwide was identified as No. 11 in the United States in the Online/Nontraditional category. In the Four-Year Schools category, Embry-Riddle's residential campus in Daytona Beach, Fla., was No. 63 with its residential campus in Prescott, Ariz., was No. 136.
This is the first time Embry-Riddle Worldwide and the Prescott Campus have placed in the Military Times ranking (formerly known as Best for Vets: Colleges) in the past five years. It is the best showing to date for the Daytona Beach Campus.
"We're incredibly proud of the more than 18,500 undergraduate and graduate students currently attending Embry-Riddle as active duty, reserve and veterans of the armed forces," said Embry-Riddle President Dr. P. Barry Butler. "As they make up nearly 57 percent of our current student body – with our Worldwide campuses encompassing almost 75 percent of that number – it is a priority and honor to provide the best education, services and opportunities for those that serve our country."
To be eligible for the ranking, a college or university must offer bachelor's or graduate degrees or both, complete the Best for Vets survey and identify themselves primarily as a general education institution. Institutions considered also had to show they have signed on to any of the three major military and veteran education agreements: Principles of Excellence, 8 Keys to Veterans' Success, and the most recent Defense Department Memorandum of Understanding.
"Of the hundreds of schools that applied, fewer than half received the Military Times Best: Colleges designation this year. Only the best made the cut," said George Altman, the Military Times editor in charge of the rankings. "For the past eight years, we've seen colleges and universities consistently increasing their resources, revising their policies and improving their academic outcomes for military and veteran students. The Military Times Best: Colleges rankings showcase the very best of these efforts."
To create the rankings, Military Times evaluated colleges' survey responses based on what veterans have told them is important to them and editorial judgment. Data directly from the universities as well as from the Veterans Affairs and Defense departments, as well as three Education Department sources – the IPEDS Data Center, College Scorecard data and the Cohort Default Rate Database – also were incorporated into the rankings.
Institutions were evaluated in five categories: University Culture, Academic Outcomes/Quality, Student Support, Academic Policies and Cost & Financial Aid. For two-year, four-year and online institutions, University Culture was the highest weighted category in the survey. Additional information included 2016 enrollment data, veteran facilities, policies, staff support, retention, graduation rate and accreditation.
According to Military Times, the majority of schools that responded to the survey — 67 percent — were public, around 23 percent were private nonprofit universities, and 7 percent were for-profit institutions.
All of Embry-Riddle's campuses have received numerous acknowledgements for their diversity of degree programs and ongoing efforts to educate active service members and veterans of the nation's armed forces. The most recent recognitions as best for veterans and military-friendly school include top rankings by U.S. News & World Report, Military Advanced Education & Transition, Victory Media (publisher of G.I. Jobs, STEM Jobs, Military Spouse and Vetrepreneur) and U.S. Veterans magazine.
To view the full Military Times Best: Colleges rankings, go to Military Times Best: Colleges.
---
About Military Times
MilitaryTimes.com is a one-stop online source for breaking news; personal finance information; healthcare; recreational resources; exclusive videos and photos; Guard and Reserve information; and an expanded community area connecting service members, military families and veterans. Service members and their families rely on the print edition of Military Times and MilitaryTimes.com as trusted, independent sources for news and information on the most important issues affecting their careers and personal lives. On a weekly basis, Military Times provides quality, unbiased reporting on the important issues for the military community including news, education and training, transitioning to civilian life, financial services, and more including a variety of special reports throughout the year including Military Times Best: Colleges. For more information, go to militarytimes.com.