New Drone-Safety Initiative Could be Key to Unlocking the National Airspace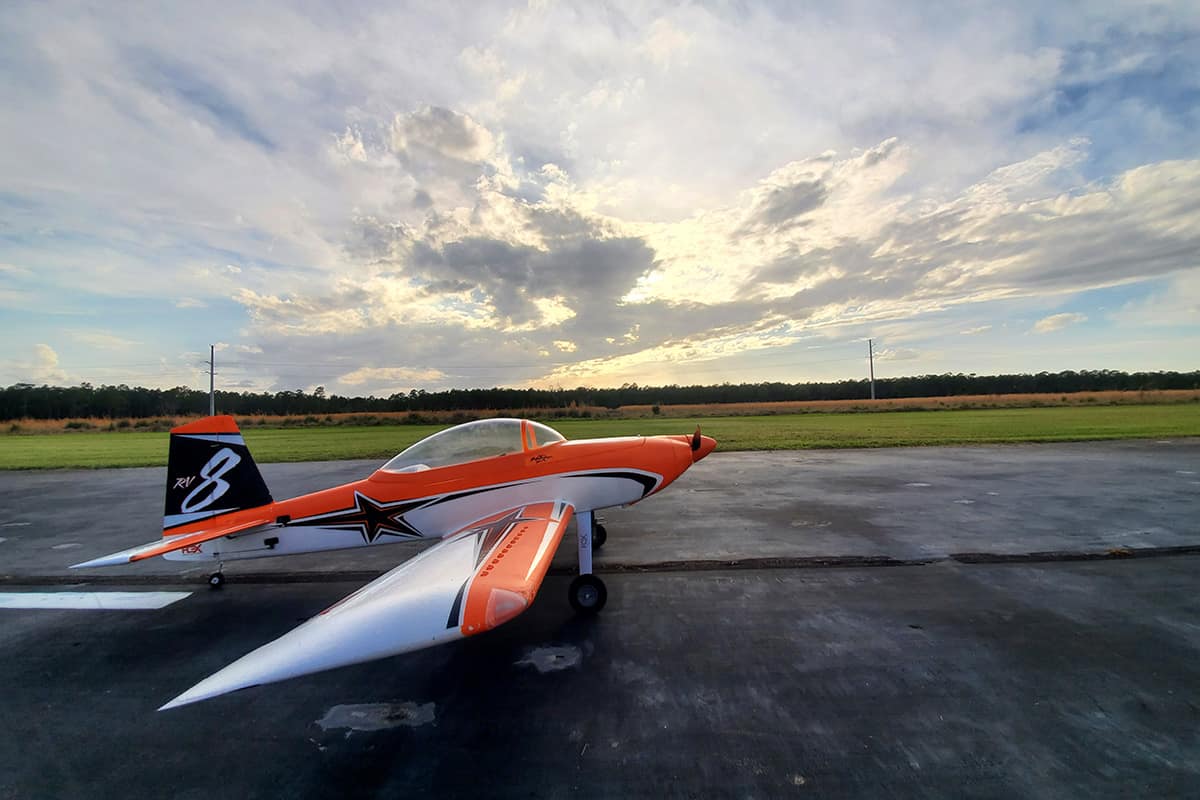 Research currently being conducted at Embry-Riddle Aeronautical University's College of Aviation could play a major role in expanding restrictions on small Unmanned Aircraft Systems (sUAS), or drones, being flown beyond the visual line of sight of their operators — marking an important milestone that would pave the way for advancements like drone delivery and urban air mobility.
"The proposed system would serve as a 'backup' to the primary flight computer, in the case of an in-flight loss of communications or control," said Robert Moore, lead graduate researcher on the project and first-year student in the Unmanned and Autonomous Systems Engineering master's program.
Backed by funding from NASA's University Student Research Challenge, the Assured Autonomy Research Initiative, as the project is called, aims to improve the safety and reliability of sUAS by creating a redundant flight control system. If successful, Moore believes that the project could help push the Federal Aviation Administration (FAA) toward easing current regulations, which would allow for wider use of autonomous aircraft in the National Airspace System.
"A secondary goal of this project is the development of a low-cost, variable-speed propeller for sUAS integration," Moore added. "The use of variable pitch propellers in larger aircraft has proven to be an effective tool for increasing endurance, range and efficiency."
But first, to make the secondary safety system work, Moore and his team have to reverse-engineer software in the aircraft to send, rather than just receive, telemetry data, remote control directives and information from the aircraft's various sensors.
"It's been a challenge," said Moore, a Longmeadow, Massachusetts, native. "But we've been attempting multiple software script approaches to overcome it."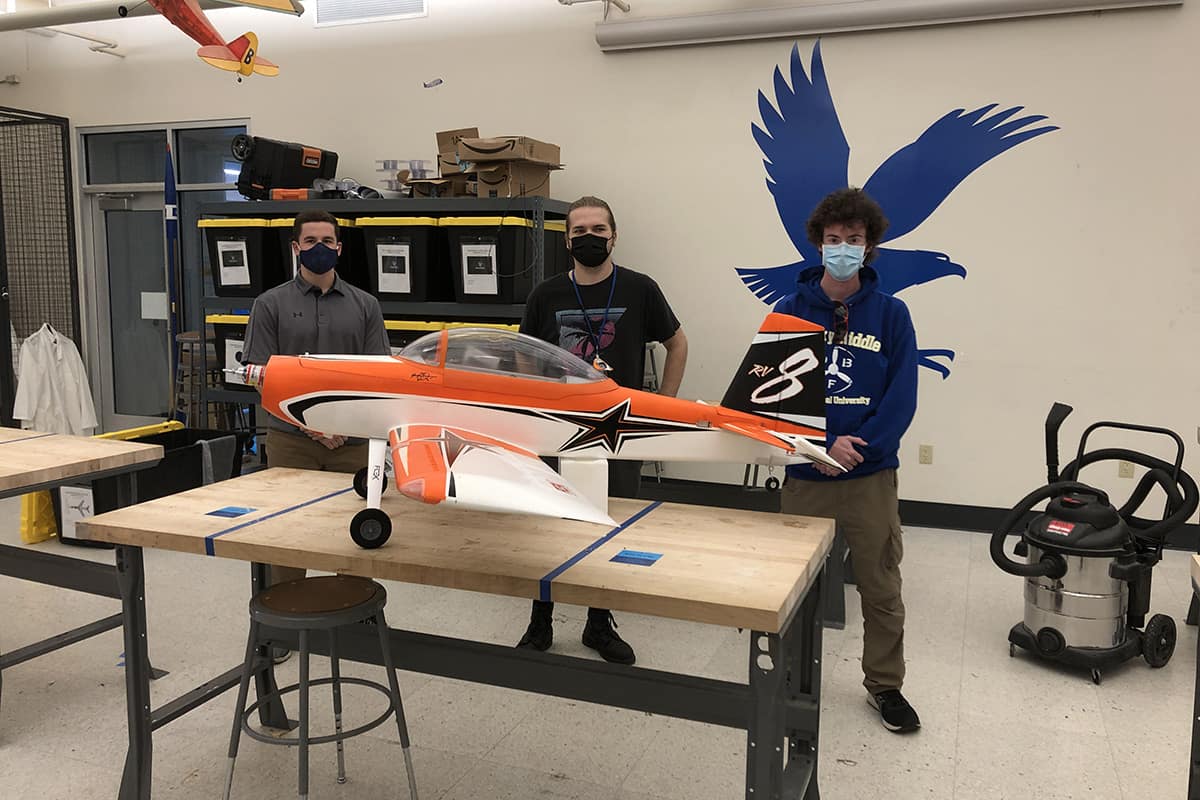 Undergraduate students Joseph Ayd and Todd Martin assist master's student Robert Moore in the project. (Photo: Robert Moore)
Undergraduates Joseph Ayd and Todd Martin have also been "monumental" in the project's development, according to Moore, primarily writing software, modifying the airframe and integrating hardware to detect system failures onboard the aircraft as well as control the switchover from the primary to the backup flight computer in case of failure, among other things.
"I want to change the world for the better," said Ayd, an Aerospace Engineering senior concentrating in Aeronautics. "Working on the Redundant Flight Control project allows me to approach industry challenges head-on: challenges that allow me to think critically, work in a team and apply my engineering knowledge. I've also gained a deeper understanding of how government agencies like NASA and the FAA interact with industry organizations to solve complex problems."
'The future of the UAS industry will depend upon beyond-the-line-of-sight (BVLOS) operations," added Martin, an Unmanned Aircraft Systems Science senior. "This project has made significant progress toward attaining safe BVLOS operations, and we have successfully taken concepts and implemented them into a working prototype. This research and development process is something I will likely experience in my career field, so getting experience with that now will undoubtedly benefit me in the future."
The outcome of this project could change the way the entire industry looks at mitigating risk. Not many students can say they've been involved in projects with that large a scope, but at Embry-Riddle, it's far from uncommon.
After graduation, Ayd plans to contribute to the next generation of supersonic and hypersonic technology in the Aerospace and Defense Industry, specifically as a flight sciences design or test engineer. Martin's dream is to work for a major aviation-manufacturing company that specializes in unmanned aircraft, working in the design, development, fabrication and, potentially, operation of these systems.
The two also assist in flight test operations, post-test data analysis and installing hardware.
For Dr. John Robbins, chair of the Aeronautical Science Department and principal investigator on the research, this type of project is important both to the industry and to students, because it gets them involved in their fields well before the official starts of their careers.
"This is legitimate work that can have major real-world impacts," Robbins said. "This type of contingency system Robert has conceptualized and is in the process of proving would be akin to a 'fail-safe' for UAS operations, adding an additional layer of control and safety. The outcome of this project could change the way the entire industry looks at mitigating risk. Not many students can say they've been involved in projects with that large a scope, but at Embry-Riddle, it's far from uncommon."
Next, after the group finishes coding, they intend to put their work to the test, accumulating reliability data by flying three of the same airframes 125 hours each. The project, which hosts a crowdfunding campaign, will also be chronicled in an upcoming article written by Moore, to be published in ArduPilot.
Posted In: Aviation | Engineering | Research | Uncrewed Systems