New Art Gallery Dedicated in Honor of Artist-Astronaut Mrs. Nicole Stott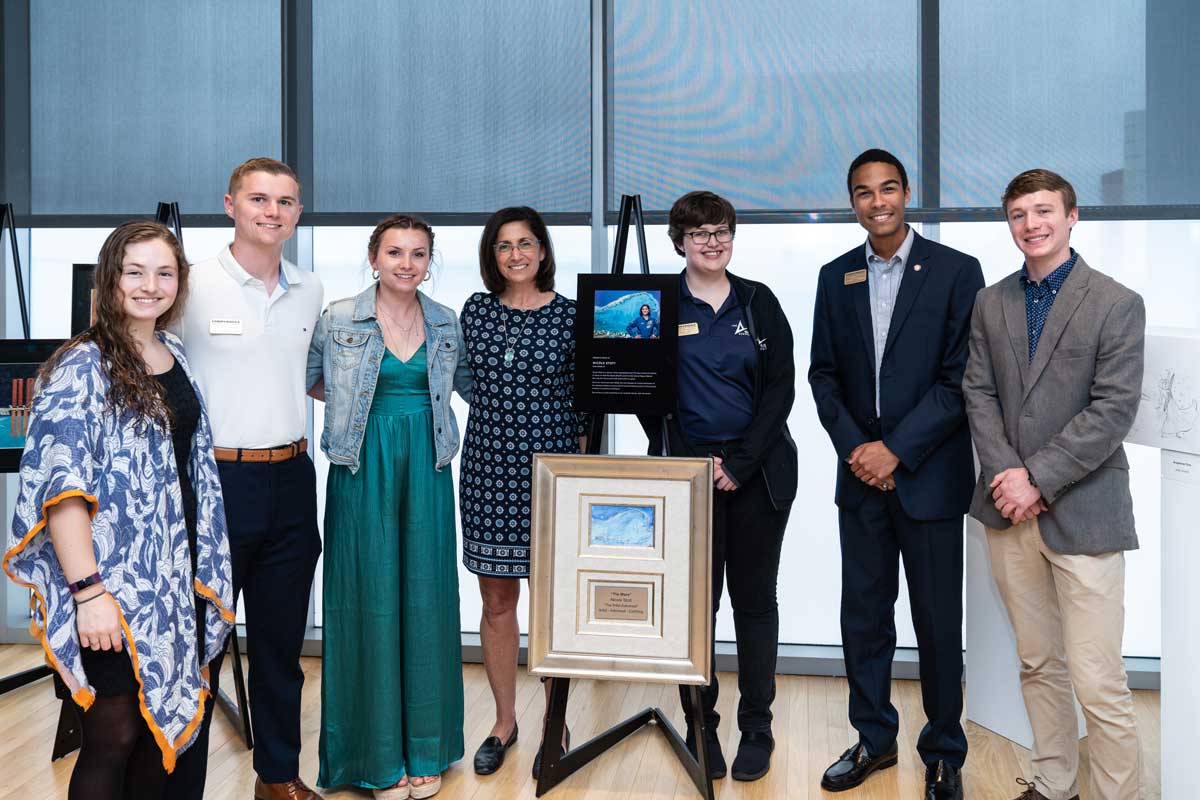 Embry-Riddle has honored artist, retired astronaut, Board of Trustees emerita and university alumna Mrs. Nicole Stott by dedicating an art gallery in her honor.
The Nicole Stott Art Gallery recognizes Mrs. Stott's remarkable achievements, as a veteran of two spaceflights who spent 104 days living and working in space on both the Space Shuttle and the International Space Station (ISS), where she worked for more than six hours while tethered outside the ISS. She also created a watercolor Earth-scape from a photograph she took through a window of the space station, thereby becoming the first person to paint with watercolors in space.
A private dedication of the Nicole Stott Art Gallery took place on Embry-Riddle's Daytona Beach Campus on April 1 on the second floor of the new Mori Hosseini Student Union.
"Mrs. Stott has been a tireless supporter of education who has been an inspiration to our students, faculty, staff and alumni," said Embry-Riddle President P. Barry Butler. "Embry-Riddle owes much to her counsel as a member of our Board of Trustees, and as a champion of science, technology, engineering, art and mathematics. We are profoundly honored to showcase the artwork of a true American icon."
Since her retirement in 2015 following a distinguished 27-year career with NASA, Mrs. Stott has focused on raising awareness of the interplay between science and art and promoting creative thinking about solutions to planetary challenges.
Mrs. Stott was a member of the Embry-Riddle Board of Trustees from 2012 until 2018.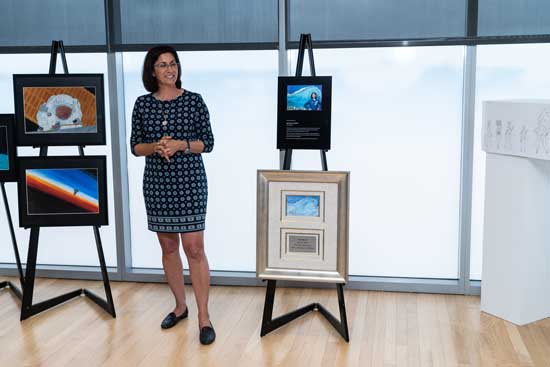 Mrs. Nicole Stott – retired astronaut, artist, alumna, Board of Trustees member emerita, and namesake of the Nicole Stott Art Gallery at Embry-Riddle. (Photo: Embry-Riddle/Daryl LaBello)
A Remarkable Journey
Since retiring from NASA in 2015, Stott has continued to leverage her love of science, technology, engineering, art and mathematics (STEAM) to improve life on Earth. For example, she has been a champion of the Spacesuit Art Project, which places artwork by children in treatment for cancer on space suits that convey messages about hope, courage and unity. The project, inspired by Ian Cion, founder of the Arts in Medicine Program at The University Texas MD Pediatric Cancer Center, has also been supported by spacesuit maker ILC Dover, the NASA ISS Program Communications Group, Stott, and others.
A native of Albany, N.Y., who was raised in Clearwater, Fla., and now calls Florida her home, Mrs. Stott entered St. Petersburg College to study aviation administration, and later earned a B.S. degree in aeronautical engineering from Embry-Riddle (1987) and her M.S. degree in engineering management from the University of Central Florida (1992). Her career began with a job as a structural engineer for Pratt & Whitney Government Engines, where she performed structural analysis on advanced jet engine component designs.
In 1988, she joined NASA's Kennedy Space Center, where she worked as an operations engineer in the Orbiter Processing Facility and held other positions within NASA Shuttle Processing. Ten years later, she joined the Johnson Space Center. Her work there included service as a flight simulation engineer on the Shuttle Training Aircraft and helped prepare astronauts to safely land the space shuttle.
In 2000, she was selected to become an astronaut candidate. In 2006, and in preparation for long-duration spaceflight, Stott lived and worked on the longest-duration NASA Extreme Environment Mission Operations (NEEMO 9) mission – for 18 days on the Aquarius undersea research habitat – an experience she believes was the best analog to flying in space. She also trained extensively along with her ISS crew members in Russia, Japan, Canada and Europe.
In 2009, on her first spaceflight, she was as a member of the STS-128 Discovery crew, and she flew for three months aboard ISS as a member of the Expeditions 20 and 21 crews. During her time on ISS, she completed a 6.5-hour spacewalk, flew the robotic arm to capture the first free-flying Japanese cargo vehicle, participated in more than 100 research investigations, and after three months returned to Earth as a member of the STS-129 Atlantis crew.
In 2011, Stott flew her second spaceflight to ISS as a member of the STS-133 Discovery mission – the final flight of the space shuttle Discovery. STS-133 was also a milestone flight for Embry Riddle – the first time two alumni were on the same flight (Al Drew and Stott were mission specialists together on this flight).
In space, Stott said she experienced what author Frank White describes as the "overview effect" – a change in her perspective of Earth as our home planet, and of our interconnectivity and significance, which reinforced her belief in our role to protect it and all who share it as home. "I want a world where everyone appreciates this place that we live – this planet that we have – as one world. We all have to get along to take care of it and take care of each other."
Posted In: Institutional News | Space