Meteorology Students Get Up Close to Tornadoes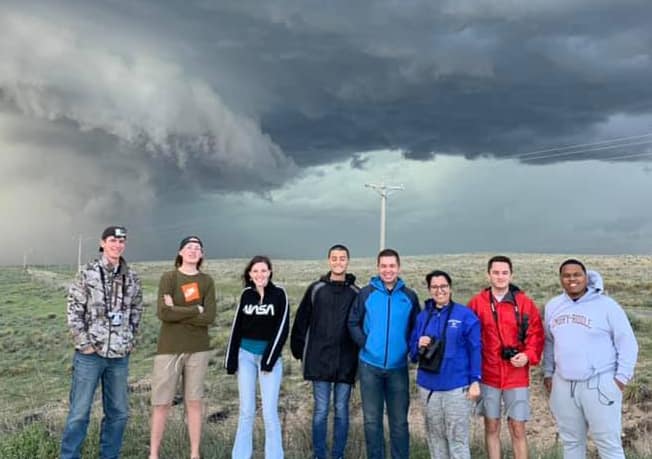 Embry-Riddle meteorology students exploring the Great Plains to observe severe weather over the past couple of weeks got exactly what they were looking for in northern Kansas, three days into their trip.
Just one-quarter mile from the students, an EF-2 tornado – which carries winds of 111-135 mph – crossed the road ahead of them "and then strengthened rapidly," said Shawn Milrad, assistant professor of meteorology, who – along with Dr. Tom Guinn, professor or meteorology and meteorology program coordinator – accompanied the students.
"It was 15 seconds of pure adrenaline," said Embry-Riddle senior Sarah Roddey, "to see a tornado forming right on top of us."
"We saw two tornadoes simultaneously," said Milrad, "and the main one had basically every possible tornado shape, from cone to rope, during its lifespan. Fortunately, we knew it would move in the opposite direction from us."
Milrad and eight students in his study-away Severe Weather Field Forecasting course, held in the region of the United States known as Tornado Alley, had found exactly the opportunity for which the course is designed.
"This kind of field experience allows students to visually observe severe storms and the features associated with them," said Milrad. "We also have students forecast for the storms. So it gives them real-world forecasting and observing experience – experiential learning – with the payoff being they might get to see a lot of really interesting and cool severe storms."

Embry-Riddle students had a chance to learn about extreme weather up close and personal during a study trip to Kansas with meteorology faculty. (Photo: Sarah Roddey)
The tornado-chasing trip, May 25-June 7, coincided with the end of Tornado Alley's peak season. The season first peaks in mid-May in Oklahoma, Texas and Kansas, and then in late May and early June in Nebraska, Colorado and Wyoming. By the end of their trip, the group of students and Milrad, who traveled in three separate cars, had driven about 5,000 miles throughout the Great Plains, observing storms in eastern Colorado, Kansas, Nebraska, New Mexico and Texas.
Among the six men and two women taking the class, three are meteorology majors, and the remaining five are working on a minor in the subject. Such tornado-chasing trips are often considered a crucial part of meteorology training.
Roddey said she decided to participate in the trip after she heard about job seekers who were denied positions in broadcast meteorology in the Great Plains region because they had no storm-chasing experience.
"That was kind of the seal-the-deal point for me on taking the class," Roddey said.
Asked about the danger involved in chasing tornadoes, Milrad said, "The weather part is really not that dangerous if you know what you're doing, which we do," adding that he has been stalking storms in the region since 2006. He said lightning poses more of a risk than the tornadoes.
"We never put ourselves in a position where a tornado would hit us, we always have escape routes," Milrad said. "But lightning is much more random. We're very careful about letting people out of the car when lightning is in the immediate area."
At the end of the course, the students do a research project, usually by investigating the meteorological processes that cause a severe storm or tornado to form, Milrad said. Sometimes, instead, they investigative why weather that was predicted didn't happen. All of the data from the field trip – including information gathered from satellite, radar, surface observations and weather balloons – is archived at Embry-Riddle, so that any students interested in undergraduate meteorological research can examine particular cases more closely.
On June 3, the students were able to witness a close call created by a pilot's inattention to the weather. As the class watched a weak landspout tornado in northern Colorado, a Cessna 172 flew right near the funnel under the thunderstorm, Milrad said, adding, "One of the students remarked, 'Now,
that's
a great example of poor aeronautical decision making."
Posted In: Applied Science | Research