Kidney Donor, Google Scholar Chases Goals from Germany to Outer Space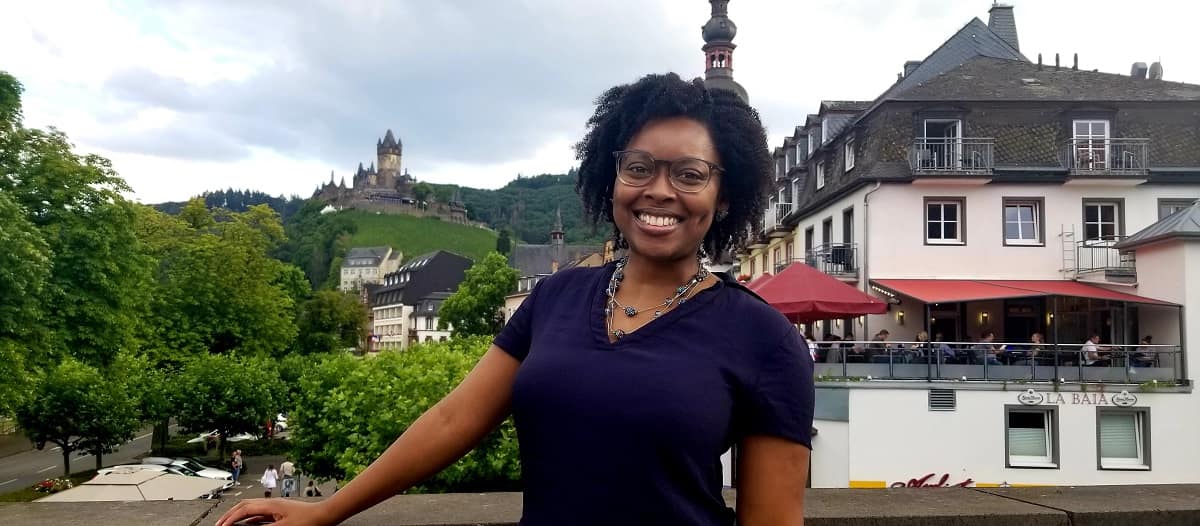 Once you've donated a kidney, other problems in life seem just a little bit smaller.
That's how it was for Tunesha Griffith, anyway, a sophomore at Embry-Riddle's Worldwide Campus who used to work full-time in video game community development. After reading a blog about a Navy Research Lab engineer who was working on unmanned aerial vehicles, though, she knew it was time to change careers. So that's exactly what she did — that very night.
"I get really excited when I see other women doing cool work in the field," she said. "So I reached out to the engineer to tell her how inspiring she was to me. That engineer happened to be Embry-Riddle assistant professor Dr. Christine Dailey Walck."
Walck encouraged Griffith and told her about some of the programs available at Embry-Riddle, which just so happened to have a campus in Wiesbaden, Germany, where Griffith was living with her Army husband
"I was working on a degree in Computer Science at another university at the time, but I was so excited, I ended up starting my Embry-Riddle application that night," said the New Orleans native. "I was completely sold on Unmanned Systems Applications, and what this challenging and absolutely perfect-for-me degree program had to offer."
But challenges were nothing new to Griffith who, in 2013, donated a kidney to her sister. She knew that doing so would mean not being able to work for three months, which would mean not being able to support herself during that time, but she was resolved.
"I was encouraged to take up donations and was incredibly humbled by the amount of support I got from complete strangers," she said. "I was so moved that, while still healing from the surgery, I came up with the idea to create a fundraising team of gamers who would raise awareness and money for issues and needs of people around the world."
The team hosted weekly gaming events, raising over $7,000 for various charities and initiatives in the process — one of which benefitted a father in need of a kidney transplant.
Further motivation for her career transition came when Griffith won the Google Generation Scholarship, which covered $10,000 of her tuition costs and offered her networking opportunities at virtual events as well as access to job openings.
"I wasn't reticent at all," she said of changing the course of her studies. In fact, a childhood love for robotics, telescopes and science is what led her to jobs at Microsoft, Nintendo and Ubisoft in the first place. In those roles, she gained experience with various forms of technology, which made the move into Unmanned Systems not feel like so much of a stretch.
But she did have additional obstacles to overcome — namely, a struggle with obsessive-compulsive disorder.
All her life, Griffith's schoolwork seemed to take her longer to complete than the other kids, partly because she couldn't help repeating numbers over and over again in her mind. The habit became a problem in college, though, when that additional time compounded with the heavier workload.
"I had to take a semester off to find better ways to combat my repetition habit and anxiety," she said, adding that therapy helped her identify the problem and its symptoms. "I had compensated by creating a hyper-organized studying system and studying so hard to the point that I'd memorize everything."
Due to that system, however, she found that she scored in the 1% for memory after taking an IQ test.
"I'm thankful that I took the time off to work on my mental health," she said. "Now when I find myself repeating things, I tell myself there's no need, because I can memorize it and keep it moving."
Next, Griffith plans to move into pursuing a master's degree in Unmanned Systems.
"My dream is to work on Mars missions or the Artemis program, supporting astronauts as they explore the moon and beyond," she said. "Unmanned systems will play a huge role in building life-sustaining settlements as well as surveying new worlds."
On Earth, Griffith is also interested in using drones to aid in archaeological missions, mapping ancient cities and scanning for buried artifacts.
"Exploring the unknown is exciting to me, and unmanned systems will allow us to uncover things we never knew about the universe," she said, adding that Embry-Riddle has given her a similar opportunity. "What I love about learning here is that I'm able to get a quality education no matter where I live — which is incredibly important as an Army spouse."
To celebrate Black History Month, the Embry-Riddle News Team will be profiling student leaders throughout February.
Posted In: Aviation | Uncrewed Systems