Embry-Riddle Students Test Cutting-Edge System for Remotely Piloted Aircraft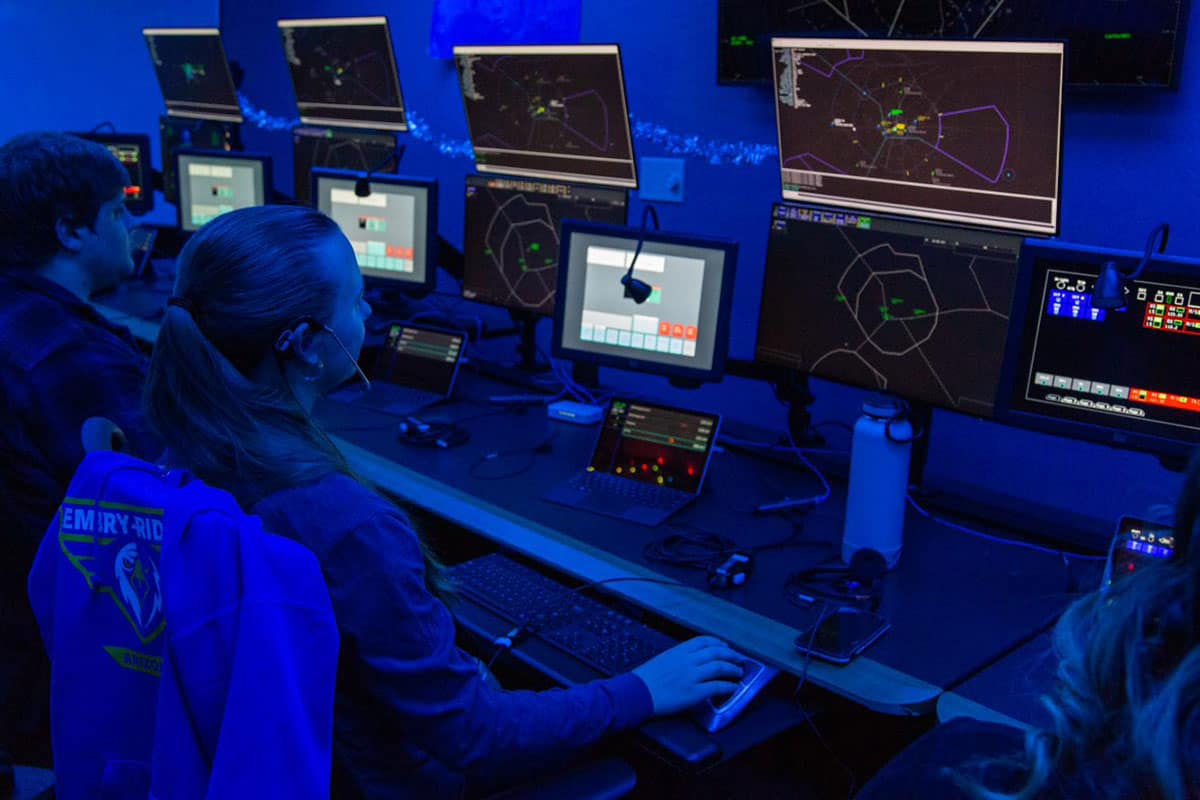 Faces lit by the glow of multiple monitors, Embry-Riddle Aeronautical University students recently became among the first to test a new voice communication system for remotely piloted aircraft.
In a unique collaboration with the university's Prescott, Arizona, campus, a team of researchers from Reliable Robotics, a California-based automated-aviation firm, used the sophisticated virtual simulators at Embry-Riddle's Air Traffic Control (ATC) laboratory to produce real-world insights.
Reliable Robotics is making steady progress toward Federal Aviation Administration (FAA) certification of safety-enhancing technologies, including auto-land, auto-taxi and auto-takeoff, as well as high-precision navigation and remote piloting capabilities. These technologies are expected to prevent many common causes of fatal aviation accidents and save lives.
Student volunteers tested the company's remote voice communication system by taking on the roles of both pilots and air traffic controllers. The scenarios replicated busy airspace environments, according to volunteer Carol Martin, an Aeronautical Science graduate who is now working to earn an Aircraft Dispatcher certificate.
"People were flying from point A to point B, finishing their climb or starting their descent, but mostly everyone was just at cruise until the tower gave clearance to land," she said. "I learned more about technology development and the value of rigorous testing as I was exposed to the specific challenges Reliable Robotics is working to solve."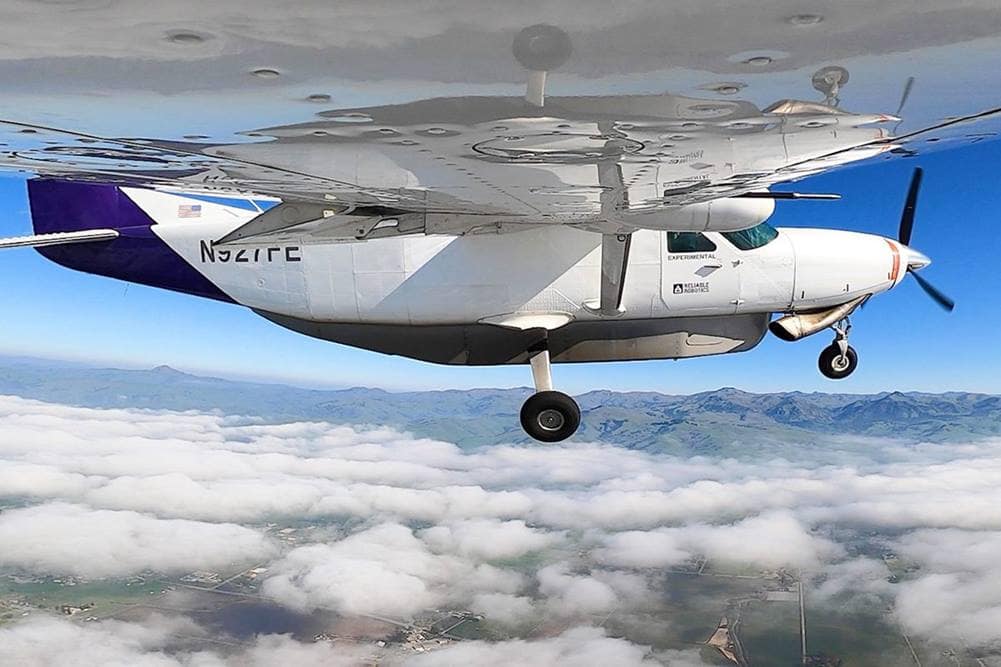 Reliable Robotics is working toward FAA certification of its automated system on a popular cargo plane, the Cessna 208 Caravan. (Photo: Reliable Robotics)
Reliable Robotics has been working closely with the FAA, NASA and a broad group of aviation stakeholders to determine the safest path for the seamless integration of new entrants and advanced autonomy into the National Airspace System. Extensive performance testing is a critical step toward this integration.
"I was interested in how the skills we've learned could be used beyond the lab," Martin said. "It was exciting to support research and development that will shape the future of the aviation industry."
Reliable Robotics made aviation history in 2019 when it demonstrated an uncrewed flight of a Cessna 172 over a populated region in Northern California. The company is also part of NASA's Advanced Air Mobility National Campaign and secured a contract with the U.S. Air Force earlier this year to explore the automation of large, multi-engine jets.
The company came to Embry-Riddle to test its voice communications system in an environment that could provide realistic scenarios reflecting big air traffic sectors.
"They're one of the few facilities in the nation that have such a robust ATC simulation environment," said Chad Healy, senior human factors engineer at Reliable Robotics.
Embry-Riddle's Air Traffic Management program is housed in the College of Aviation. Students attend classes in dynamic, aviation-related labs and facilities and are a part of one of the few programs in the country that incorporates computer-based simulation training in all areas of air traffic control, including uncrewed aircraft.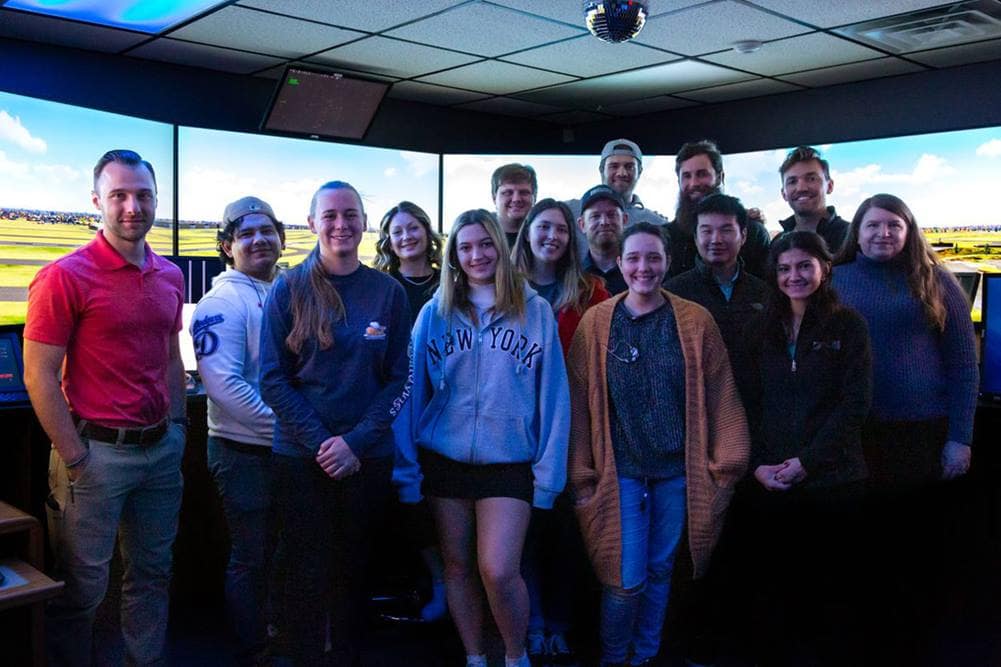 Participants in the project included students and faculty, plus Reliable Robotics test engineers. They are listed here, from left to right: Kyle Wilkerson (Air Traffic Program Chair), Jesse Rodarte (Aeronautical Science), Carol Martin (Aeronautical Science), Mallory Jones (Air Traffic Management), Dakota Bernier (Air Traffic Management), Seth Lyon (Aeronautics), Kalista Lekanoff (Air Traffic Management), Zachary Jbara (Aeronautical Science), Trinity Sorensen (Air Traffic Management) and John "Jack" McKenna (Aeronautical Science). Not pictured: Kammi Matsumoto (Aeronautics). (Photo: Embry-Riddle/Jisoo Park)
The university is also a member of the FAA's Air Traffic Collegiate Training Initiative, a workforce pipeline program.
"We are very thankful that Embry-Riddle provided us with quick access to highly trained air traffic students," Healy said. "Students could see the end-to-end operations from the air traffic side as well as the pilot side. They provided great feedback throughout the test campaign, and we collected valuable data that will help us refine our system."
The collaboration was mutually beneficial, added Kyle Wilkerson, chair of Embry-Riddle's ATC program and the project's research coordinator.
"Reliable knew they could come in and simulate environments and gain credible data as proof of concept as they progress through the certification process," said Wilkerson. "This was a good opportunity for our students to experience technology that is changing the aerospace industry in a meaningful way."
In addition to improving safety, Reliable Robotics expects advanced autonomy will provide greater access to thousands of general aviation airports in underserved areas for the delivery of goods and time-critical shipments like medical supplies. The company is developing technologies to connect communities with safer and more available air transportation to support e-commerce and, eventually, offer point-to-point passenger flights to more places.
"Aviation is what it is today because of incremental improvements in aircraft technology, airspace management and operations," Robert Rose, co-founder and CEO of Reliable Robotics, said during a recent speech about aviation safety. "With each small step forward, aviation has become safer and more accessible to more people and markets. The future of aviation safety depends on continued innovation in our industry."
Posted In: Aviation | Uncrewed Systems