'It's Up to All of Us,' President Butler Says as Embry-Riddle Prepares for Fall Semester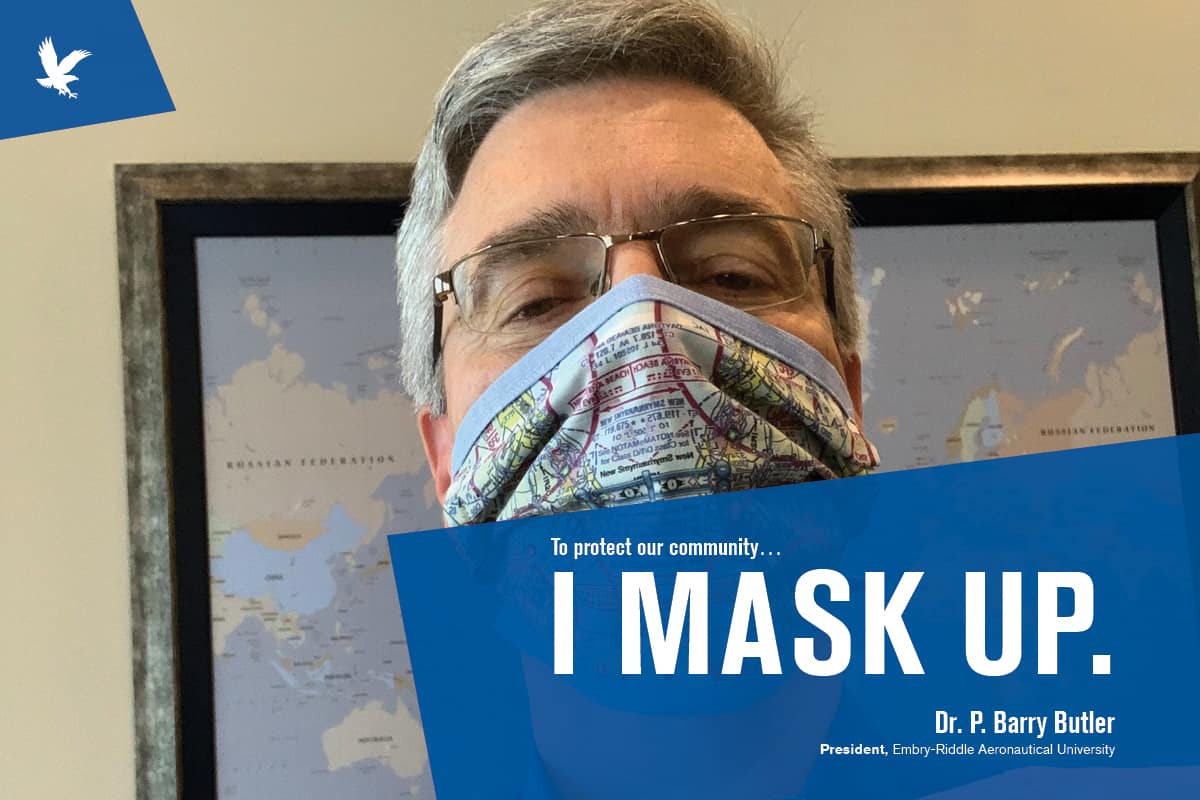 Please also review Embry-Riddle's Covid-19 informational page, our Frequently Asked Questions and Return to Campus videos.
Embry-Riddle Aeronautical University President P. Barry Butler repeatedly emphasized the importance of taking personal responsibility – both on and off campus – as he answered questions during a July 29 virtual town hall meeting about the fall 2020 semester, organized by Student Government Association (SGA) leaders.
An online audience of nearly 400 joined Dr. Butler, other members of the university's Core Leadership Team and SGA Presidents Melea Tucker and Jim Myers of the Prescott, Arizona, and Daytona Beach, Florida, campuses, respectively. University leaders reported lessons learned to date and described the safeguards put in place to help prevent the spread of Covid-19 as Embry-Riddle prepares for face-to-face fall semester classes.
"We're working hard to provide a safe environment, but it's up to all of us to make it work," Dr. Butler said. "When we look back on this time as history, how you as individuals reacted will say a lot about you as a person. It will go with you throughout life and in your careers – how you behaved, how flexible you were in adapting to a new situation and the choices you made."
There has been no known transmission of Covid-19 on Embry-Riddle's residential campuses, although Embry-Riddle resumed low-density face-to-face instruction this summer, Dr. Butler said, in urging students to adhere to all university safety protocols whether they are on or off campus.
Since June, Embry-Riddle has completed more than 900 Covid-19 diagnostic tests on students and employees, Dr. Butler noted. In addition, the university has logged approximately 4,000 hours of classroom contact time and about 28,000 hours of Flight Operations contact hours on the Daytona Beach Campus alone. Yet, Embry-Riddle had only five current confirmed cases of Covid-19 as of July 29. All cases have related to off-campus transmission, based on contact-tracing evidence.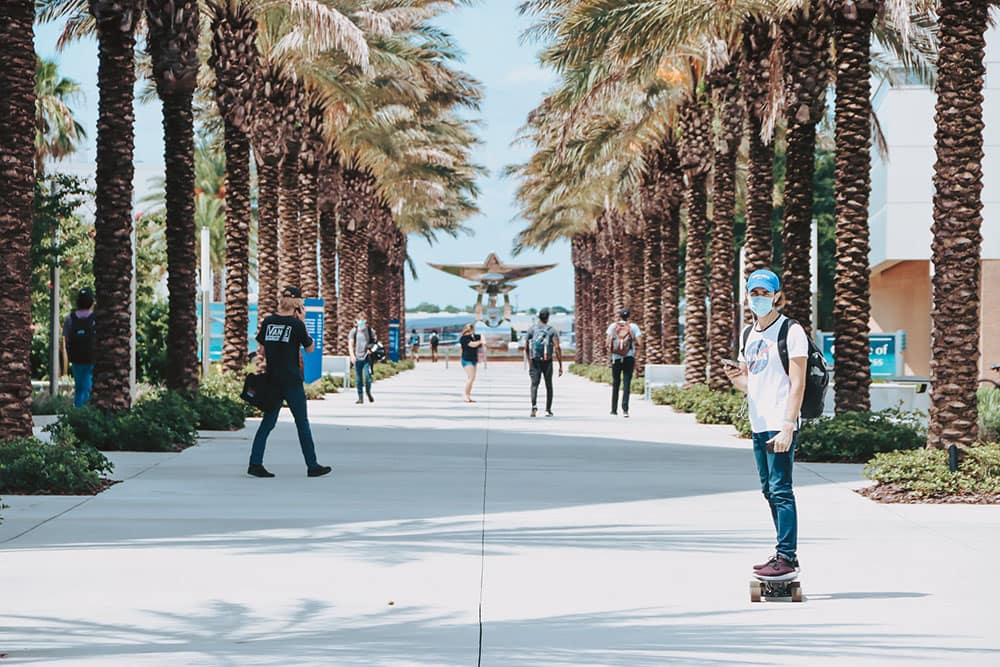 These preliminary results suggest that Embry-Riddle's stringent on-campus health precautions are helping. Those precautions include mandatory face coverings in all common areas – both indoors and outdoors, at all times, whether or not anyone else is nearby. In addition, Embry-Riddle requires daily wellness checks for all students and employees, diagnostic surveillance testing, barriers and floor markers to keep everyone six feet apart, rescheduling of classes to minimize congestion, enhanced cleaning and more.
Dr. Butler noted that the university's Path Forward plan leverages Embry-Riddle's intense aviation safety culture and reflects a mindset of personal discipline and responsibility.
"Flight operations at both Prescott and Daytona Beach are well recognized for their safety records. That's because they have safety protocols in place that go above and beyond what others might consider just good enough," he said in response to a question about why face coverings must be worn outside if no one else is within six feet. "There's a reason for that. It sets a culture of safety. The same thing is true if you're walking around campus. … We wear face coverings all the time as an added precaution."
In much the same way that airlines are working to reassure passengers that it's safe to fly, Embry-Riddle is role modeling responsible behaviors, Dr. Butler said. When safety is at the core of your culture and values, he added, it's important to both do the right thing and be seen doing the right thing.
We're working hard to provide a safe environment, but it's up to all of us to make it work. When we look back on this time as history, how you as individuals reacted will say a lot about you as a person. It will go with you throughout life and in your careers – how you behaved, how flexible you were in adapting to a new situation and the choices you made.
Navigating the global pandemic has been a learning experience for Embry-Riddle, Dr. Butler acknowledged, but he added that "it's been a positive experience in terms of what we've been able to accomplish."
In particular, Dr. Butler commended Embry-Riddle faculty and staff members who have worked tirelessly, and the Emergency Operations Team, which has met daily since March. "Our faculty responded on very short notice – literally within a week or so – to transition courses online to allow students to finish that spring semester," he said. "The number of students who were able to complete the spring semester because of that was exemplary."
Although there was no roadmap for the pandemic, Dr. Butler said that Embry-Riddle has been guided by key goals, which he outlined as follows:
Make decisions based on a thorough risk assessment, with expert input.
Implement policies and procedures to mitigate the negative impacts of Covid-19.
Communicate with transparency and accuracy from a single source.
Work on discovering a new normal.
Plan ahead for the next academic year.
Focus on the factors that Embry-Riddle can influence.
Communicate a message that our success will depend on active buy-in from everyone.
"Everyone's a part of the solution, not just me – faculty, students, staff, parents and visitors," he said. "Everyone is part of the solution."
He added that, "in the end, as parents and as students, you have to decide what's right for you. We're proud of what we've done. We have a good team in place, but at the end of the day, you have to make a choice. We're here to simply present to you what we're doing and let you decide."
Academics
Provost Lon Moeller, senior vice president and chief academic officer, fielded questions about campus life and classroom learning.
"We've had students on campus at both Prescott and Daytona Beach since June 30, and during that time, we've implemented a series of very stringent safety protocols," the Provost said, including required face coverings, daily wellness checks, testing and signage to ensure physical distancing. Faculty are lecturing with face masks and Embry-Riddle is now piloting voice amplifiers for instructors. The university is also optimizing the location of wellness stations on both campuses.
Each day on campus will begin with a mandatory wellness check, Moeller explained, adding that students must always have their EagleCard with them. In class, students and instructors will wear cloth face coverings. Chairs and desks will be arranged to keep everyone six feet apart. Students will be asked to clean off their work areas with supplies provided by the university. Instructors will do the same. Assigned seating will be in place and classes may be dismissed in rows to prevent hallway congestion. Faculty office hours will only be offered virtually.
The fall 2020 class schedule is available in Campus Solutions, Moeller said. Log onto ERNIE and select Campus Solutions, go to the My Class tab, and then the Notes section to view the delivery method for your classes. Embry-Riddle staff have been working on the fall schedule since mid-May with the need for physical distancing in mind. On both residential campuses, classes are being offered face-to-face, online, in a hybrid or split format (with some in-person instruction and some online).
Moeller noted that some students have reached out to say they are not comfortable coming onto campus. In such cases, students should contact their academic advisors to determine whether equivalent online courses may be available through the residential campuses or Embry-Riddle's Worldwide Campus. Professors and academic advisors are doing everything they can to work with students, given the circumstances, he said.
Some students have asked what will happen if they test positive for Covid-19, or if officials direct Embry-Riddle to move all courses online again. All course materials will be posted to Canvas, Moeller said. Also, Embry-Riddle's Centers for Teaching & Learning Excellence have been working hard to provide all faculty with additional training so that faculty members will be prepared to "make a quick pivot," if necessary.

During face-to-face summer courses, a few students had to quarantine, and a few tested positive and needed to self-isolate. "Because materials were all online, they were able to keep on track," Moeller said. Any absence caused by a student waiting for test results, quarantine or isolation will be an excused absence, he added. The fall academic calendar has also been modified so that classes will end before the Thanksgiving break, thereby minimizing travel.
Moeller noted that some courses such as Aviation Maintenance Science have FAA-mandated face-to-face requirements. Instructors are prepared to come in during evening hours if necessary to help students make up labs missed for Covid-19-related reasons, Moeller said.
"We need to work together," the Provost said. "We need to look out for each other. We need to take care of each other. That's what Eagles do."
University Operations
Embry-Riddle has been in constant contact with Arizona and Florida health officials, and the university is also monitoring local healthcare facility capacity on an ongoing basis, the university's Chief Operating Officer Rodney Cruise said.
The university's multi-pronged testing plan includes testing of people returning to campus from Covid-19 hotspots, surveillance testing for students and employees throughout the fall semester, and soon, rapid testing on both campuses, added Cruise, who also serves as senior vice president for administration and planning.
Everyone's a part of the solution, not just me – faculty, students, staff, parents and visitors. Everyone is part of the solution.
Since June 22, Embry-Riddle has completed nearly 900 tests in Daytona Beach and Prescott. As of July 29, the university's testing identified 17 cases, but only 5 people were still in isolation and under care, he said. The university has meanwhile continued to fine-tune its safeguards – by purchasing a faster-acting disinfectant as soon as it became available, for instance. Embry-Riddle is further investigating new technologies such as wastewater testing, which could serve as a predictive tool. "When you get the disease," Cruise explained, "you shed the virus in the first couple of days and don't become contagious for a few days after that," and therefore samples from wastewater streams could help Embry-Riddle pinpoint areas of concern across both campuses.
Cruise commended Embry-Riddle Health Services Director Pam Petrone (Daytona Beach) and Wellness Center Director Sandi Palmer (Prescott Campus), who will continue to determine when individuals need to quarantine or self-isolate, as well as when they are cleared to return to campus life. The university has established isolation suites, a quarantine procedure and a shelter-in-place procedure, he said. "Our healthcare professionals will be the tip of the spear in making those decisions," he said.
He added that while most classes are normally scheduled between 10 a.m. and 2 p.m., they will now be spaced out so as to reduce crowding. Cruise noted that many students have submitted questions about housing. He emphasized that the Housing & Residence Life unit on each campus will work with students to try to identify individual solutions.
Financial Issues
Chief Financial Officer and Senior Vice President Dr. Randy Howard noted that some students and families have experienced financial difficulties as a result of the pandemic, and Embry-Riddle remains committed to helping however it can.
The university's financial team has responded to the pandemic in a variety of ways, he said. "Even before the pandemic, we worked hard to balance affordability with the cost of providing a high-quality education that leads to high-quality jobs," he noted. Necessary Embry-Riddle tuition increases over the past 10 years have been modest compared to peer institutions, and student financial aid has been substantially increased.
Dr. Howard said that the pandemic has meant increased costs to Embry-Riddle as a result of multiple factors including migrating courses online, providing virtual tutoring, adapting facilities, and testing and medical costs, and therefore fall semester tuition will remain the same as previously announced.
He noted that the university has distributed approximately $3 million to students in emergency financial aid grants through the CARES Act. In addition, Embry-Riddle raised philanthropic funding for students with unmet needs associated with Covid-19, and financial aid has been increased to help students whose financial situation has significantly changed. "Anyone whose financial situation has significantly changed should reach out to the Financial Aid office on their campus," Dr. Howard said.
This week, Dr. Howard added, Embry-Riddle secured additional student housing – including an entire hotel for students on the Daytona Beach Campus and apartments at the new Willow Creek Apartment complex near the Prescott Campus, to be staffed by Embry-Riddle Resident Advisors. This step will allow Embry-Riddle to avoid tripling roommates in its residence halls while serving a significant number of students now on a waiting list. "Pricing will be similar to comparable on-campus housing units," Dr. Howard said. Students should contact their Housing & Residence Life office.
If the fall 2020 semester changes so that classes move to an entirely online modality, Embry-Riddle will evaluate refunds or credits, such as those offered for housing and meal plans in the spring semester.
Dr. Howard also responded to a question about meal plans. On-campus sophomores on the Daytona Beach Campus cannot generally opt out of meal plans, but they can choose among different plans, and some are under $900, Dr. Howard noted. He expressed confidence in the safety of Embry-Riddle dining services compared to other options and noted that food pickup options are available.
Prescott Campus
Dr. Anette Karlsson, chancellor of the Prescott Campus, encouraged students to "be flexible and open-minded when you arrive to see the changes." Classrooms, the library and common areas have all been reconfigured to ensure physical distancing, she said. Additional classroom space has been identified in buildings such as the Lower Hanger. Faculty and students will be asked to wipe their desks, classrooms and lecture spaces after each class. A variety of wellness check stations are being established for the fall semester. EagleCards must be displayed when having a wellness check or entering buildings.
Dr. Karlsson and Dr. Butler both noted that while Arizona and Florida have been in the news as Covid-19 hotspots, Embry-Riddle's two residential campuses are not located within the specific zones of greatest concern in each state (Phoenix and Miami, respectively). "I'm not going to downplay the risks, but it's really up to all of us to help ensure safety," Dr. Karlsson said. "Wear face coverings, distance and wash your hands – and please remember to do this not only when you're on campus, but also off campus."
She urged students to speak with their academic advisors about any concerns about in-person classes. "We cannot guarantee you will find a suitable substitute online but we will do our best to help you," she said.
Questions & Answers
Among the questions asked by students, those coming from international regions expressed concerns about those countries still experiencing a travel ban. Provost Moeller said that those students in the few remaining countries that are still under a travel advisory can plan to begin their studies online and then return to campus in spring 2020. Students in this situation should reach out to Embry-Riddle International Programs and their academic advisor.
"The ability for you to get a visa in time is going to affect you significantly," Dr. Butler acknowledged. "But we want to get you started on your journey toward a degree."
International students have been asked to arrive 14 days in advance. Orientation activities will be offered virtually. "You won't fall behind while you're in quarantine," Moeller said.
We need to work together. We need to look out for each other. We need to take care of each other. That's what Eagles do.
Students also expressed concern about official government orders requiring Embry-Riddle to shut down face-to-face classes and residence halls on short notice. While sympathizing with the concern, Chief Operating Officer Rodney Cruise said that decisions made by state governments are beyond Embry-Riddle's control. "We have good plans in place and we have modeled different scenarios," he said, "but we can't predict the future. We will continue to make safety our number one priority."
Provost Moeller reiterated that all course materials will be online and faculty will be prepared to rapidly pivot to online delivery, if required by circumstances or government directives.
Questions about on-campus housing should be directed to the Housing & Residence Life units on the Prescott or the Daytona Beach campuses, Dr. Howard said. Student arrivals are being scheduled so as to prevent too many people converging on campus at one time, he added.
For many questions, "The key is that we are finding individual solutions, not group solutions," Dr. Butler said. Students can go to their Housing & Residence Life webpages to submit a petition to opt out of on-campus housing, for example.
All campus housing will undergo regular cleaning and disinfection, and masks must be worn everywhere, even while walking down hallways. "That's for your own protection," Dr. Butler said. "It's looking out for you or for others. It may be uncomfortable but there's a reason for that, to protect everyone." Think about your role in helping to ensure a safe environment, he urged.
Other questions had to do with Covid-19 testing. Turnaround times for test results may be variable, depending upon capacity of Embry-Riddle's healthcare partners, Cruise said. Anyone awaiting test results must remain in quarantine. The university has recently added a limited number of rapid testing kits for select cases. Who is tested, and how, will be determined by Embry-Riddle healthcare professionals. Contact Health Services (Daytona Beach) or the Wellness Center (Prescott) with questions.
Still other questions related to tuition costs. Dr. Howard noted that Embry-Riddle has incurred significant expenses as a result of the pandemic and is still delivering a high-quality education leading to jobs. The institution, through a variety of sources including institutional, federal and philanthropic dollars, has increased financial resources available to help students whose financial situation has significantly changed.
Finally, students asked about non-compliance – and in particular, what they should do if they see someone who is not in compliance with health precautions. "If you see something," Dr. Karlsson stressed, "say something." Unsafe behaviors must be reported to Campus Safety, the Dean of Students or other leadership. Dr. Butler has recommended first reminding individuals in a non-confrontational way about the guidelines – to wear a face covering, for instance. If that doesn't work, let them know they are in violation of written policies for students and employees. He noted that Embry-Riddle's safety culture means students and employees can and should raise a red flag, without fear of repercussions, if they spot a safety risk, no matter who is involved. "If you see me drive through a stop sign on campus without stopping, you should report me!" Dr. Butler said.
Safety depends on paying close attention to details and encouraging everyone to take personal responsibility, Dr. Butler said, in closing.
Please also review Embry-Riddle's Covid-19 informational page, our Frequently Asked Questions and Return to Campus videos.
Posted In: Institutional News