Innovations in E-Flight, Mobile Farm Monitoring and Soundscape Navigation Top Embry-Riddle Business Competition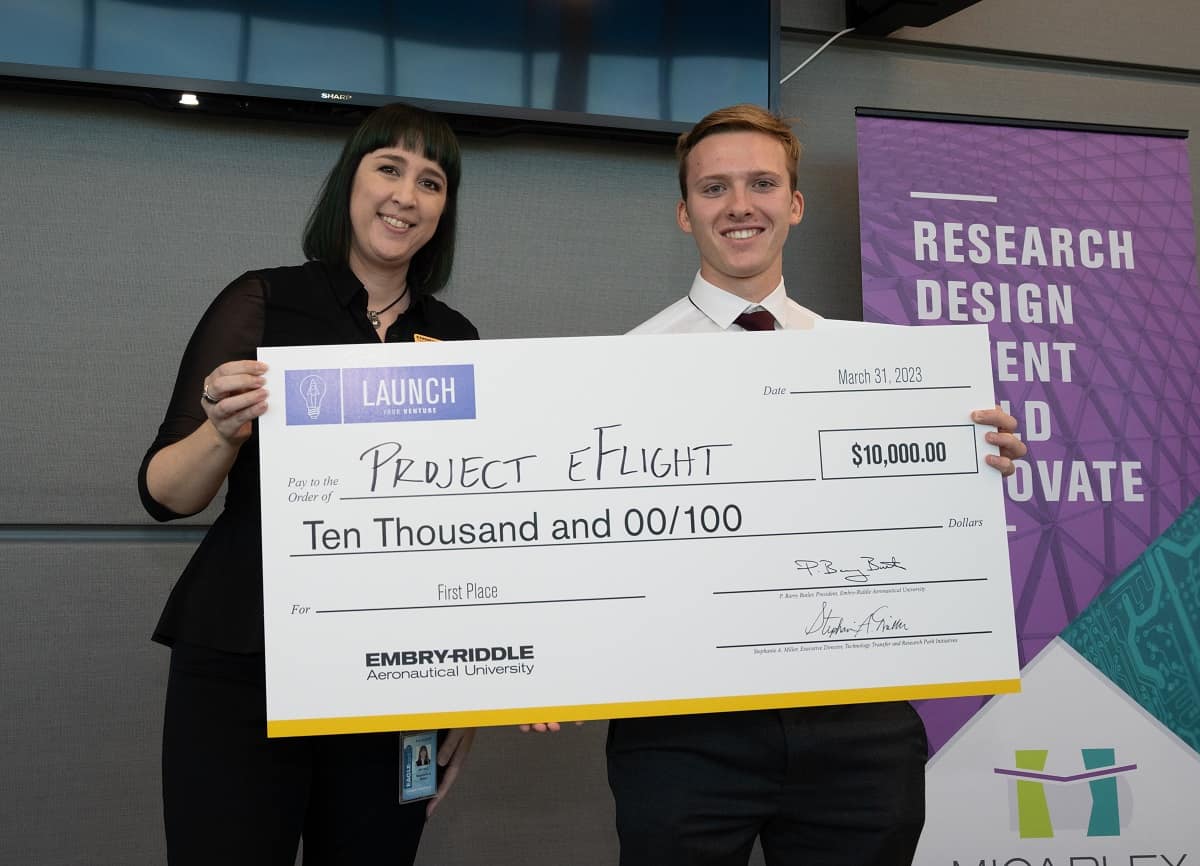 Travis Ludlow, an Electrical Engineering student at Embry-Riddle Aeronautical University, became the youngest person to fly solo around the world in 2021, completing the trip in 43 days. During that time, he thought about the grandeur of our world and the magic of flight. He thought about pollution as well as the emissions that his plane alone was contributing to the problem.
Then, he thought of a solution: Project eFlight, a startup he would later launch with fellow Eagle, Aerospace Engineering undergrad Chris Lundgren. The company won the $10,000 grand prize at the annual Launch Your Venture entrepreneurship competition, held last week at Embry-Riddle's Daytona Beach Campus.
"I believe this [electric] is where aviation is going," Ludlow told a panel of judges at the event, noting the rise of electric cars seen on local roadways. "This is going to happen in our skies, as well. … It is zero-emissions and extremely reliable aviation."
Project eFlight has designed an airframe that can more than double the flight range of electric aircraft from their current high of 50 minutes to two hours — three-and-a-half hours with upgrades.
"This is uncharted territory," Ludlow said, adding that the seed funding his company won at the event will be used for prototyping.
Project eFlight competed against five other startups in a 10-minute pitch competition, followed by a question-and-answer session. Three startups won funding. All winning teams also earned professional business consultations and in-kind prizes.
More Innovative Ventures
Other winners of the Launch Your Venture competition are listed as follows:
Second Place ($5,000): Acreage Farms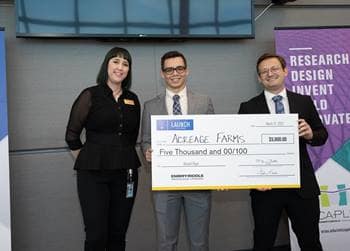 Embry-Riddle students Andy Zamora and Collin Topolski, cofounders of Acreage Farms, won second place at Launch Your Venture.
Collin Topolski and Andy Zamora, cofounders of Acreage Farms, presented a mobile-monitoring system for farming that is solar-powered and leverages artificial intelligence and machine learning to optimize vertical farming practices. Previously, the company won the Global Products and Services award at TREP Expo; they used the funding from that competition to build a prototype, which was on display and moving autonomously before the judges at Launch Your Venture.
"You can take it anywhere," said Topolski, a Mechanical Engineering Ph.D. candidate, illustrating the contrast between his company's device and traditional vertical farming equipment, which can be bulky and difficult to transport.
Acreage Farms is run by Embry-Riddle students. In total, three of the six competing teams were Eagle-founded.
Third Place ($3,000): AudiSee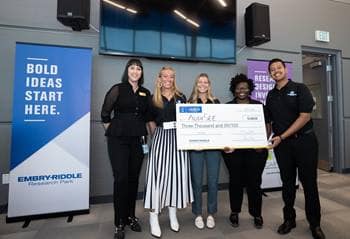 The third-place prize was awarded to AudiSee, run by University of Miami students Margaret Anne Clifton, Courtney Carduner, Vivien Dominick and Sergio Gangchala.
The AudiSee team — represented by Margaret Anne Clifton, CEO and president; Courtney Carduner, CFO; Vivien Dominick, COO and CMO; and Sergio Gangchala, CTO and CIO — presented a "soundscape navigation system" meant for the visually impaired, which uses LIDAR and AI technology to create 3D maps of physical spaces. The system then alerts its user, through a series of beeps, to the proximity and location of nearby obstacles, similar to the functionality of an automobile's backup camera.
Additional competing companies included Limitless Aeronautics, an unmanned aircraft systems firm founded by Embry-Riddle students Alex Gardner and Nyamaama Gambrah; Pet HealthCare Innovations, which offers a device to aid dogs suffering from leg pain/paralysis, run by Florida Atlantic University student John Thomerson; and Lectra Tape, a physical therapy device, presented by University of Tampa students Nick Westburg and Erin Quinn.
Supported by the Embry-Riddle Research Park, the Launch Your Venture competition highlights student-run businesses. The March 31 event was judged by four industry leaders — Connie Garzon, director of Volusia County Business Incubator; Jason Schwartz, founder and managing partner of League Advisors; Stephen Yanchuk, patent examiner and outreach assistant, U.S. Patent and Trademark Office; and Joshua McConkey, CTO of Sensatek Propulsion Technology, which won the first Launch Your Venture in 2016 — and took place in Embry-Riddle's MicaPlex (John Mica Engineering and Aerospace Innovation Complex).
Posted In: Applied Science | Aviation | Business | Computers and Technology | Engineering | Institutional News | Research