Drone Innovation, Vertical Farming Tech Top Embry-Riddle Entrepreneurship Competition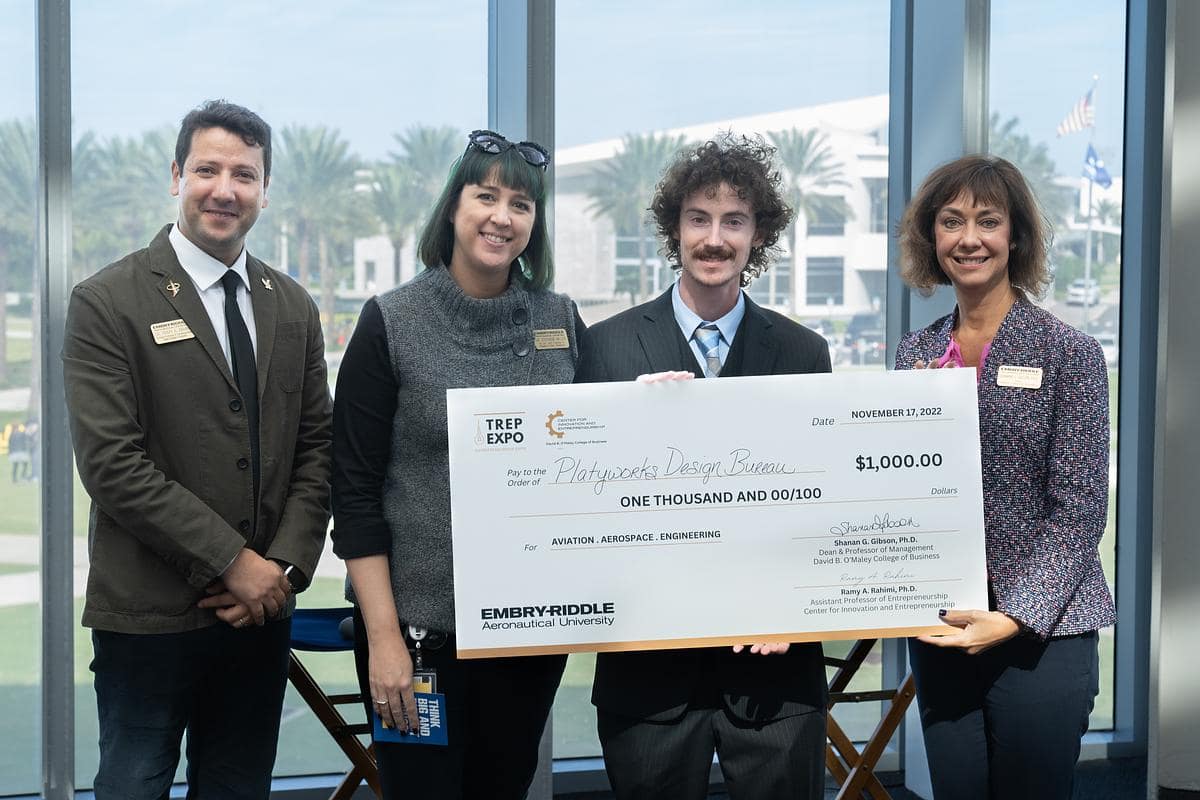 From new flight technology for uncrewed aircraft systems to an innovation in vertical farming, Embry-Riddle Aeronautical University's eighth-annual TREP Expo spotlighted the top business ideas of 30 student-run startups.
"It was the biggest TREP Expo ever, with 30 student-led startup ideas and 78 participants," said Dr. Ramy A. Rahimi, acting director of the Center for Innovation and Entrepreneurship and assistant professor of Entrepreneurship. "We also welcomed the first Prescott Campus team to compete in the TREP Expo."
The university's annual entrepreneurship competition, held Nov. 17 on the Daytona Beach Campus, is a business competition testing the commercial viability, innovativeness and overall interest of entrepreneurship concepts.
"What I love about TREP Expo is it shows just how much the spirit of creativity and innovation is alive among our students," said Dr. Shanan G. Gibson, dean of the David B. O'Maley College of Business.
Teams present concepts in a poster session and pitch them to a distinguished panel of scholars, practitioners and industry experts for a chance to win $1,000 in cash prizes in three categories, or "flights": Aviation, Aerospace and Engineering; Space Technology Repurposed; and Global Products and Services. The TREP Expo, which is open to students, alumni, faculty and staff, also awards $500 in cash prize to one "People's Choice" winner.
Aviation, Aerospace and Engineering Award: Platyworks Design Bureau
Platyworks Design Bureau won the Aviation, Aerospace and Engineering flight for its flight control system designed for Uncrewed Aircraft Systems (UAS), or drones, that could make them more reliable and safer to fly.
"We're mainly addressing the larger uncrewed aircraft where a failure could be catastrophic," said Robert Moore, who is earning his Master of Science in Unmanned and Autonomous Systems Engineering.
Moore, along with teammates Todd Martin and Jose Cabrera, has been working for years on the concept. Backed by funding from NASA's University Student Research Challenge, the team has built prototypes and tested them on different aircraft.
A system like the one Platyworks is developing could be a game-changer in the UAS industry, potentially allowing for the easing of federal regulations and the expansion of advancements like drone delivery and urban air mobility.
Moore said he is grateful for the award, plus the experience to share his team's ideas.
"I got a good perspective from the panel of judges," he said. "TREP Expo is not just for judging — it's also good for receiving mentorship and advice from entrepreneurs."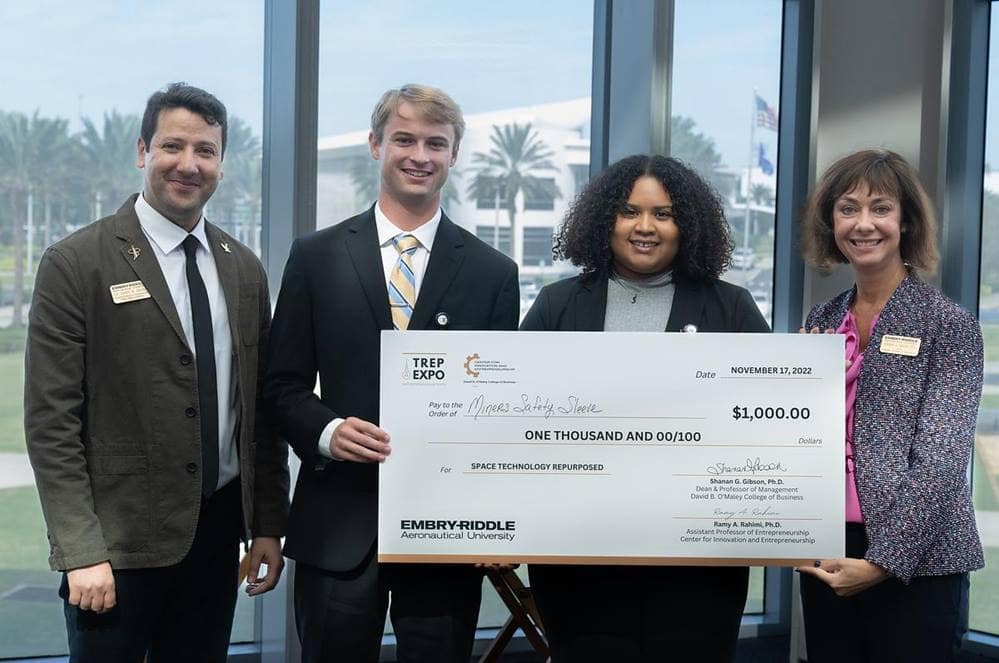 The Space Technology Repurposed Award was awarded to the Miners Safety Sleeve, represented by undergraduate students Greg Stirrat and Syanne Andino.
Space Technology Repurposed Award: Miners Safety Sleeve Solution
The Space Technology Repurposed flight featured 10 teams that participated in the faculty-led NASA Technology Transfer Program through Rahimi's Entrepreneurship courses.
"The Space Technology flight is literally repurposing NASA-developed space technology to solve problems on Earth," said Rahimi.
The Space Technology Repurposed Award was granted to the student team that developed the Miners Safety Sleeve, which uses NASA's Advanced Hydrogen and Hydrocarbon Gas Sensor on an innovative wearable arm sleeve that is designed to alert miners to hazardous conditions.
The team consisted of Syanne Andino and Andrew Osgood, who are both Aviation Business Administration students, and Aeronautical Science student Greg Stirrat. They designed the arm sleeve to be programmed to identify and measure methane, carbon dioxide, carbon monoxide, temperature and pressure levels in real-time. Worn daily by miners while working, the device would alert them to hazards using various LED lights and data would be collected and stored.
"We prepared for weeks and weeks," said Andino. "We felt like our hard work showed today."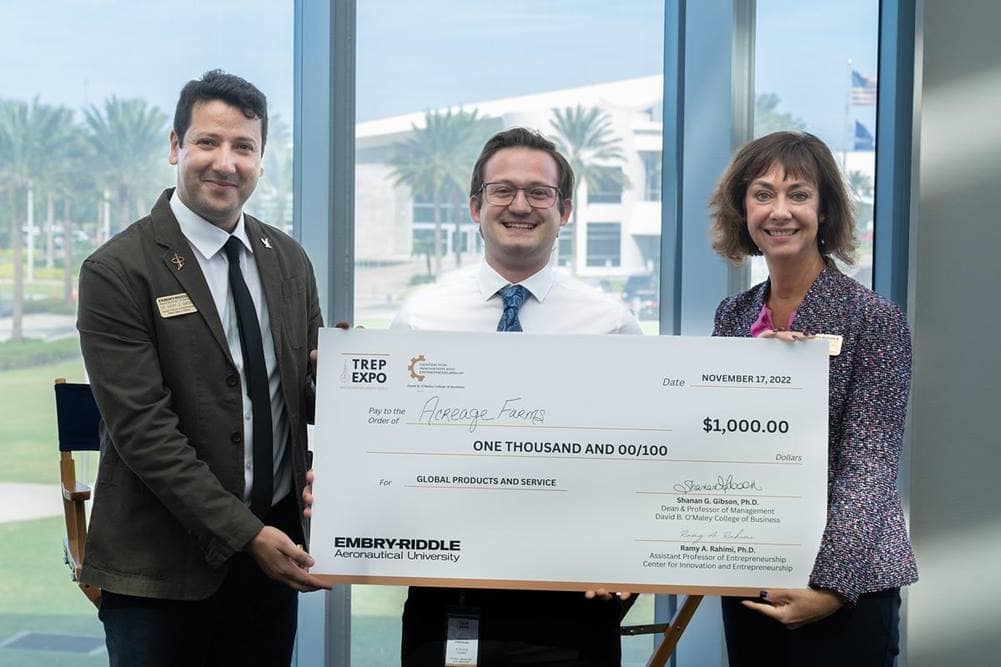 Acreage Farms, represented by Ph.D. student Collin Topolski, won the Global Products and Services Award.
Global Products and Services Award: Acreage Farms
Acreage Farms won the Global Products and Services Award for its mobile monitoring system designed to increase plant productivity in vertical farming. The team included Collin Topolski, who is earning his Ph.D. in Mechanical Engineering, plus alumnus Andy Zamora ('20) and alumna Meagan Shivers ('20).
Right now, Acreage Farms is focused on optimizing growth environments and increasing stable and consistent food production on Earth, Topolski said. But eventually, he can envision the system being used to create food systems to sustain humans in space — mainly on the moon and Mars.
"I've always wanted to work with plants in space to advance capabilities in human space exploration related to food production and resource recycling," said Topolski.
Audience Choice Award: Guardian Pittsburgh
Guardian Pittsburgh won the People's Choice Award for a NASA-Patented Fiber-Optic Sensing System (FOSS) that company CEO Maricarin Minnock designed to monitor the structural health of bridges and other structures.
Minnock, an Aviation Business Administration student, said she was inspired after a bridge collapsed in her hometown of Pittsburgh in January 2022.
"This one hit close to home," she said. "I live about a mile from where it happened."
She proposed using FOSS to provide constant monitoring of the bridge that would detect movement up to a quarter of an inch. Data would be collected and stored to detect stress and motion, plus allow for evacuation and reassessment of a structure in danger of collapse.
In addition to saving lives, the system would also eliminate the cost of bridge inspections, she said.
Minnock, a business major who graduates in May, said she won second place in the university's 2022 Launch Your Venture earlier this year. Next, she hopes to build a prototype of her concept.
"I'm excited to take it to the next level," she said.
The TREP Expo, sponsored by the Center for Innovation and Entrepreneurship and David B. O'Maley College of Business, also held a discussion panel moderated by Dean Gibson that included Dr. Ali Tamijani, a professor of Aerospace Engineering and CEO/co-founder of Novineer, Inc.; Dawn Haynes, CEO of StarterStudio; Meredith Reeves, Kennedy Space Center (KSC) T2X program lead at NASA; Neil Carew, principal at PSG Equity; and Trent M. Smith, KSC T2 program lead at NASA.
Posted In: Business