Honeywell, Embry-Riddle Partner to Produce Air Taxi Innovators
As Honeywell partners with Embry-Riddle Aeronautical University to design air taxis and help shape the Urban Air Mobility (UAM) industry, students are benefitting from hands-on research opportunities, internships and employment offers.
The project, which is intended to characterize the flight performance of future urban air vehicles by using scaled-down models, involved six Embry-Riddle juniors last year, and all were offered Honeywell summer internships, according to Johann Dorfling, assistant professor of Aerospace Engineering, who is the project mentor. Of the six who interned at Honeywell last summer, at least three were offered full-time positions. This past fall, four new juniors joined the project team, and they have received internship offers for 2021.
"Being selected to work on the project really sets students up for success," said Dorfling. "Having practical, hands-on project experience really gets employers interested in our students. I often hear that during interviews, many of the talking points are the extracurricular projects students worked on. This project provides the added benefit of working with practicing engineers. It really rounds out students' resumes."
Both Brooklyn Cross and Brendan Stoutenburgh, two Mechanical Engineering students involved in the project, said they came to Engineering quite naturally. Both have always loved taking things apart and putting them back together. Although not all of the student participants have the same major — they also come from Computer Science and Unmanned Aircraft Systems, for instance — Cross and Stoutenburgh share an academic focus in propulsion, and both say they are fascinated with engines.
"It was within the last few years that I realized my passion for engines," Stoutenburgh said. "They're a topic I could talk about all day."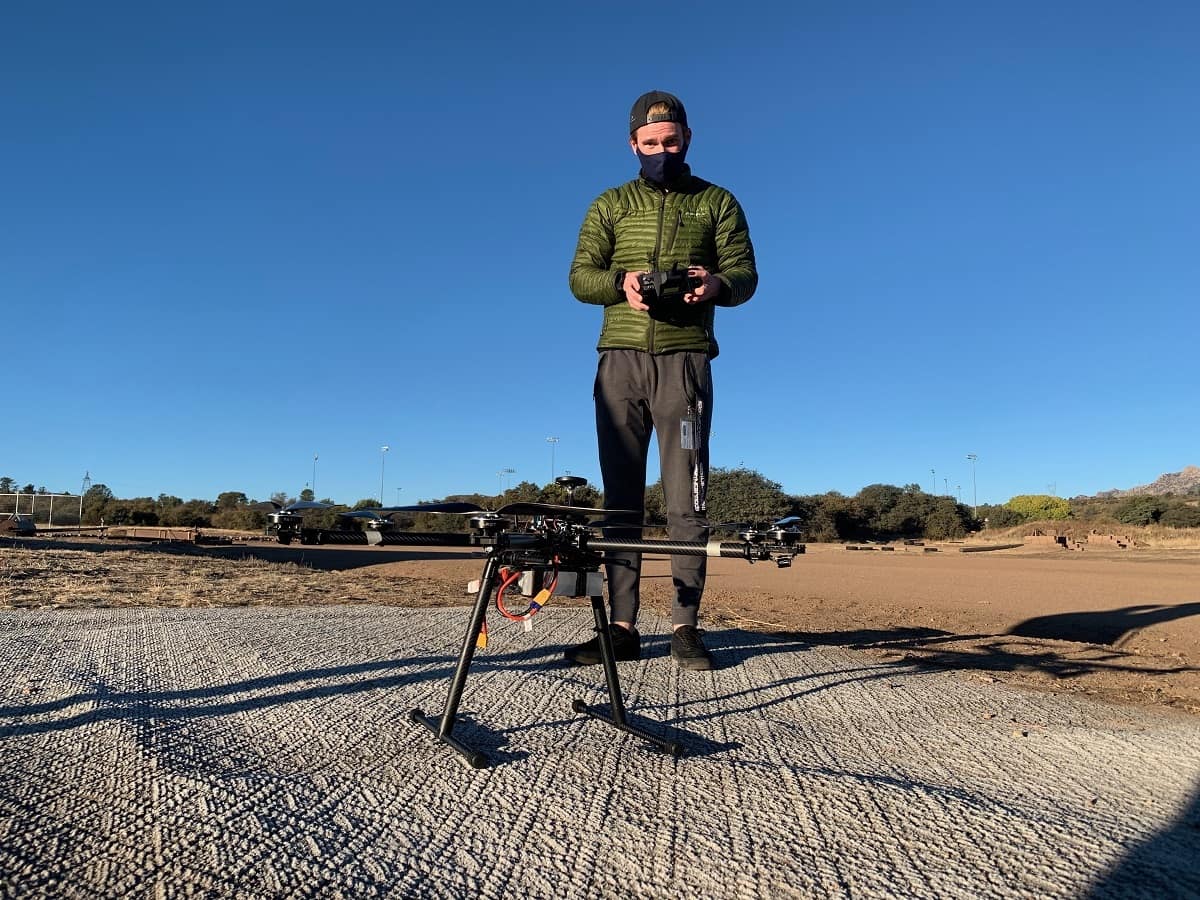 Matthew Robinaugh, a senior in aerospace engineering, confirms the rotation direction of the motors and syncs the transmitter on a drone. (Photo: Brooklyn Cross)
Embry-Riddle and Honeywell have been collaborating on a wide variety of initiatives since the 1990s, according to Ron Madler, dean of the College of Engineering and professor of Aerospace Engineering. Honeywell employs more than 260 Embry-Riddle graduates, said Embry-Riddle Executive Director of Philanthropy Steve Bobinsky, and more will be hired this year.
"Honeywell and Embry-Riddle have had a longstanding partnership and have continued to grow our relationship," Bobinsky said.
Dorfling added that the junior-year involvement in the UAM project was particularly interesting to Honeywell. "It would allow Honeywell engineers to work with a small student team throughout the year and then bring students on as interns during the summer," he said, citing students' new perspectives and ingenuity as value-adds. "This project and summer internship would serve as a type of hiring pipeline for Honeywell."
Cross, who is the team lead on the UAM project, said the research will help to determine characteristics of full-size air taxis — capable of carrying four to six people — such as flight time, maximum range and stability. Cross points out that one of the main intentions behind UAM is finding cleaner alternatives to current transportation modes, so the vehicles will be powered by electricity.
The initial phase of the project involves a hexacopter design. A small-scale model is currently being flight-tested, with data related to speed, flight path angle, power and vehicle altitude to be collected. The data, according to a project abstract, will provide a foundation for optimum route planning and validation of projected performance.
"What we aim to do with this research is gather scalable data — rotor RPM, power consumption and movements in every direction," said Stoutenburgh. "This information can be used in the future to roughly describe the motion of similar larger vehicles."
Posted In: Computers and Technology | Engineering | Uncrewed Systems