Eagles Take First in Maritime RobotX Challenge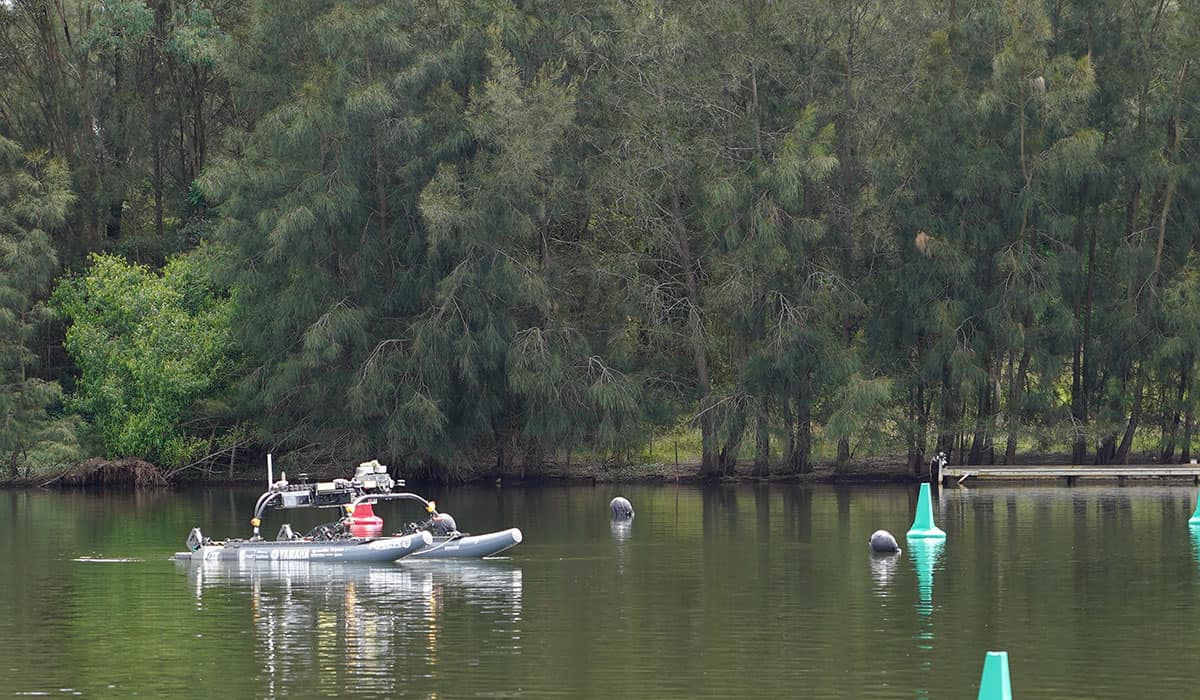 Embry-Riddle Aeronautical University students beat contestants from five different continents in the recent Maritime RobotX Challenge in Sydney, Australia, walking off with the champion banner and several other awards.
The Eagle team also won third place in the RobotX-air Awards, second in the Design Documentation Awards, plus Best Technical Design Paper and Best Presentation.
"I believe this is the most challenging collegiate robotics competition," said Dr. Eric Coyle, professor and program coordinator for the Ph.D. in Mechanical Engineering program, adding that the contest involves highly complex tasks, including one in which an uncrewed aerial vehicle and an uncrewed surface vessel work together. Furthermore, Coyle said, the maritime environment in which the competition occurs presents specific navigation and perception challenges.
Dutch Holland, in his fourth year of an accelerated master's degree program in Mechanical Engineering, said being a member of the team that went to the Maritime RobotX Challenge will help him to pursue his dream of working on submarines as well as surface vessels, like tugboats.
"Participating in the competition helped me learn real-world applicable engineering concepts and practices — something you don't get from the classroom," he said. "I like hands-on projects; they make it easier for me to learn and help me to retain the knowledge better."


The Embry-Riddle team, named Team Minion, took the top spot on the winners' podium.
Holland said that working on RobotX also allowed him to learn what parts of engineering most interested him as he heads toward his career.
Erasmo Landaeta, who is earning a Ph.D. in Mechanical Engineering, said that participating in the challenge greatly impacted his skills and career potential.
"Any team member dealing with software will tell how they learned Linux, ROS, C++, python, embedded circuits and then some," Landaeta said. Working the vessel's hardware brought a similarly broad wealth of knowledge, he added.
Landaeta also enjoyed traveling to Australia — where the team saw kangaroos, koalas, wombats and emus, along with the most famous landmarks in Sydney. Additionally, he extolled the social aspects of being on the robotics team.
"I have to thank RobotX for a lot of the friendships I have made in the past few years," he said. "A lot of my closest friends are on the team, and I have also made some professional relationships by going to competitions this year."
Coyle said the experience of participating in RobotX allows students to "develop, test and then field complex engineering solutions. These are experiences that are hard to simulate fully in the classroom and give students an edge in the job market."
"Many companies today want to hire students who have this kind of experience, as there aren't many who have been involved in building and operating an unmanned system of this scale and complexity," Coyle said, adding that most of the student participants are receiving multiple job or internship offers. "There are so many industries in need of more people with robotics, mechatronics and software experience that the students are highly sought after."
Posted In: Computers and Technology | Engineering | Uncrewed Systems