For Girls in Aviation Day, Embry-Riddle Offers Face-to-Face Fun and Virtual Learning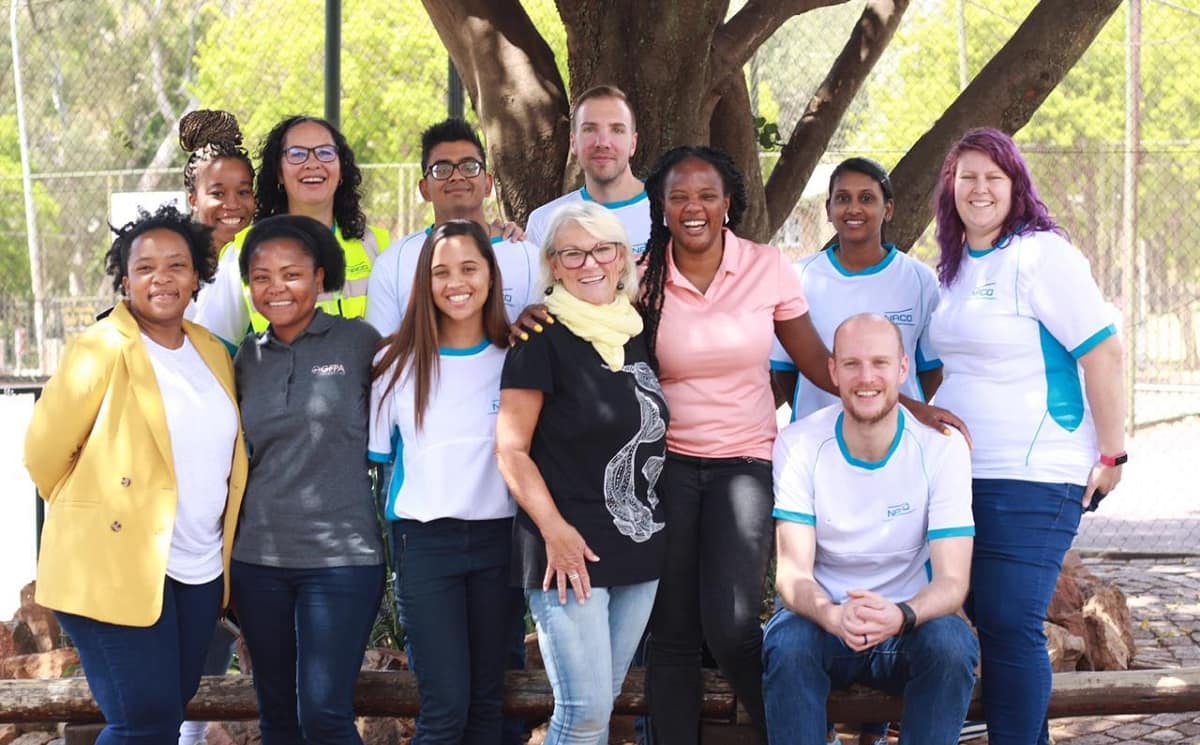 At Girls in Aviation Day activities in South Africa, and worldwide through a free online course, Embry-Riddle Aeronautical University is reminding girls that they can enjoy exciting careers flying planes, fixing aircraft or running airlines.
Organized by Women in Aviation International, 118 Girls in Aviation Day events took place in 16 countries on Saturday, Oct. 5. In Johannesburg, South Africa, the McAuley House School hosted a Girls in Aviation Fun Day to introduce girls to role models and career options across the industry. The event also kicked off the launch of Embry-Riddle Worldwide's "Aviation is Your Future" free, massively open online course, or MOOC.
"I enjoyed the program," said McAuley House School student Owami Maryike. "It opened my eyes to all the opportunities in aviation. I realized that I can pursue the career of my dreams and use this program as a platform. All the stories I heard from the facilitators inspired me to try something I never really thought about before."
At the McAuley House School in South Africa, 33 girls from the school's ninth grade were selected to participate in a supervised presentation of the course over three Saturdays in October. Girls who complete the course will be offered a free six-month digital Women in Aviation International (WAI) membership as well as a certificate of completion.
The Girls in Aviation Day events were created at a Girls Fly Programme in Africa (GFPA) Foundation event last year. Embry-Riddle College of Aeronautics Associate Professor Linda Weiland coordinated with a founder of GFPA, Refilwe Ledwaba, to help organize the event in Johannesburg.
Registration for the "Aviation is Your Future" MOOC will remain open until the end of October and is available here.
The virtual course was developed by Dr. Patti J. Clark, associate professor in Embry-Riddle Worldwide's College of Aeronautics. Through six short online modules, students from all over the world can enroll in the online course to learn about the basic parts of an airplane, the four forces of flight (weight, lift, thrust and drag), helicopters, space, NASA and aviation terms. The course is designed to take about six hours to complete.
"This is our third year offering the course," said Clark, adding that nearly 200 students had signed up as of Oct. 14. "Our target audience is 8-12 year old children, and even though we developed the course to celebrate Girls in Aviation Day, it is certainly open to boys as well. We welcome all children who are interested in aviation."
Women in Aviation International (WAI), a large international networking organization, was founded by a former Embry-Riddle faculty member, Dr. Peggy Chabrian. The largest collegiate chapter for the group is at Embry-Riddle's Daytona Beach Campus. The Worldwide WAI Chapter was the first virtual chapter created in WAI.
Every spring, the University has a large presence at the WAI annual conference. Girls in Aviation events are once again planned to take place at the next conference, March 5-7, 2020, in Orlando, Fla., said Pamela Peer, university director of communications, outreach and summer programs, who noted that student groups always play a major role in making those activities a success. The same is true for an annual event that draws up to 600 local girls to the Daytona Beach Campus for hands-on learning fun, Peer said.
Embry-Riddle recently launched a Women's Ambassador Mentoring program as well as a Women's Network, to ensure female students receive plenty of encouragement, opportunities, and even financial support, through a new Women's Giving Circle.
Posted In: Aviation | Computers and Technology