Fourteen Embry-Riddle Students Earn National Science Foundation Scholarships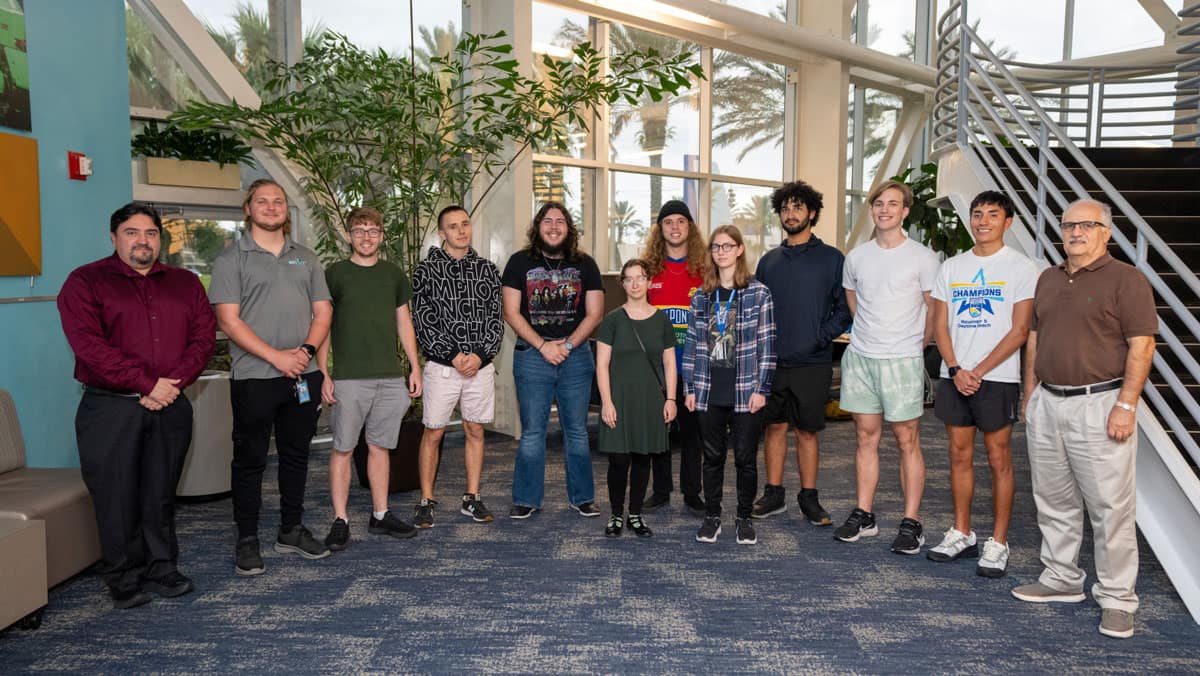 Dawson Gomez has worked hard to pay for college — he's held jobs as a lifeguard, pizza chef, boat trailer builder, pool cleaner, landscaper and in retail sales. Most recently, he has been putting in shifts at Best Buy.
"I had to overcome a lot of challenges to get where I am today," said Gomez, a sophomore at Embry-Riddle Aeronautical University who grew up in Tampa, Florida. "I do not come from a wealthy family, and I have worked since I was 14 to save up money and try to afford college."
As a first-semester freshman with an interest in computers, Gomez got a welcome break — a National Science Foundation (NSF) STEM scholarship that provides $10,000 for each year of a five-year bachelor's-plus-master's-degree program. The scholarship also provides mentoring, academic advising, participation in a learning community, professional development, help with internships and research opportunities.
"The scholarship helps me in many ways, from the guidance that it gives me with personal mentors, to the opportunities I have been given in research," Gomez said.
Already, Gomez has had a paper published on the topic of GPS signal strength and the securing of GPS messages from aircraft to the air traffic control tower, at the IEEE Digital Avionics Systems Conference. And he is not alone in his success.
Gomez is one of 14 students at Embry-Riddle who have received NSF STEM scholarships.
Funded by a $1.5 million grant awarded last fall to Dr. Omar Ochoa, associate professor in the Department of Electrical Engineering and Computer Science, the program is part of a national effort to bolster the engineering workforce and provide opportunities to promising students in financial need. The selected students study Computer Science, Software Engineering or Computer Engineering as undergraduates. They then continue on to earn their master's degrees in Cybersecurity Engineering, Software Engineering or Electrical and Computer Engineering.
Of the 14 scholars, eight are from underrepresented communities, although that is not a criterion for the award. The average GPA of the students is 3.64.
As Ochoa has pointed out, the program not only supports talented students with an excellent academic program, it also allows them to work with faculty on externally funded research projects. Ochoa, co-principal investigators Dr. Massood Towhidnejad and Dr. Radu Babiceanu, and others in Electrical Engineering and Computer Science, will mentor the students.
Another recipient, Siri Siqveland, applied for several scholarships in order to come to Embry-Riddle this year.
"I got enough that I felt comfortable enrolling here, and a big part of that was the NSF STEM scholarship," Siqveland said, adding that when she heard about the scholarship, "It wasn't even a question of 'if' I would apply, but 'how long' would it take me to finish applying. The benefits were almost too good to be true.
"It gives me access to a lot of people and opportunities I would otherwise not have … (including) undergraduate research. Stuff like that looks good on resumes and it will give me a leg-up in the competition when I'm applying for internships and jobs in the future. Plus, it will give me valuable experience."
Kyrylo Holovenko, who moved to the United States from Ukraine in 2021, needed to receive enough scholarship funding to cover his full tuition, or else he planned to drop out of school and go to work.
"My dream was to become a student at Embry-Riddle," he said. "In July 2023, I discovered that 75% of my tuition was covered after all university scholarships … and suddenly I received an email about the NSF STEM program."
He saw this award as a clear chance to realize his dreams.
"I think this scholarship is ideal for those who like to dream big, don't like wasting their time and want to become a real professional in the future," he said.


Eleven more scholarships will be awarded in the coming academic year. Learn more about the program and apply online.
Posted In: Engineering