Faculty Conduct Remote Drone Operation in Oregon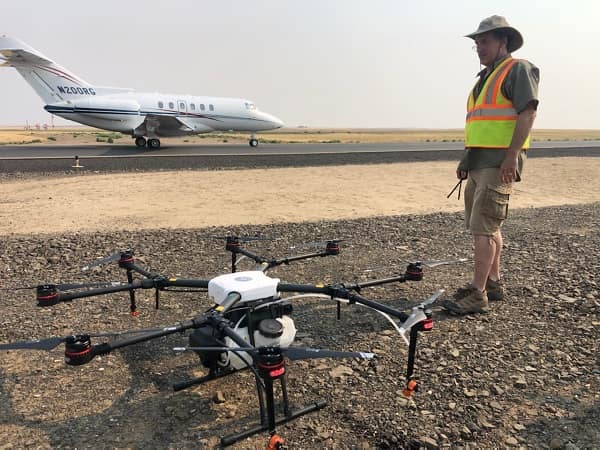 The goal of fully integrating unmanned aircraft systems (UAS) or "drones" into the national airspace system is still a long way off, but four members of the Embry-Riddle Worldwide Campus Department of Flight visited that future over the summer while conducting UAS operations in Pendleton, Oregon.
"Eastern Oregon Regional Airport is the home base for the Pendleton UAS Test Range," explained Dr. David Thirtyacre, the chair of the Department of Flight. "This setting gave us the opportunity to fully integrate our operations literally side-by-side with manned aircraft."
The purpose of the expedition was to test four new aircraft that will provide a state-of-the-art experience for Embry-Riddle students living all over the United States through an approach called remote-split operations (RSO).
"Earlier this year, Embry-Riddle became the first collegiate organization in the country to receive permission from the Federal Aviation Administration to conduct RSO," said Dr. Joseph Cerreta, associate professor at the College of Aeronautics. "That means students with access to the Internet can literally be anywhere and have the opportunity to fly these new aircraft remotely."
Among the aircrafts included are the Lynx VTOL, which was originally designed for military applications, the Anafi USA, which was built for first responders and contains advanced optical and thermal imaging capabilities, the Agras MG-1P, a robotic crop duster that pushes the limits for commercial UAS operations, and the Albatross, a flexible, fixed-wing platform capable of carrying multiple payloads.
"These are not the sort of aircraft that a student is going to be able to have in the garage and take out flying," according to Dr. Scott Burgess, associate professor at the College of Aeronautics. "These are extremely capable platforms and by logging time with them through RSO, our students are going to be much better prepared for jobs in industry when they graduate."
Over three days, the faculty members faced 100-plus degree heat and smoke from wildfires while testing the aircraft and refining their operating procedures to allow for seamless RSO with students in the future.
"This has been an amazing experience," said Patrick Sherman, instructor of the practice at the College of Aeronautics. "Just like all of the airplanes flying around here, we're on the radio, talking to the control tower, and using one of the airport taxiways as our runway."
While having the range facilities available was a benefit while testing the new aircraft, Thirtyacre sees even more potential for Embry-Riddle students.
"I could easily see hosting some of our residency programs in the Department of Flight here in Pendleton," he said. "This is a unique facility that could provide valuable, hands-on experience for our students: working in a fully integrated operational environment — just like they will be doing in the future."
Find out more about Embry-Riddle's RSO operations,.
Posted In: Uncrewed Systems