Expanding the Aviation Workforce: Embry-Riddle Aeronautical University Names Inaugural Cohort of Boeing Scholars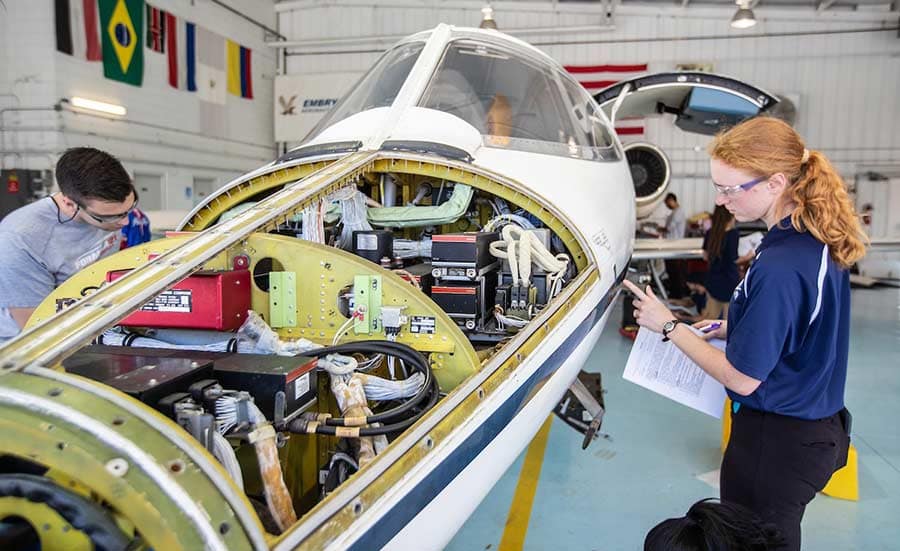 Twenty-two highly accomplished students will receive generous scholarships as part of a strategic effort to expand and diversify the aviation workforce, Embry-Riddle Aeronautical University and The Boeing Company announced today at the Paris Air Show.
The Boeing scholarships were established to help students interested in pursuing degrees in aviation science, aircraft maintenance and other fields at Embry-Riddle – the world's premier aviation and aerospace institution. Supported by a $3 million endowment from Boeing, the scholarships will be made available to all students –with a focus on increasing the number of women, underrepresented minorities and military veterans and their dependents enrolled at the University.
The inaugural cohort of scholarship recipients were selected based on their academic achievements as well as demonstrated financial need. Each scholarship ranges from $5,000 to $7,500, to be awarded annually for two years.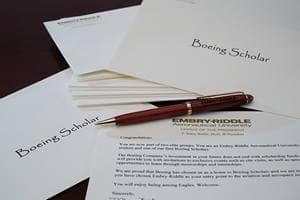 "The Boeing scholarships at Embry-Riddle will allow academically successful underrepresented students and veterans to pursue a university degree, gain critical aviation skills, and ultimately, help diversify the industry," said Dr. P. Barry Butler, president of Embry-Riddle. "At a time when we are facing a global shortage of aviation professionals, it is critically important to widen the talent pipeline. It is an honor to partner with Boeing to enrich and enhance the aviation workforce."
"Different perspectives make our industry stronger. These scholarships will help address the need for aerospace talent, including pilots and maintenance technicians, by equipping students from diverse backgrounds with the skills they need to succeed," said Boeing Chairman, President and CEO Dennis Muilenburg. "We congratulate the first class of Boeing Scholars at Embry-Riddle and look forward to watching their futures unfold."
Meet the First Boeing Scholars at Embry-Riddle
All newly selected Boeing Scholars were high-performing high-school students with exceptional grade point averages. The Boeing Scholars at Embry-Riddle will attend both of the university's residential campuses in Daytona Beach, Fla., and Prescott, Ariz.
The Class of 2019 Boeing Embry-Riddle Scholars are as follows:
ARIZONA
Brennan Acevedo of Chandler, Ariz., and Perry High School
Shannon Byrne of Avondale, Ariz., and Westview High School
CALIFORNIA
Adrian Baffigo of La Verne, Calif., and Bonita High School
Joshua Lopez of Bakersfield, Calif., and Frontier High School
FLORIDA
Shaddi Abdala of Cooper City, Fla., and Cooper City High School
Matthew Case of Riverview, Fla., and Richard Spoto High School
Caitlin Hartsel of Santa Rosa Beach, Fla., and South Walton High School
Johan Rodriguez of Miami Lakes, Fla., and Mater Lakes Academy Charter High School
Hunter Wise of Boynton Beach, Fla., and Boyton Beach Community High School
ILLINOIS
Liam Brennan of Oak Lawn, Ill., and Harold L. Richards High School
IOWA
Christopher Espino of Council Bluffs, Ia., and Iowa Western Community College
MARYLAND
Jing-Yu Tan of Ellicott City, Md., and Marriotts Ridge High School
NEVADA
Bailey Dostal of Reno, Nev., and Damonte Ranch High School
Joshua Sandoval of Henderson, Nev., and Foothill High School
Anna Scott of Henderson, Nev., and Nevada State High School
OREGON
Alanah Pluchos of Gresham, Ore., and Sam Barlow High School
Eisel Zsoee of Beaverton, Ore., and Sunset High School
SOUTH CAROLINA
Irvin Espinoza of Ridgeland, S.C., and Ridgeland High School
Alijiah McDonald of Little River, S.C., and the Academy for Arts, Science & Technology
TEXAS
Kylah Hailes of Killeen, Tex., and Killeen ISD Early College High School
WASHINGTON
Seth Smith of Lynnwood, Wash., and Cascadia Community College
WISCONSIN
Haley Scheunemann of Oconomowoc, Wis., and Oconomowoc High School
Posted In: Applied Science | Aviation | Institutional News