Embry-Riddle Plans Expansion of Its Research Park through Partnership with Space Square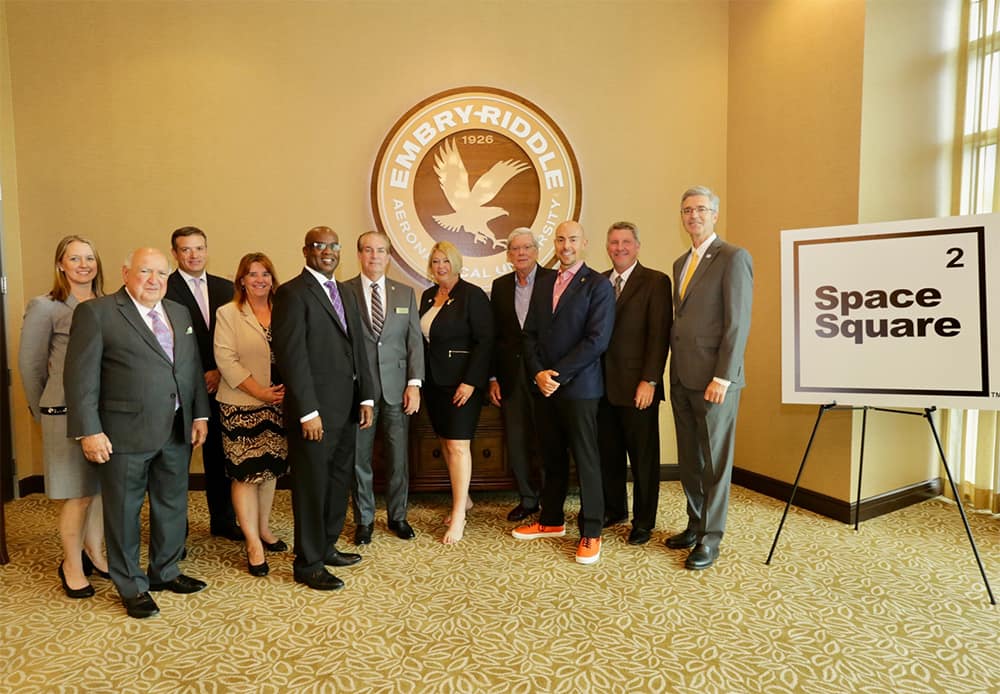 With a goal to promote high-paying jobs, Embry-Riddle Aeronautical University on Tuesday, Aug. 6, announced plans to expand its successful Research Park and advance innovation in Volusia County by establishing a presence within the new Space Square aerospace hub.
The plan sprang from the highly collaborative economic development efforts of Embry-Riddle, Space Square, Team Volusia, Space Florida and the Daytona Regional Chamber of Commerce, said University President P. Barry Butler, Ph.D.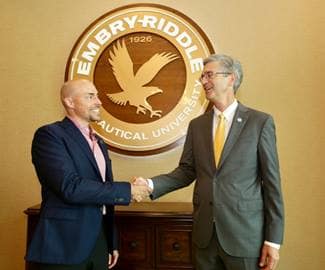 Embry-Riddle President P. Barry Butler and Aventine Development Corporation CEO Chad Hagle celebrate the launch of the Space Square aerospace hub. (Photo: Embry-Riddle/David Massey)
As the northern gateway to Florida's Space Triangle, Volusia County is poised to become a major player in the $348 billion global space economy," Butler said. "The expansion of Embry-Riddle's Research Park and our partnership with Space Square are positive signs that Volusia is well on its way to becoming a strong strategic lever for economic development along the I-4 corridor."
Butler commended the tireless and inclusive efforts of Central Florida native Chad Hagle, CEO of Aventine Development and the developer behind Space Square, to help Embry-Riddle leverage 10,000 square feet of space at 2455 West International Speedway – historically the site of the now-defunct Volusia Square Shopping Center. Embry-Riddle will use the location to support Research Park tenants in growth mode.
Hagle said, "I'm very pleased to be a newly minted member of both the Chamber and Team Volusia, and I'm incredibly grateful for the reception and support that we as well as all of our prospective tenants have gotten from Space Florida," Hagle said. "There is a high level of excitement about Space Square and its potential for propelling Volusia County more rapidly into the commercial space industry. Having grown up in Orlando and having been a NASA intern at Kennedy Space Center during high school, this is an incredible homecoming for me."
In July, Embry-Riddle announced that global aerospace communications leader Arralis will relocate to the John Mica Engineering and Aerospace Complex ("MicaPlex"), the cornerstone facility of the university's Research Park. That complex, located adjacent to Embry-Riddle's Daytona Beach Campus, is now fully leased and serves 18 companies. Space Square provides a stepping-stone for those companies as they expand beyond the MicaPlex, and an environment where they can collocate and collaborate with established companies in the aerospace sector being drawn to the Daytona Beach aerospace ecosystem.
"Since the debut of the MicaPlex in spring 2017, entrepreneurs there have secured more than $10 million in seed funding for their ideas," said Rodney Cruise, Embry-Riddle's senior vice president for administration and planning. "The Research Park has created 76 internships and 33 full-time jobs at an average salary of $60,000. We're going to build on that momentum and continue growing Volusia's high-tech workforce, in cooperation with Space Square."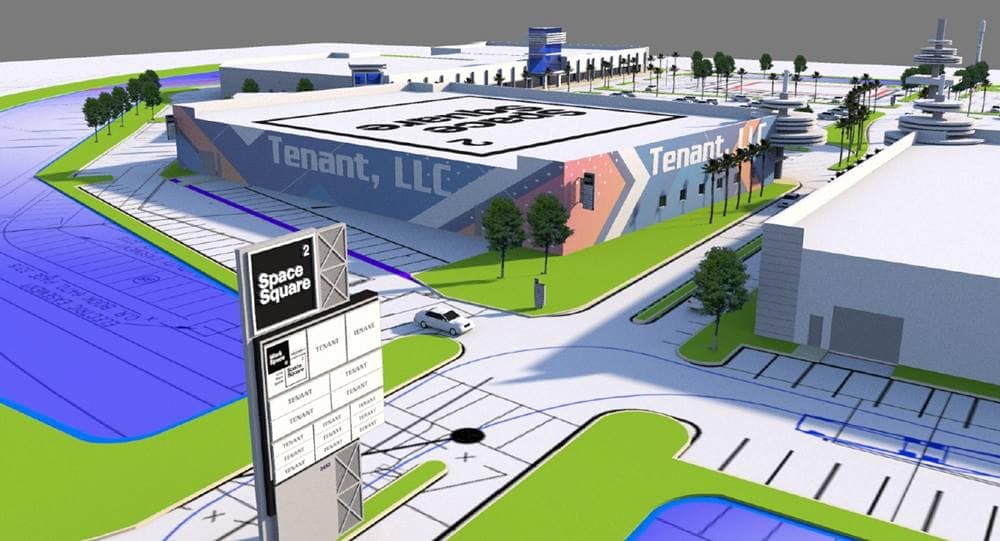 A computer rendering of Space Square, an expansion of Embry-Riddle Aeronautical University's Research Park, shows how the developer intends to leverage 200,000 square feet of space off of West International Speedway Boulevard. (Photo: Space Square)
Space Square's mission is to "transform the entry point of Daytona's iconic International Speedway Boulevard into the home for innovative private aerospace and technology research and development facilities," Hagle said. "Through collisions with fellow innovators, we will create an environment that inspires new ideas and shapes the future of aerospace and technology."
Located on 21.6 acres at the corner of Williamson Boulevard and West International Speedway Boulevard, Space Square offers 200,000 square feet of flex R&D space. Through the partnership with Embry-Riddle, the project offers Work Space @ Space Square, which is a collaborative co-working environment managed by ERAU and offering flexible custom workspaces of any size to early stage companies, along with preferred access to all of the resources offered by Embry-Riddle, including faculty-guided research, student interns, first class facilities, and state of the art equipment.
"Volusia County leaders recognize the growing opportunity that commercial space activity in and around the Cape Canaveral Spaceport represents for residents and businesses in our county," Butler wrote in a recent op-ed article. "With the proximity, logistics, research, education and lifestyle advantages that Volusia County offers, we can build a compelling case for doing aerospace business here."
Media Contacts:
Mike Cavaliere, News Manager, Embry-Riddle Aeronautical University; (386) 226-4838 / mike.cavaliere@erau.edu
About Embry-Riddle Aeronautical University
Embry-Riddle Aeronautical University is the world's largest and most comprehensive institution specializing in aviation, aerospace, engineering and related degree programs. A fully accredited university, Embry-Riddle is also a major research center, seeking solutions to real-world problems in partnership with the aerospace industry, other universities and government agencies.
About Space Square
A vibrant aerospace innovation hub located at the northern tip of Florida's Space Triangle, Space Square offers more than 200,000 square feet of custom research and development space. Entrepreneurs and innovators are invited to join a community of innovation, creativity and collaboration. Space Square is located at 2455 West International Speedway in Daytona Beach, Fla. Leasing inquiries can be directed to info@spacesquarefl.com or to Randy Helle, Director of Business Development at (386) 235-7105.
About Team Volusia
The Team Volusia Economic Development Corporation, through tremendous commitment and partnerships, works on strategic economic development activities and business recruitment initiatives to Volusia County, Fla. Team Volusia EDC is a public/private not-for-profit corporation, founded in late 2010 whose primary mission is to market and recruit business from outside the area to Volusia County.
About the Daytona Regional Chamber of Commerce
In 2019, the Chamber will have served the community for 100 years. Our members of over 1,000 businesses is diverse and representative of our community. Governed by a Board of Directors of local business and organizational leaders, we represent a variety of industries, sizes of business and geographic locations throughout the greater Daytona Beach region. Advocacy is the cornerstone of our Chamber and is why we are looked upon as the "Chamber of Influence."
About Space Florida
Space Florida
was created through the State to strengthen Florida's position as a global leader in aerospace research, investment, exploration and commerce. As Florida's aerospace economic development organization, we are committed to attracting and expanding the next generation of space industry businesses. With its highly trained workforce, proven infrastructure and unparalleled record of achievement, we believe Florida is the ideal location for aerospace businesses to thrive – and Space Florida is the perfect partner to help them succeed.
Posted In: Institutional News | Research