Embry-Riddle's Research Park Adds Advanced Technology and Manufacturing Center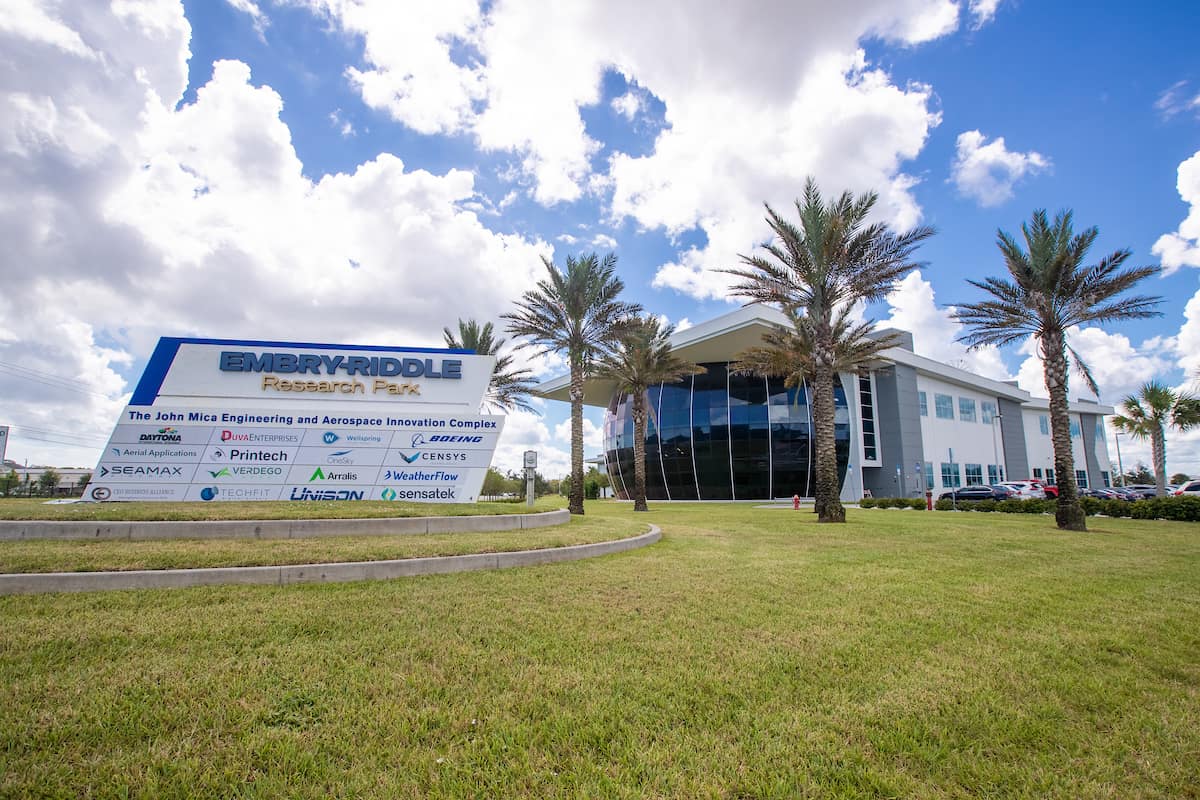 Embry-Riddle Aeronautical University's Research Park, which has so far served 22 companies and generated 104 high-paying, full-time jobs, will soon gain another 10,000 square feet of production space to advance innovation and entrepreneurship in Central Florida.
The new facility – to be located on the east side of Clyde Morris Boulevard just south of Bellevue Avenue – is already fully occupied. Half of the space will support WeatherFlow-Tempest, Inc., an existing Research Park innovator that is poised to expand its successful business, while the other half of the building will be devoted to Research Park operations.
Dubbed the Advanced Technology and Manufacturing Center, the new facility was designed to include 5,000 square feet of space for both emerging and established businesses in need of a larger footprint for light assembly and production operations. WeatherFlow-Tempest, a company focused on weather observation, modeling and forecasting technology, was first in line to claim all of the leasable space.
By adding the new production facility, Embry-Riddle will expand the Research Park to include five buildings and is well on its way to completing Phase I of the development.
Since the Research Park's spring 2017 inception, 22 companies have raised $41.1 million from grants and investors, Embry-Riddle reported. Research Park companies have also created 104 full-time jobs with an annual average salary of $67,000 and provided employment for 159 student interns.
Driving Innovation in Volusia County
Mori Hosseini, chairman and CEO of ICI Homes, who serves as Embry-Riddle's Board of Trustees chairman, said, "The new production facility at Embry-Riddle's Research Park reflects our long-term vision to establish Volusia County as one of the engines of innovation and entrepreneurship for the state of Florida. We are grateful for the continuing support of county, state and federal leaders who have made the Research Park possible, through their commitment to economic development that improves human quality of life."
Bringing business leaders together with Embry-Riddle faculty and students promotes out-of-the-box thinking and drives technological advancement, said Embry-Riddle President P. Barry Butler. "Our highly collaborative business ecosystem encourages transformative ideas enriched by many different perspectives," he added. "By providing an environment where academia, industry and entrepreneurship can share their best ideas, entrepreneurs in Embry-Riddle's Research Park are translating innovation into new products, services and solutions."
A 2020 study by the independent Washington Economics Group found that Embry-Riddle's Research Park generated more than $90 million in economic impacts in Florida in less than four years, noted Rodney Cruise, the university's chief operating officer and senior vice president.
"This new building adds another unique opportunity for businesses to partner with Embry-Riddle," Cruise said. "Our strategy is simple – create opportunities for companies to access world-class talent and continue to create high-paying jobs for our community. We also want to make it easy for outstanding companies like WeatherFlow-Tempest to work with us so that they can focus on growing their business. This latest expansion of the Research Park demonstrates the continued success of Embry-Riddle's plan."
Advancing Innovation and Job Growth
Examples of innovation at Embry-Riddle's Research Park abound.
Since spring 2018, WeatherFlow-Tempest has been a tenant partner in the John Mica Engineering and Aerospace Innovation Complex (MicaPlex), the cornerstone facility within Embry-Riddle's Research Park. In that time, the growing company has hired 15 people and rolled out a unique personal weather system centered on a smart phone app. The system, called the Tempest, provides real-time forecasting data through a weather station, sophisticated modeling and WeatherFlow-Tempest's data science team.
"Since moving our R&D facility into Embry-Riddle's Research Park almost three years ago, WeatherFlow-Tempest has more than tripled by every measure – staff, customers, revenue and more," said the company's Vice President and CTO David St. John. "Our partnership with Embry-Riddle, providing us access to world-class students, faculty, staff and research facilities has been a huge part of that growth. Expanding our operations into this new space fits perfectly with our goal of bringing more manufacturing and production capability in-house, and we're very excited about it!"
Another Research Park company, VerdeGo Aero, a hybrid-electric aerospace powertrain firm and Research Park tenant joined forces with the university to advance technology designed to mitigate electric aircraft noise. Under an exclusive option agreement, VerdeGo Aero will develop and commercialize the patent-pending technology.
Research Park entrepreneur and Embry-Riddle alumnus Reamonn Soto is commercializing a big idea to save gas turbine operators millions of dollars annually. His business, Sensatek Propulsion Technology, is licensing patented wireless sensor technology to increase the operational reliability and performance of jet engines and high-temperature process flow applications. His innovation has created high-paying new jobs in Volusia County. It has also garnered more than $4.5 million in funding.
Embry-Riddle's Technology Transfer Office managed 11 invention disclosures involving 20 inventors in fiscal year 2020, with five patent applications, said Dr. Stephanie Miller, executive director of tech transfer and Research Park initiatives.
Embry-Riddle's Research Park
In addition to the planned production facility, Embry-Riddle's Research Park currently includes the following facilities:
MicaPlex
Known as the MicaPlex, the 50,000-square-foot John Mica Engineering and Aerospace Innovation Complex serves as the cornerstone building of Embry-Riddle's Research Park, attracting and supporting disruptive businesses. It houses collaborative workspaces, a wide range of laboratories and business support services collocated to ensure that technology-focused startups will have every advantage for success.
Wind Tunnel
Adjacent to the MicaPlex, a 16,000-square-foot building houses one of the largest and most technologically advanced subsonic wind tunnels at any university in the United States. The system, designed and manufactured by ASE/FluidDyn AeroSystems, is capable of delivering flow speeds up to 230 mph, with a test section measuring 7 feet wide, 4 feet high and 12 feet long. It leverages a technique known as Particle Image Velocimetry or PIV. This makes it possible to measure the intricate details of the air flow velocities by using tiny smoke particles, powerful high-speed lasers and sophisticated cameras.
Research Hangar
Embry-Riddle's 7,500-square-foot Applied Aviation and Engineering Research Hangar, supported by more than $3 million in State of Florida grants, $1 million from the U.S. Department of Commerce Economic Development Administration and a grant from Volusia County, was established to spur innovation within the state's aeronautical cluster.
Warehouse
To better support affiliated businesses, Embry-Riddle's Research Park also includes a 4,000 square-foot warehouse, located across from the MicaPlex on Bellevue Avenue.
Construction of the new Advanced Technology and Manufacturing Center will continue for at least a year, Rodney Cruise said. The university is currently in discussions with several potential tenants, he added.
Posted In: Institutional News | Research