Embry-Riddle's Digital Textbook Initiative Saves Students $2 Million in Past Six Years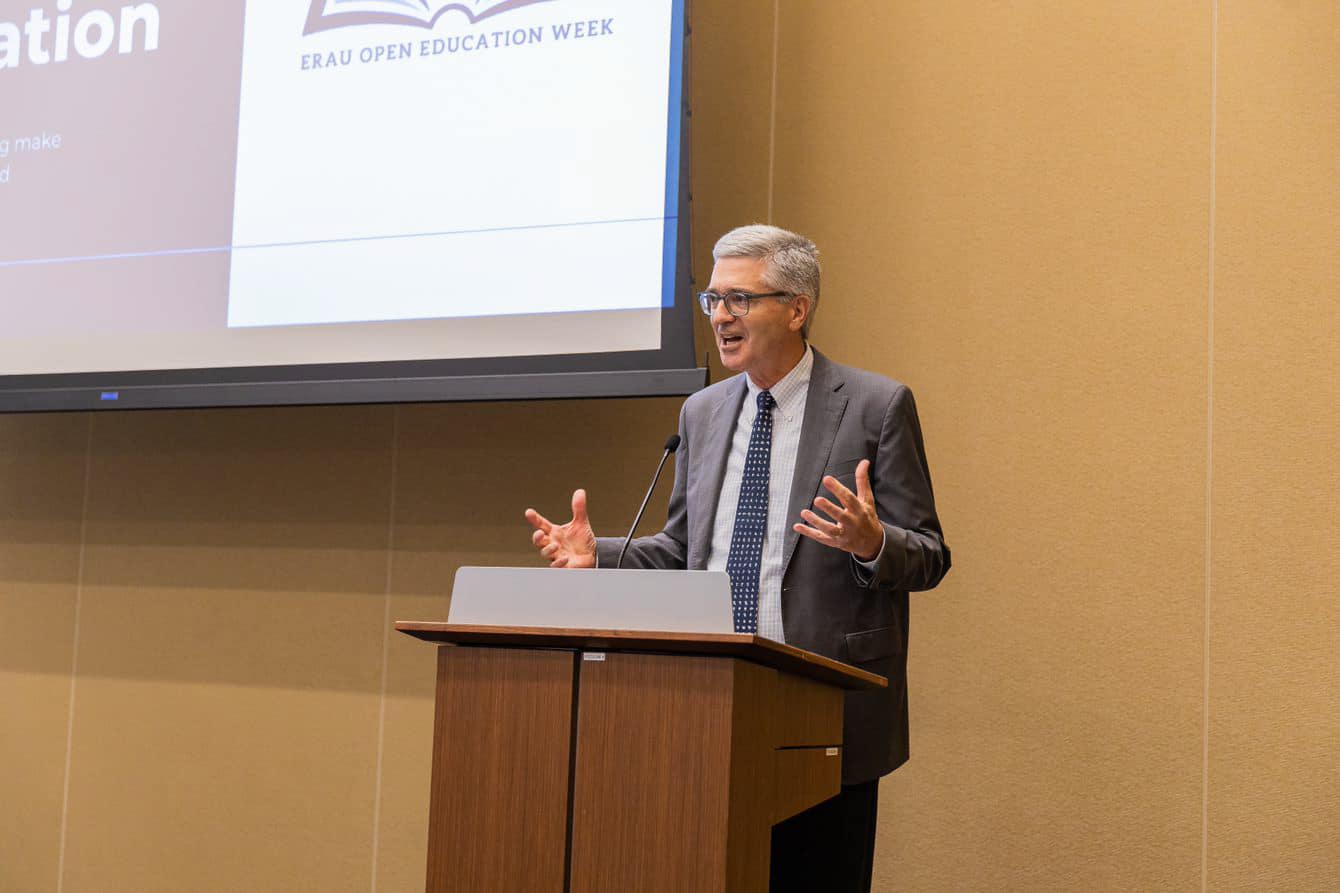 The rising costs of college textbooks can be a barrier to success for some. Yet, students at Embry-Riddle Aeronautical University can take advantage of an initiative that provides affordable and accessible digital course materials at low to no cost.
As a longtime leader in virtual learning and provider of award-winning online programs, Embry-Riddle has been offering accessible digital content, or Open Educational Resources (OER), to students for many years. The university began tracking the impact of these efforts six years ago and found significant savings — totaling nearly $2.2 million saved for students across the university's three main campuses.
"And this has not diminished the quality of the faculty's delivery of courses," Embry-Riddle President P. Barry Butler, Ph.D. said. "It's important to connect those two: same quality of education, saving our students money."
A free, open-access textbook, "Introduction to Aerospace Flight Vehicles," by Dr. J. Gordon Leishman, replaced $300 worth of required materials in an entry-level Aerospace Engineering course last summer, saving students a combined $120,000 annually.
Due to the high cost of traditional textbooks, some students struggle to afford every required book, opting instead to borrow certain titles from friends or simply go without.
"We all know that's not the best way to learn," Butler said. "Not to have the materials present in some fashion as you go through a very difficult course is a real barrier to student success. We want to make sure that our students always have the best information available to complement and supplement their faculty."
Faculty and staff began focusing on OER in 2017 to enhance student success. This included participation from the Hunt and Hazy libraries, the Center for Teaching and Learning Excellence (CTLE), campus bookstores and the OER initiatives committee.
Early accomplishments included hosting digital textbooks on Scholarly Commons, setting aside textbooks to borrow instead of buy at campus bookstores and designating more than 200 courses with low-cost or no-cost options in course registration catalogs.
Most recently, Embry-Riddle has launched its own digital textbook platform called Eagle Pubs, to increase its production of open-access resources. This is a dedicated media server with first-year funding provided by the Northeast Florida Library Network.
As one of the platform's early adopters, Dr. J. Gordon Leishman, distinguished professor of Aerospace Engineering at the Daytona Beach Campus, was awarded the first Open Textbook Initiative Grant from the CTLE.
"At first I was a bit hesitant," he said. "But after discussions with the CTLE and Hunt Library staff, I got very enthusiastic and jumped headfirst into e-book tech."
His online textbook, "Introduction to Aerospace Flight Vehicles," debuted last summer and has been used by thousands of students since, as required reading in an Aerospace Engineering entry course. Previous course materials cost students up to $300, with at least 400 students taking the course each academic year. The open-access textbook will save Embry-Riddle students approximately $120,000 annually and will also be available to students around the globe at no cost.
"I've had emails from high school students that have come across the book and said, 'This is great stuff and I want to become an aerospace engineer!'" Leishman said. "That's great because they wouldn't have had access to it otherwise. … That can change their lives."
A Commitment to Innovation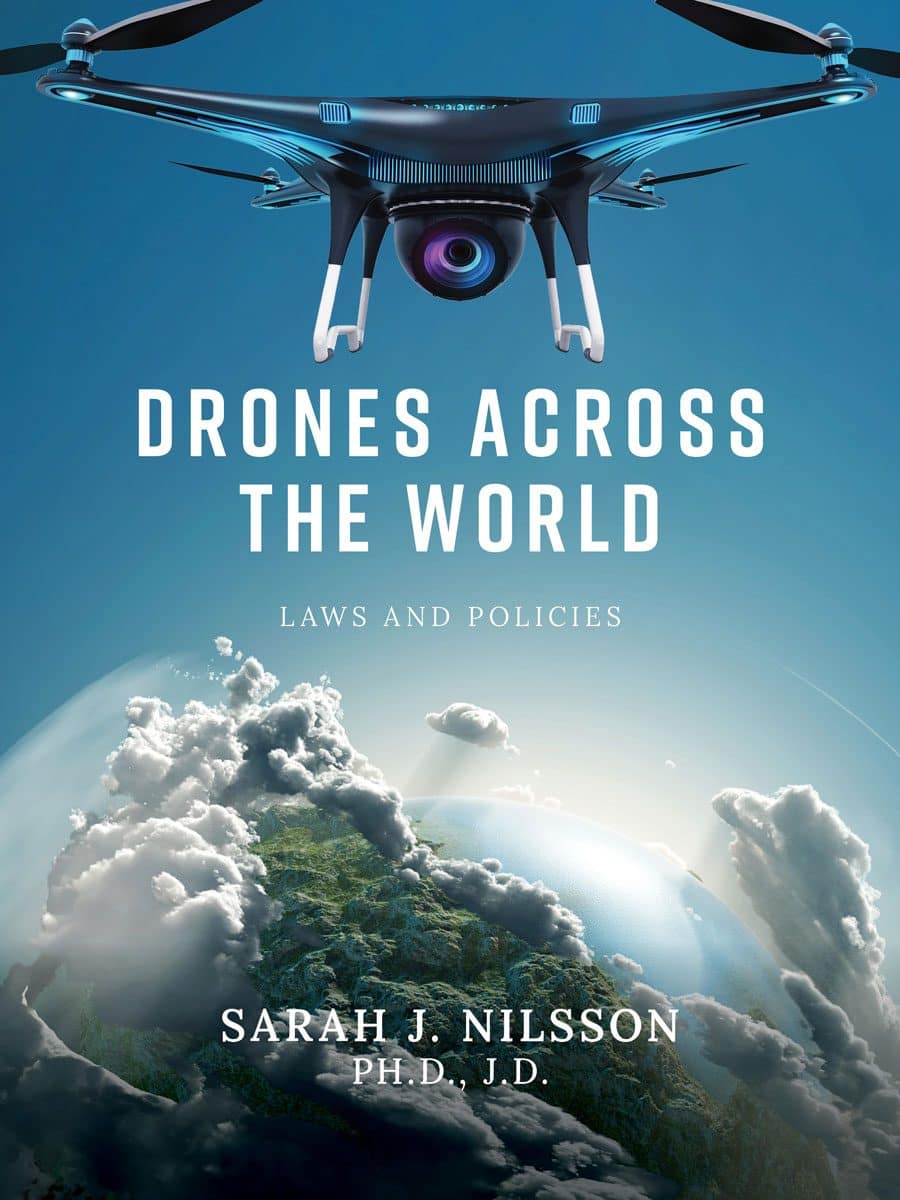 Since open-access digital texts can be continually updated, Sarah J. Nilsson envisions her reference book, "Drones Across the World," being an industry resource for years to come.
Embry-Riddle's Worldwide Campus launched a new division in 2019 focused on the advancement of future-ready educational practices: the Division of Academic Innovation, led by Dr. Dean Goon.
As a nontraditional student himself, Goon said he's thankful to be part of an institution with a focus on both virtual learning and affordability.
"I finished a degree online and have pictures of my little 2-year-old on my lap while I was studying," he said. "I think about how many of our students go through times where they have to make choices like, 'Do I buy gas, or do I need to get this textbook?' That's the reality for some of our students."
As of March 2023, Worldwide's instructional design development team and the Hunt Library have collaborated on 41 online courses which will integrate open-access content.
"That's well over 9,800 students," Goon said. "The financial impact is just monumental."
Eagle Pubs' newest digital textbook comes from the Embry-Riddle Prescott Campus, where Sarah J. Nilsson recently published "Drones Across the World." In her role as associate professor of Unmanned Aircraft Systems, Nilsson developed this reference textbook to cover 200 counties' laws. If printed, it would amount to about 7,000 pages.
Textbook Affordability Champions
Embry-Riddle is in its third year of encouraging OER by recognizing Textbook Affordability Champions. These are faculty or instructional designers who are engaged in open education and textbook affordability. This year's Textbook Affordability Champions are listed as follows:
Daytona Beach Campus
Cheryl Blaikie is the campus bookstore manager and ardently helps support access to textbooks for students. For example, she worked with Hunt Library and Veteran Student Services to provide scholarships to help cover textbook costs for veterans taking summer courses.
Dr. Chris Herbster is an associate professor of Meteorology in the College of Aviation. Several years ago, he transitioned to an open textbook titled "Practical Meteorology" in a core degree course, replacing a traditional textbook that used to cost students approximately $100.
Dr. J. Gordon Leishman: "Introduction to Aerospace Flight Vehicles" was his third textbook but his first OER. He also involved students in the process of designing the book and compiling its content.
Worldwide Campus
Dr. Trevor Adams is an assistant professor in the College of Arts and Sciences. His specialty is teaching in the geosciences, primarily meteorology, and he incorporates open textbooks into his classes to ensure equal access to all course resources.
Dr. Burak Cankaya is an assistant professor who took a major role in building the bachelor's in Business Analytics degree. This program promotes open education by being both textbook requirement-free and based around open-access software. He was also the College of Business's 2022 Faculty of the Year and 2020 Faculty of the Year in Research.
Jeff Ferner is the director of Academic Technology Systems and an adjunct professor in the College of Arts and Sciences. He is also the developer of the Introduction to Computers and Applications course, which uses a free textbook.
Prescott Campus
Preston Jones, associate professor of Physics, has been using open-access textbooks since 2007, partly because they are generally the most up-to-date available. He adopted OpenStax textbooks in a variety of courses at Embry Riddle beginning in 2014.
Sarah J. Nilsson, associate professor of Unmanned Aircraft Systems, recently completed one of the first textbooks to be hosted on the new Eagle Pubs platform. She envisions her reference book, "Drones Across the World," being a significant industry resource for years to come.
Dr. Hong Zhan, professor of Asian studies, is an active creator of OER. For her course "Introduction to Computer Communication and Applications with the Chinese Language," she authored a textbook and workbook, both of which are free to students. These resources are also available in Chinese.
Read more about this year's Textbook Affordability Champions.
Posted In: Institutional News