Embry-Riddle Teams Up with Bethune-Cookman in EcoCAR EV Challenge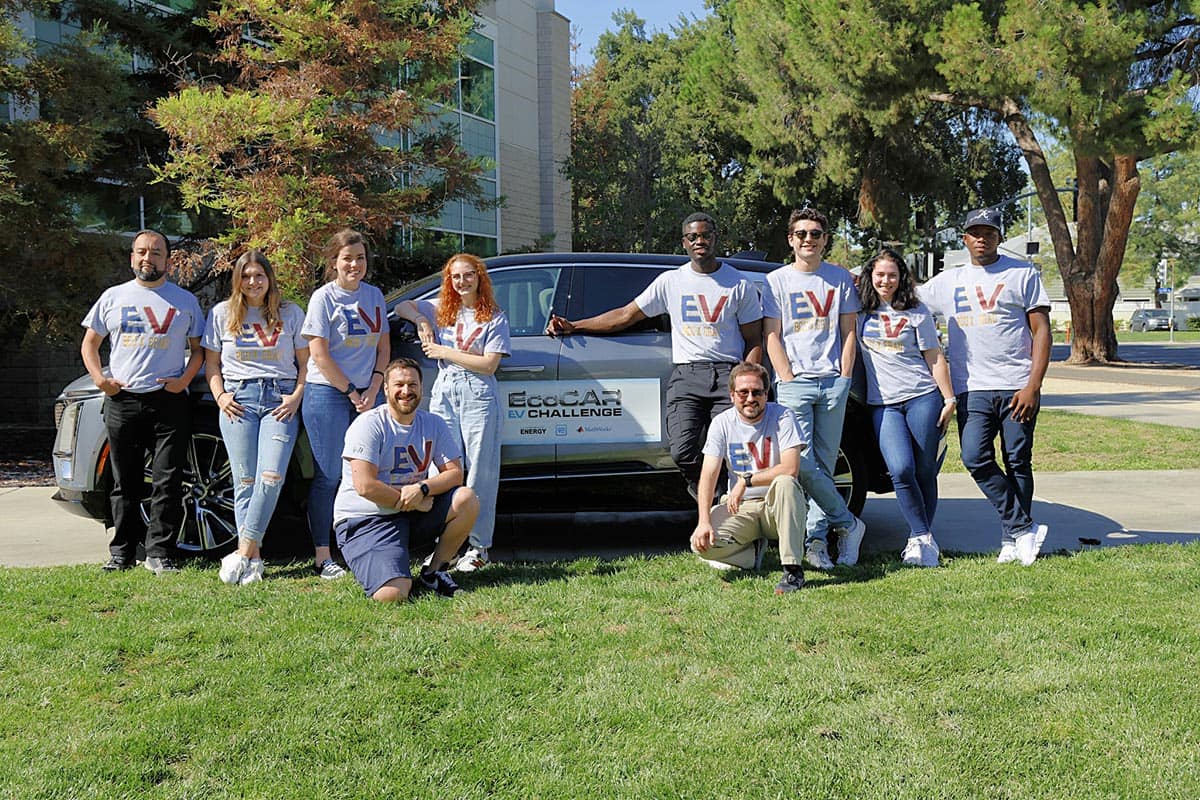 When Bethune-Cookman University student Israel Oyekan joined the intercollegiate EcoCAR EV Challenge team with Embry-Riddle Aeronautical University, he figured it was an opportunity to learn something new and work with students who shared his love for engineering.
In the year since, he's traveled to workshops around the country, meeting industry experts and students from around the United States. He has also come to know and rely upon his Eagle teammates.
"It's a new program for us," said Oyekan, a junior Computer Engineering student from Nigeria. "But Embry-Riddle students have made us feel included and have opened themselves up to any questions we've had."
One of just 13 North American teams selected to compete, the Embry-Riddle/Bethune-Cookman squad is gearing up to present its designs for the EcoCAR EV Challenge Year 1 Competition, which is being held in May in Orlando, Florida. Students will start implementing their innovative ideas on the fully electric 2023 Cadillac LYRIQ, which the team will receive this fall.
The EcoCAR EV Challenge is a four-year competition running from 2022 to 2026. There are 15 schools competing in the latest Advanced Vehicle Technology Competition (AVTC) series, which is managed by Argonne National Laboratory, but two of them are partner teams.
"The Bethune-Cookman team members bring a lot of new perspectives that have been extremely valuable," said Douglas Turner, an Embry-Riddle Master of Science in Mechanical Engineering student who serves as a project manager on the team.
The intercollegiate team is tasked with designing and demonstrating cutting-edge improvements for the LYRIQ in the areas of advanced propulsion systems and powertrain, connected and automated vehicle (CAV) technologies, and charging and thermal systems. Students will also use a combination of onboard sensors and bidirectional vehicle-to-everything (V2X) connectivity for energy-efficient and user-friendly automated control features.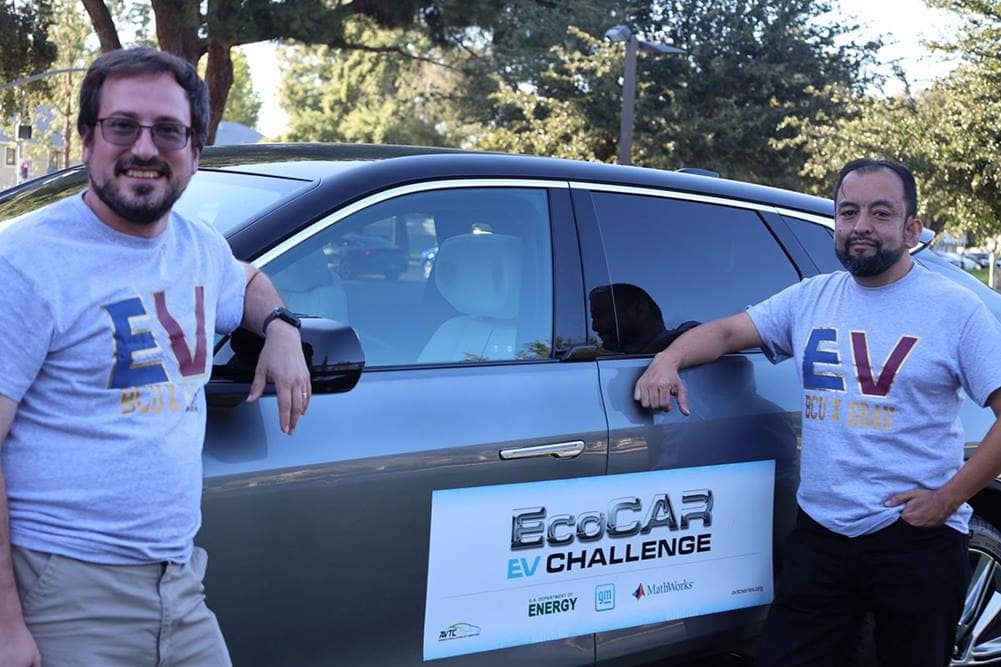 Dr. Patrick Currier, professor and chair of Ember-Riddle's Department of Mechanical Engineering, and Dr. Juan Calderon, assistant professor of Computer Science at Bethune-Cookman University, serve as two of the team's eight faculty advisors. (Photo: Embry-Riddle)
"For us, the collaboration made a lot of sense," said Dr. Patrick Currier, professor and chair of the Department of Mechanical Engineering and the project's lead faculty advisor. "The universities are two miles apart, and Bethune-Cookman has some useful capabilities to bring to the projects."
While Bethune-Cookman is new to the EcoCAR competition, Embry-Riddle has participated in EcoCAR competitions since 2008. Eagle graduate and undergraduate students bring experience in Mechanical Engineering, Computer Engineering, Computer Science, Software Engineering and Human Factors, while Bethune-Cookman's Computer Science and Computer Engineering students are focusing on computer vision and machine learning, while applying their knowledge in the areas of CAVs and Human Machine Interface (HMI).
"Embry-Riddle has been teaching our students a lot about the mechanics of the project," said Dr. Juan Calderon, faculty advisor and assistant professor of Computer Science at Bethune-Cookman University. "Now, they can see cars in a different way."
The intercollegiate team has eight faculty advisors. Besides Currier and Calderon, faculty advisors include Embry-Riddle professors Dr. Barbara Chaparro, from the Department of Human Factors and Behavioral Neurobiology and director of the Research in User eXperience (RUX) Lab; Dr. Alex Chaparro, professor of Human Factors and Behavioral Neurobiology; Dr. Darris White, professor of Mechanical Engineering; Dr. Chris Hockley, assistant professor of Mechanical Engineering; and Dr. M. Ilhan Akbas, assistant professor of Electrical Engineering and Computer Science; along with Roy Savoca, an adjunct professor of Computer Science and Information Technology Management at Bethune-Cookman.
Diversity Powers Safety, Accessibility
The EcoCAR EV Challenge also has a major focus on diversity, equity and inclusion (DEI) in STEM (Science, Technology, Engineering and Mathematics) — and the Embry-Riddle/Bethune-Cookman team is rising to the challenge, examining human factors principles as a way of incorporating "inclusive design" features into their build that will improve the user experience in future EVs.
The students are looking at ways that a wide range of drivers can take advantage of EV safety features and displays to improve performance and driver satisfaction. For example, Gianna Distefano, a graduate Mechanical Engineering student who is the Embry-Riddle DEI manager for the team, is currently working on a wiring system that works for color-blind people.
Currier said the team is also looking at DEI issues related to electric vehicles, such as limited access to chargers in low-income areas. In Embry-Riddle's 15-year history in the EcoCAR Challenge, this is the first time these considerations have risen to the fore, offering students a broader perspective on the needs of next-generation travelers and a richer research-and-development experience.
Both Embry-Riddle and Bethune-Cookman students have had opportunities to prepare for their future careers this past year. They have attended EcoCAR workshops in Washington, D.C, California and Texas, where they conducted training, learned about internships and met representatives from competition sponsors, such as the U.S. Department of Energy, General Motors and MathWorks.
Oyekan, who is the Bethune-Cookman DEI manager for the team, said in addition to learning more about engineering, teamwork and design, he's also further developed his organization, communication and leadership skills.
"The competition is about developing students to become professionals," he said.
Posted In: Computers and Technology | Engineering | Human Factors