Embry-Riddle Takes Silver in International RoboBoat Competition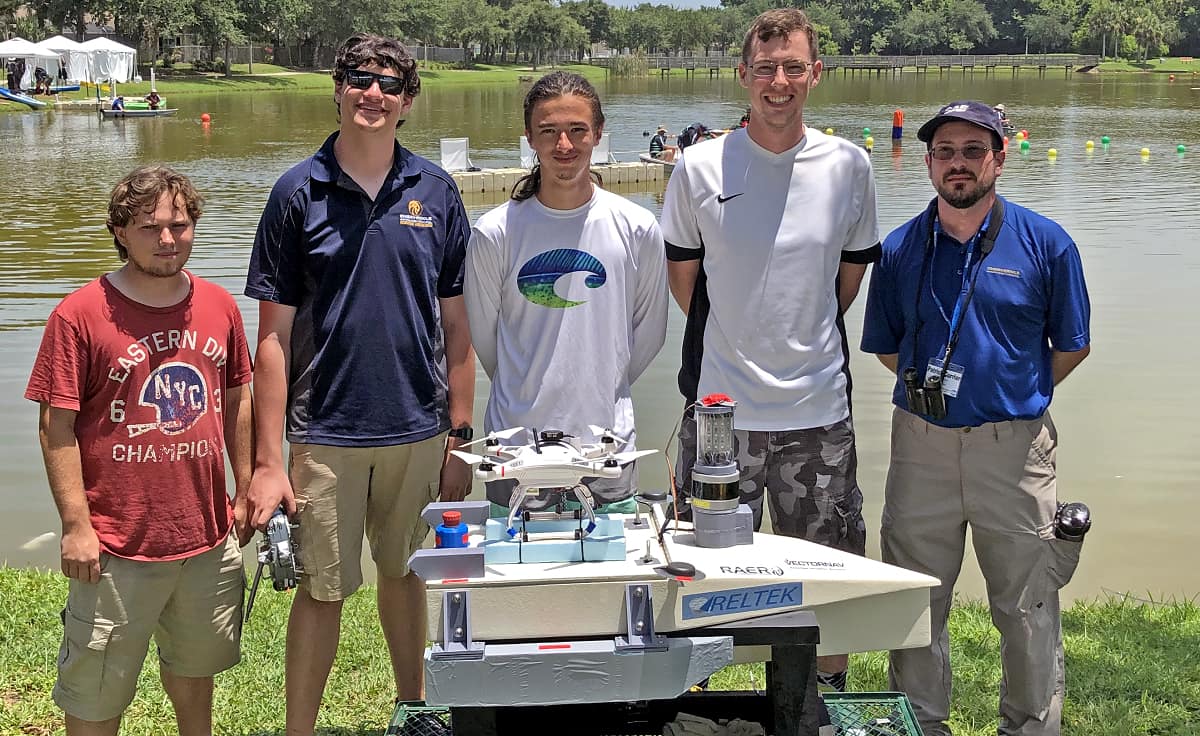 The autonomous robotics team from Embry-Riddle Aeronautical University in Daytona Beach, Fla. finished a strong second in the just completed ninth annual international RoboBoat competition held in South Daytona, Fla.
Sponsored by RoboNation and the Office of Naval Research, the RoboBoat competition features student teams from around the world that design, build and program autonomous, robotic boats that navigate and race through a sophisticated aquatic obstacle course, even flying drones from the deck of the boat to perform specific tasks. The behaviors demonstrated by these self-driving boats mimics tasks that are being developed for coastal surveillance, port security and other types of oceanographic operations.
This year's competition featured 200 participants on 13 teams. In finishing second in the competition, the Embry-Riddle team from the Robotics Association at Embry-Riddle (RAER) was the only university team from the U.S. to finish in the top five, besting teams from Georgia Tech, University of Michigan, Florida State/Gulf Coast State College, University of Colorado–Boulder and others. The team from Institut Teknologi Sepuluh Nopember in Indonesia took first place.
Read more about RoboBoat 2019 in the Daytona Beach News-Journal.
The ten-person Embry-Riddle RoboBoat team has one returning member and seven freshman members new to collegiate robotics. Team members participating in the competition included Sean McDonnell, Sean Cannon, Vincent Varelli, team captain Andrew Wood and faculty advisor Dr. Patrick Currier.
Additional contributing members include Cassandra Ryan, Michael Wisner, Jack Schulte, Chris Narshkin, Brandon Nolan, Pham Thanh Vin Le and Damian Roberts. Advisors and faculty support also included Dr. Eric Coyle, Dr. Christopher Hockley, Bill Russo, Dr. Brian Butka, Dr. Charles Reinholtz, Timothy Zuercher, Marco Schoener and David Thompson.
The Robotics Association at Embry-Riddle (RAER) is a student organization, pushing the boundaries of what is possible in unmanned systems, at the Daytona Beach Campus. RAER supports seven collegiate robotics teams that compete around the world across the domains of land, sea and air. They also provide outreach and support to K-12 students, inspiring them to pursue their own paths through STEM education.
Posted In: Applied Science | Computers and Technology | Engineering | Uncrewed Systems