Embry-Riddle Singapore students shine at major Asia travel expo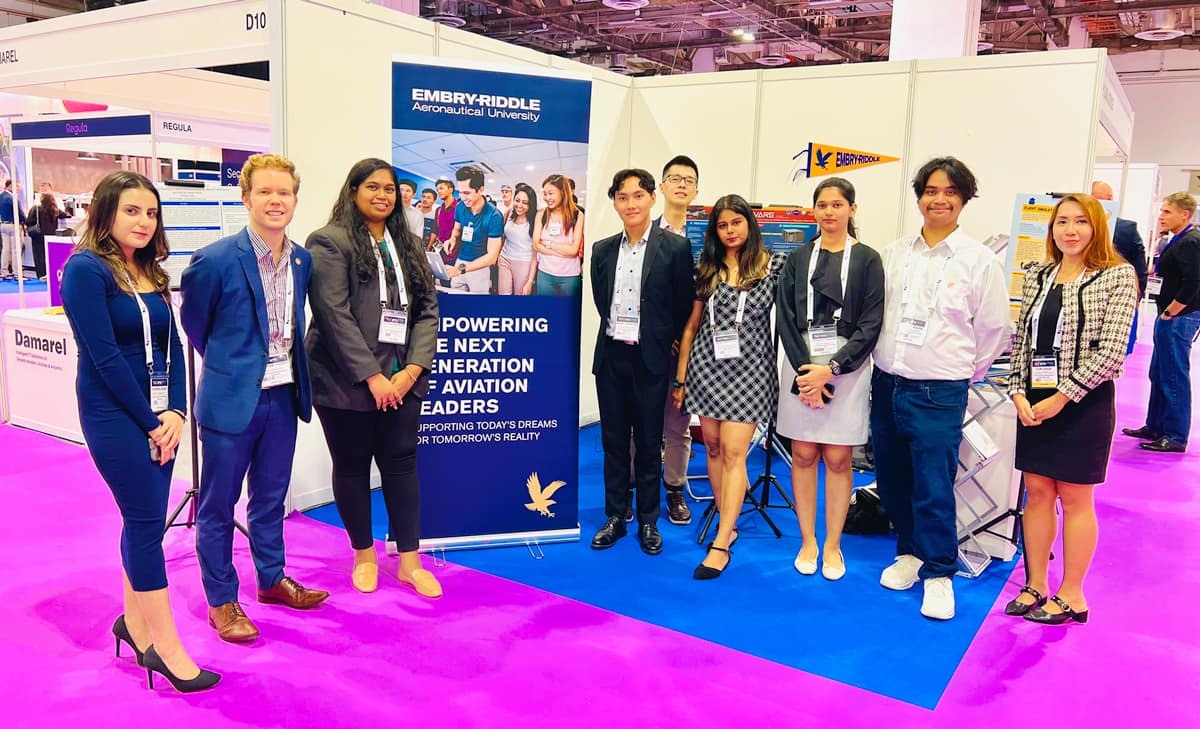 A group of students from the Embry-Riddle Aeronautical University Asia Campus recently got some vital professional experience and exposure after being invited to take part in the Future Travel Experience APEX Asia event, one of the biggest trade shows in the region.
The students showcased four different innovative projects and got a chance to discuss their work with trade show visitors, all of whom were professionals representing all areas of the aviation and aerospace industries.
The FTE Expo, held Nov. 9 and 10 in Singapore, was focused on the bright future of aviation in Asia, where growth is expected to explode during the next decade. The students who represented Embry-Riddle are all hoping to play key roles in that growth and make their own marks in the industry.
To that end, the booth staffed by Aeronautics majors Isaac Chung and Genta Adjie, showcased the latest flight simulator technology now being employed to train pilots. They set up some demonstrations so visitors could learn how many of these leading-edge products will reshape flight training in the years to come—a development that may help address the ongoing pilot shortage.
The pair of student researchers also pointed out some of the current limitations of the technology and how those issues are being addressed. For both students, it was an enlightening experience.
"We have never been confident enough to walk up to a person of expertise and converse with them," the two reported. "Then we realized that the best way to win over their hearts was to have them see the work through our eyes. We understand that things might be different for them, and that helped them understand our passion and effort towards flight simulation technology and student pilot training."
At Kaung Z. Min's booth, visitors got a look at his deep dive into how the Federal Aviation Administration in the United States deals with mental health problems suffered by pilots. Min, an Aeronautics major, did research that concluded the FAA must reassess its current approach to ensuring pilots are mentally fit to fly and said he enjoyed the chance to share his findings with key industry leaders.
"Exhibitions like this are wonderful opportunities for college students as such events cultivate further research initiatives, boost our confidence and provide fruitful experiences for student success in their academic and career journeys," Min said.
Aeronautics major Mayer Sng ('22) showcased the poster created during his collaboration with a global group of students from all Embry-Riddle campuses and from Italy's Politecnico di Milano. The team made the finals of NASA's prestigious NASA's Revolutionary Aerospace Systems Concepts — Academic Linkage (RASC-AL) competition with their proposal for a system to produce propellant from resources extracted on Mars.
The innovative project was called "Self-Acquisition of Liquid Propellant Versatile Arsenal of Resources Endeavour" and the SALVARE acronym is actually the Italian word for "rescue." This worldwide effort was highlighted at RASC-AL's global showcase in June and took home the prize for "Best Prototype Demonstration."
Not far away at the Expo was the renowned Hexa Eagles team, whose vision for an autonomous food delivery system earned them the Creativity Prize in the2022 Global Navigation Satellite System Innovation Challenge.
The all-female team consists of Aeronautics majors Anjana Mahesh Kumar, Suhasini Shekhar, Mithra Sakthivel, Jean Samirah S. Venturina and Faaliha Sumaiyathul, and Aviation Business Administration major Humna Amad.
Their poster for the Expo depicted the application that initiates and track orders, the delivery robot named Bobo and the Bobo van. Once an order is placed, the Bobo van transports and charges the robot, which is then deployed to carry goods to the customer.
The system uses robotics, cameras, pulsed laser LiDAR sensing and is enabled by SiReNT, a real-time, high-precision positioning system promoted by the Singapore Land Authority.
Being invited to be part of such prestigious trade show was an honor for the school and the students, who gained valuable practical experience and made new industry connections over the two-day event.
"Student Success is at the core of our work at ERAU Asia and behind every student success story is a team of staff and faculty who championed for him or her," said Director of Student Success Kim-Chua. "We are so very proud of their achievements and aspirations!"