Embry-Riddle Reports Initial Covid-19 Test Results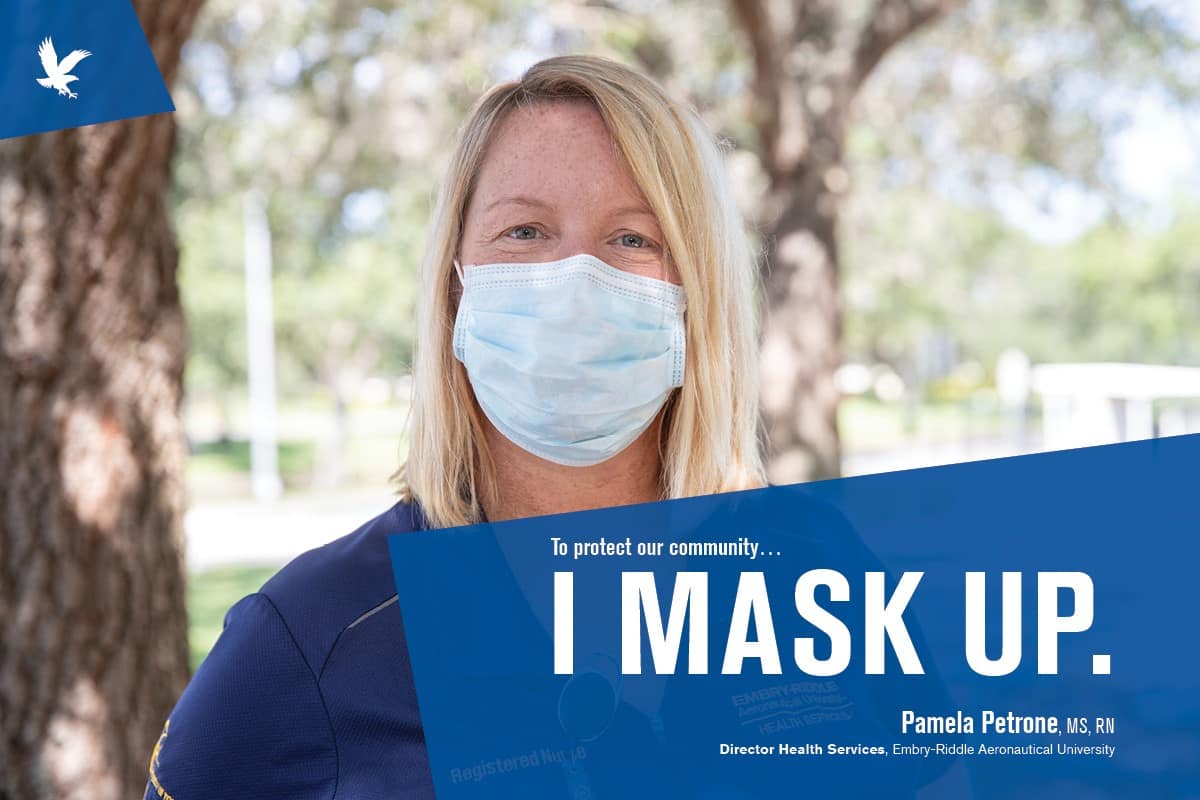 Last week, Embry-Riddle launched diagnostic Covid-19 surveillance testing for both of its residential campuses in Daytona Beach, Fla., and Prescott, Ariz., as well as its Worldwide Campus headquarters location in Daytona Beach. Embry-Riddle remains committed to providing the most timely, accurate information possible, to help everyone make informed decisions and enhance health precautions, as needed.
Results of last week's tests were as follows:
Daytona Beach Campus:
265 individuals tested by Embry-Riddle
3 cases confirmed positive by Embry-Riddle
3 other cases confirmed positive through external testing
1 previously confirmed case
Total Cases Confirmed to Date: 7
Prescott Campus:
84 individuals tested
0 confirmed positive by Embry-Riddle
1 other case confirmed positive through external testing
5 previously confirmed cases
Total Cases Confirmed to Date: 6
Worldwide Campus:
No new cases
3 previously confirmed cases
Total Cases Confirmed to Date: 3
Notes on the Most Recent Outcomes
On the Daytona Beach Campus, the three new cases confirmed by the university affected individuals affiliated with the Flight Department. Another three individuals were tested elsewhere and confirmed to be positive. We wish everyone a full and speedy recovery.
In addition to these cases, Embry-Riddle investigated a handful of unconfirmed cases, mostly within one off-campus group of roommates. In all cases, the university followed local and national guidelines in swiftly reaching out to everyone who had contact with confirmed or suspected cases. ("Contact" is defined as being within six feet of another individual for more than 15 minutes without a face covering.)
In this way, out of an abundance of caution, all those with a higher risk could be isolated, tested and cleared to return to Embry-Riddle. The university's isolation facilities and protocols exceed requirements. Clearance to return must be provided by both local health authorities and Embry-Riddle's Health Services team.
The university is leveraging its foundational safety culture while mandating face coverings, daily wellness checks, physical distancing and increased disinfection procedures. Diagnostic tests, approved by the U.S. Food & Drug Administration, are being completed in collaboration with healthcare providers. The surveillance testing, planned as part of Embry-Riddle's Path Forward strategy, will be ongoing throughout the summer and fall 2020 semester, for selected faculty, staff and students. Those selected for a required test will receive direct notification via email.
Health Reminders
If you are sick, or if you have been in close contact with someone with Covid-19, do not come onto Embry-Riddle's campuses.
If you have been on a cruise or in a highly affected region within the past two weeks, stay away from campus.
In case of chest pain or difficulty breathing, call 911.
Please promptly report any concerning symptoms (i.e., fever, cough or congestion) to the health services or campus safety unit on your campus:

Daytona Beach Health Services 386-226-7917
Daytona Beach Campus Safety 386-226-SAFE (7233)
Prescott Wellness Center 928-777-6653
Prescott Campus Safety 928-777-3333
Safety Requirements
Everyone must have a wellness check every 24 hours before spending time at Embry-Riddle.
Face coverings are mandatory in all common areas, both indoors and outdoors.
Physical distancing (six feet apart) is also required at all times.
Those selected to undergo mandatory diagnostic Covid-19 testing must self-quarantine as they await their test results.