Embry-Riddle Releases Spring 2021 Academic Calendar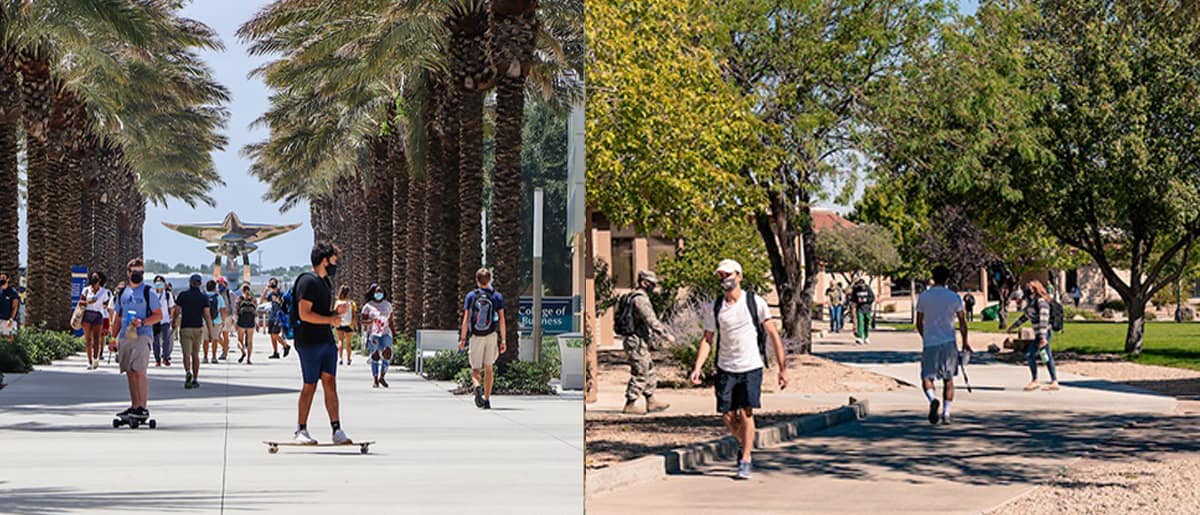 To help students and their families plan ahead, Embry-Riddle Aeronautical University today released its spring 2021 academic calendar, which has been specially configured to help reduce the threat of Covid-19 while promoting academic success.
Following the fall 2020 semester and winter break, face-to-face instruction will resume on Embry-Riddle's residential campuses in Daytona Beach, Florida, and Prescott, Arizona, one week later than usual, beginning on Wednesday, Jan. 20, 2021. Colleges and departments are currently scheduling classes for the spring 2021 semester. To minimize community health risks associated with extended travel, Embry-Riddle has eliminated the conventional spring break and two three-day weekends from the spring 2021 calendar.
Instead, two reading/study days have been added to the spring semester calendar, to provide everyone with a restorative change of pace and help students stay on track in their spring classes. Reading/study days will not be university holidays; Embry-Riddle will remain fully operational, but classes will be cancelled.
As in fall 2020, Embry-Riddle's spring 2021 semester will include a combination of face-to-face, hybrid/split (part face-to-face and part online), and online courses. The class schedule will continue to support physical distancing requirements in classrooms.
Students who are unable to attend on-campus classes during the spring 2021 semester due to the Covid-19 pandemic can work with their academic advisors to determine whether they can meet their program requirements through available online courses (including those offered through the Worldwide Campus).
Spring 2021 Academic Calendar
Jan. 18 – Martin Luther King Jr. Holiday
Jan. 19 – Orientation
Jan. 20 – Classes Begin
March 16 – Reading/Study Day
April 7 – Reading/Study Day
April 29 – Classes End
April 30 – Reading/Study Day
May 1 and 3-5 – Final Exams (Daytona Beach)
May 1 and 3-6 – Final Exams (Prescott)
For faculty and staff, fiscal-year or academic pay will remain unchanged.
Please note that Embry-Riddle's academic calendar will remain as follows, even if a surge in Covid-19 cases require us to migrate to fully online course delivery. We remain optimistic that our strict health precautions will keep our campuses as safe as possible.
Further Details to Be Released Soon
We will be issuing additional information regarding university travel; study abroad; campus visitors; and events, convocations and conferences in the upcoming weeks.
We will make every effort to announce a decision regarding spring 2021 commencement before the end of the fall 2020 semester.
Embry-Riddle is continuing to leverage its Path Forward plan, in keeping with all federal, state and local health guidelines and mandates. For additional information, please refer to our Covid-19 Updates webpage.
Posted In: Institutional News