Embry-Riddle Ranked One of Nation's Best for Vets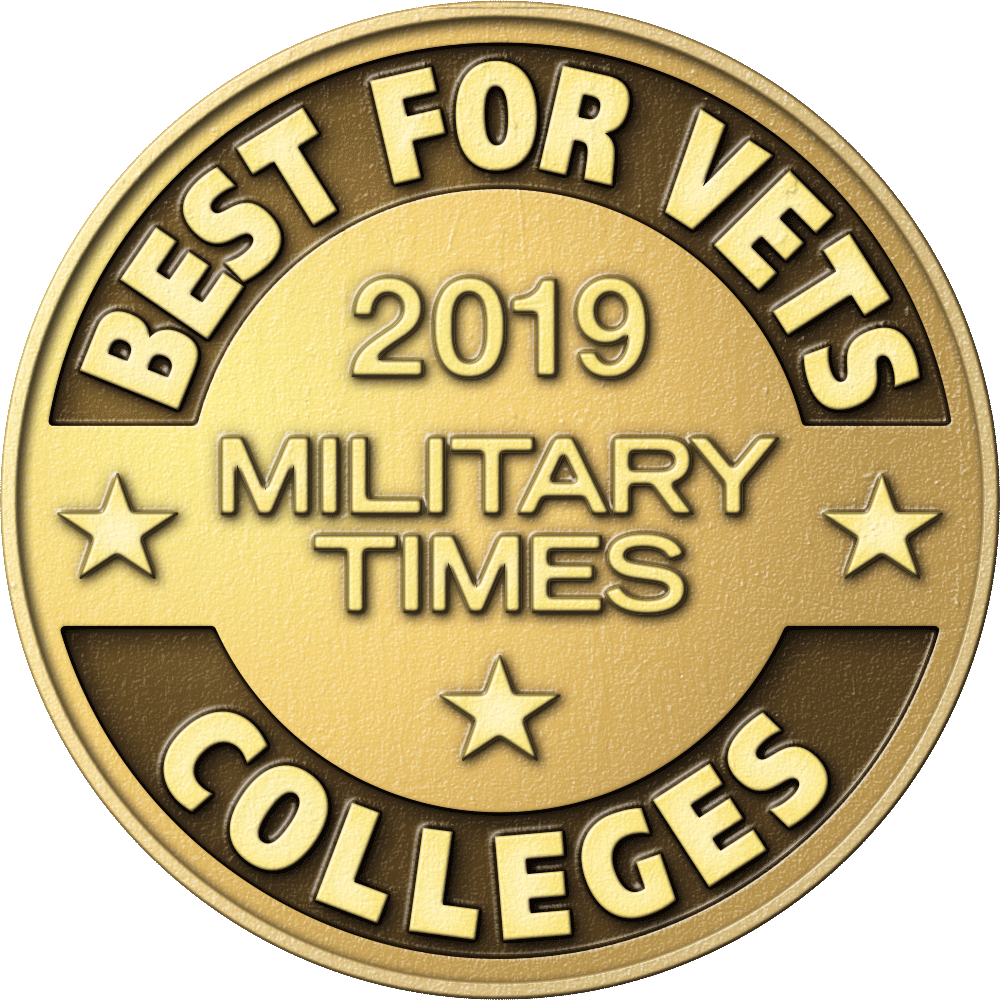 Embry-Riddle Aeronautical University has been named among Military Times Best for Vets: Colleges 2019 rankings for providing quality educational services to student veterans and students connected to the military.
Out of about 500 colleges who took part in this year's survey, 208 made the final list across the four categories of four-year, two-year, online/nontraditional, and career and technical colleges.
Embry-Riddle Worldwide was identified as No. 6 in the United States in the Online/Nontraditional category. In the Four-Year Schools category, Embry-Riddle's residential campuses in Daytona Beach, Florida and Prescott, Arizona were also named Best for Vets.
More than 18,700 undergraduate and graduate students currently attend Embry-Riddle's three campuses as active duty, reserve and veterans of the armed forces making up nearly 56 percent of our current student body. Another 674 students are considered dependents of veterans.
Embry-Riddle President P. Barry Butler is proud of veterans, service members and their families who he said hold a place of honor at Embry-Riddle.
"We are committed to providing the highest quality services and education to those who have made many sacrifices in service to our country," Butler said.
To be eligible for the ranking, a college or university must offer bachelor's or graduate degrees or both, complete the Best for Vets survey and identify themselves primarily as a general education institution. Most institutions that are considered for this ranking typically participate in the Yellow Ribbon program and are able to show they have signed on to any of the three major military and veteran education agreements: Principles of Excellence, 8 Keys to Veterans' Success, and the most recent Defense Department Memorandum of Understanding.
As part of the survey, colleges and universities disclose academic outcome and input data, describe many aspects of veteran culture on campus and meticulously document a wide array of services, special policies, accommodations and financial incentives offered to students with military ties. Military Times also factors in data from the Veterans Affairs and Defense departments, as well as three Education Department sources: the IPEDS Data Center, College Scorecard data and the Cohort Default Rate Database.
The institutions were evaluated in five categories: University Culture, Academic Outcomes/Quality, Student Support, Academic Policies, and Cost & Financial Aid. Some additional factors used when developing the rankings included 2017 enrollment data; veteran facilities; policy agreements; GI Bill gap coverage; student to faculty ratio; accreditation; retention rate and graduation rate.
"Military Times' Best for Vets designation is trusted throughout the veteran community as the mark of excellence for schools and other organizations that work with veterans, service members and military families," said George Altman, the Military Times editor in charge of the rankings
All Embry-Riddle's campuses were recently ranked among the top 10 Best for Veterans for the sixth year in a row by U.S. News & World Report.
To view the full rankings by Military Times, go to Best for Vets: Colleges 2019.
ABOUT MILITARY TIMES
The Military Times digital platforms and newsweeklies are the trusted source for independent news and information for service members and their families. The military community relies on Air Force Times, Army Times, Marine Corps Times, Navy Times and Rebootcamp for reporting on everything important to their lives, including: pay, benefits, finance, education, health care, recreational resources, retirement, promotions, product reviews, and entertainment. Military Times is published by Sightline Media Group. To learn more, visit www.militarytimes.com.