Embry-Riddle Daytona Beach Athletics Program Now NCAA Member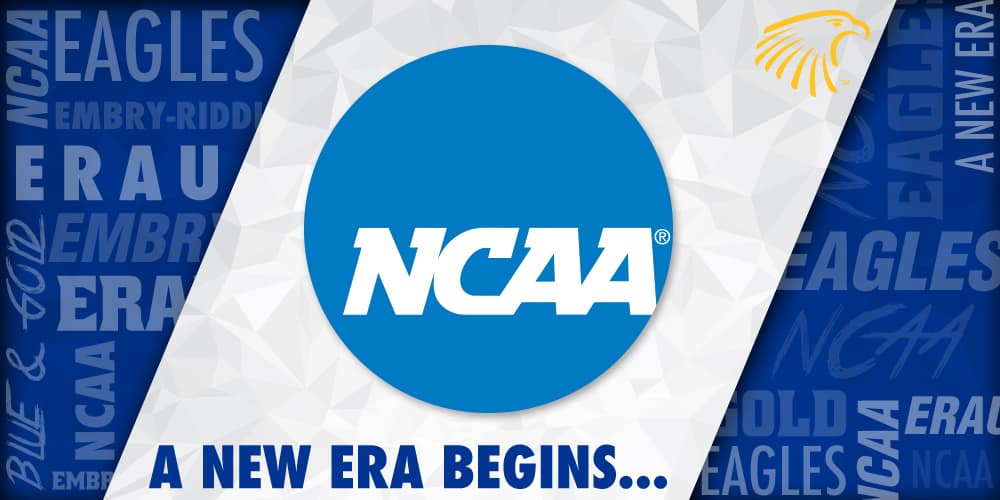 The NCAA Division II Membership Committee has determined that the Embry-Riddle Athletics program has successfully completed the transition from the NAIA to full-fledged NCAA II membership. The announcement was made on Monday, July 17, by University President Dr. Barry Butler at a press conference in the Henderson Welcome Center.
"Whether it is in the classroom or in athletic competition, our student athletes are held to the highest standards," said Embry-Riddle President Dr. P. Barry Butler. "This inclusion in a nationally recognized organization such as the NCAA that shares this vision affirms our ongoing commitment as a university to student diversity, opportunity and success."
Achieving full NCAA Division II membership is a three-year process and Embry-Riddle officially started the journey in 2014. After playing its final season of NAIA competition in 2014-15, the Eagles played the last two seasons against NCAA II competition, but as a provisional member, the program was not eligible for team/individual awards or postseason play. As a full member, the Eagles are now eligible for the postseason in both the Sunshine State Conference and the NCAA, as well as all NCAA and SSC individual and team awards.
"This is a major milestone in the history of Embry-Riddle and a crowning moment for years-worth of work from dozens of individuals on our campus," Embry-Riddle Director of Athletics John Phillips said. "This is much, much more than just a transition for our athletic department, it's transformational for the entire University. This transition has been a collaborative effort from numerous departments on campus and dozens of faculty and staff from across the campus."
The Blue and Gold will look to continue a tradition of excellence as they begin the Division II era of the athletics program. Embry-Riddle enjoyed great success throughout its time as a member of the NAIA and The Sun Conference, winning 104 regular season Sun Conference championships, 32 Sun Conference tournament titles, 29 individual national championships, as well as the 2000 Men's Basketball national championship and the 2013 Men's Tennis title. Embry-Riddle also won 16 consecutive Sun Conference Commissioner's Cup titles and finished in the top 10 in the Learfield Sports Directors' Cup every year from 2008 to 2015.
"During our 25-plus year history, we've become known for our academic success, our commitment to community service and for being a school committed to the integrity of the student-athlete experience," Phillips said. "This will not change. We remain committed to the Student-Person-Player concept that has served us so well."
Embry-Riddle's student-athletes have also proven to be very successful in the classroom, as evidenced by the 321 NAIA scholar-athletes and 80 CoSIDA Academic All-Americans since 1990. Embry-Riddle has had 59 of those CoSIDA Academic All-Americans come since 2010, which is the 11th-highest total among NCAA schools across all three divisions. The Blue and Gold also earned the highest ASR in the Sunshine State Conference in 2016, which measures the Academic Success Rate of student-athletes over a six-year period. Embry-Riddle scored a 94 in the most recent ASR release, which is tied for ninth highest in the country in NCAA Division II.
Embry-Riddle has seen its athletics program grow from just three sports in 1988, to 22 sports in less than 30 years. The newest additions to the department include men's and women's lacrosse and men's and women's rowing, which will all compete in their inaugural seasons next spring.
"We're excited for our future and eager to begin this new challenge in the NCAA and the Sunshine State Conference," Phillips said. "The brand of the NCAA is immediately recognizable everywhere you go, both here in the United States and internationally."
The NCAA Division II Management Council will review and approve the Membership Committee's decision during its July 17-18 meetings, and if no further action is taken at that time, the membership change will take effect Sept. 1.
At that time, the Eagles will be eligible to compete in NCAA-sanctioned postseason competition.
Embry-Riddle's first contest as a full-fledged member of Division II will be held on Thursday, Aug. 31 when the men's soccer team hosts Francis Marion University (S.C.) at the Embry-Riddle Soccer Stadium at 7 p.m.