Embry-Riddle Celebrates 1,044 Fall Graduates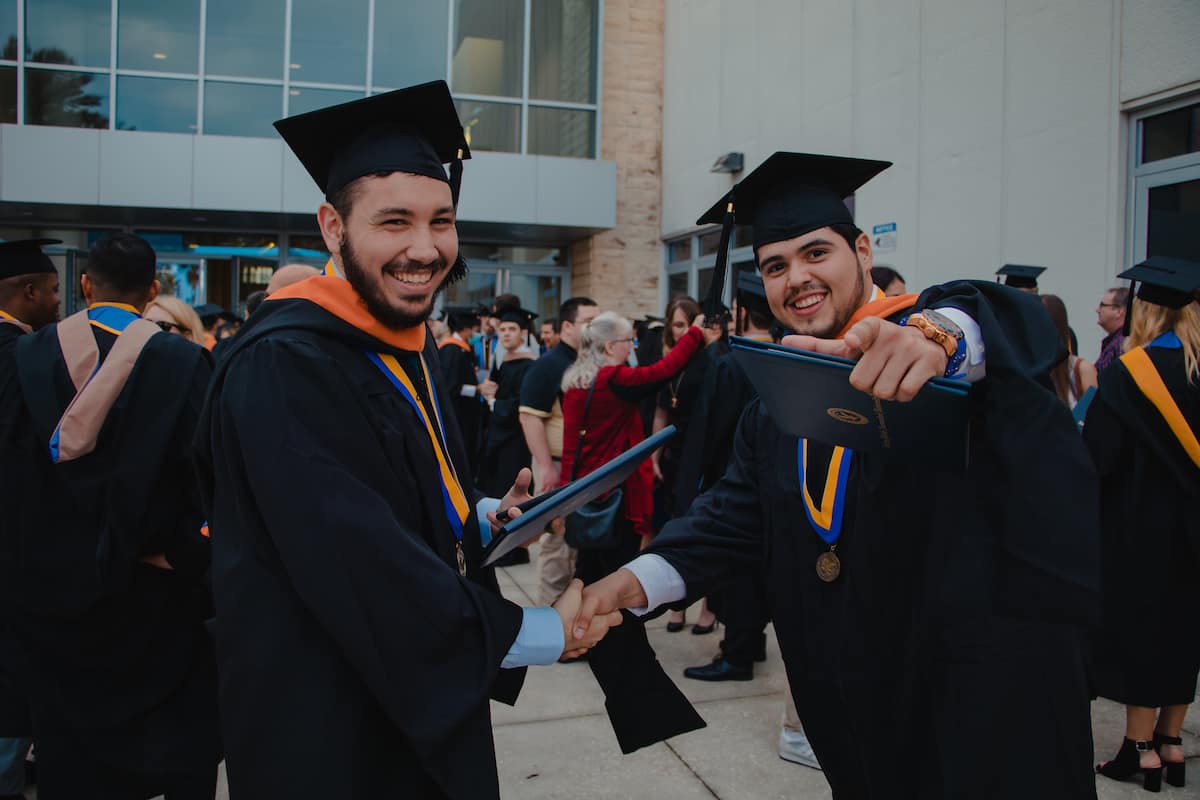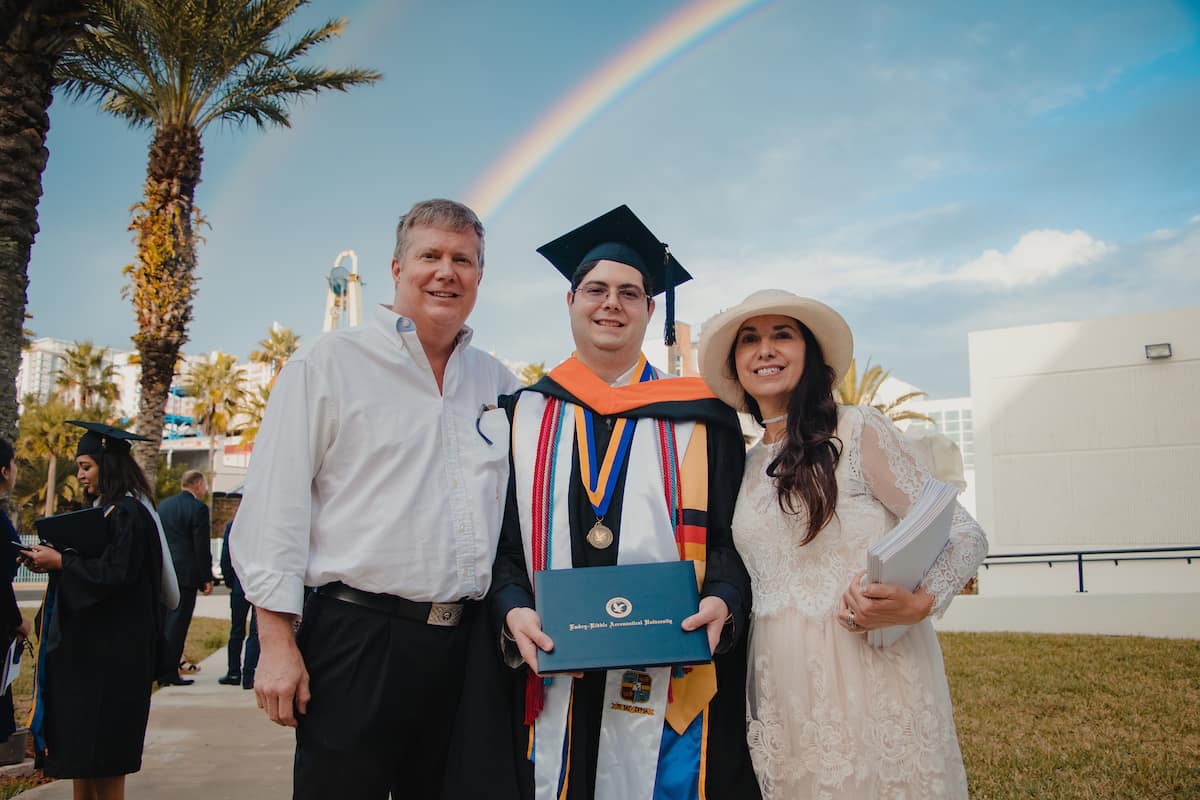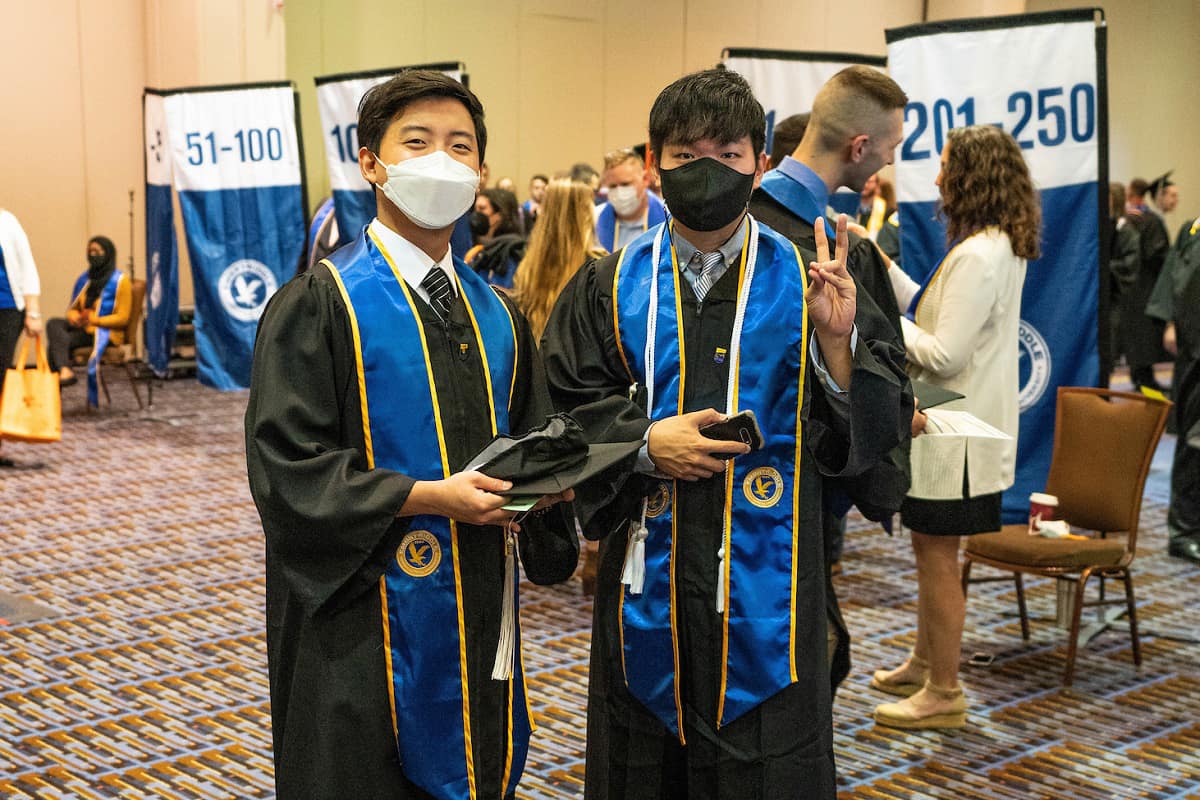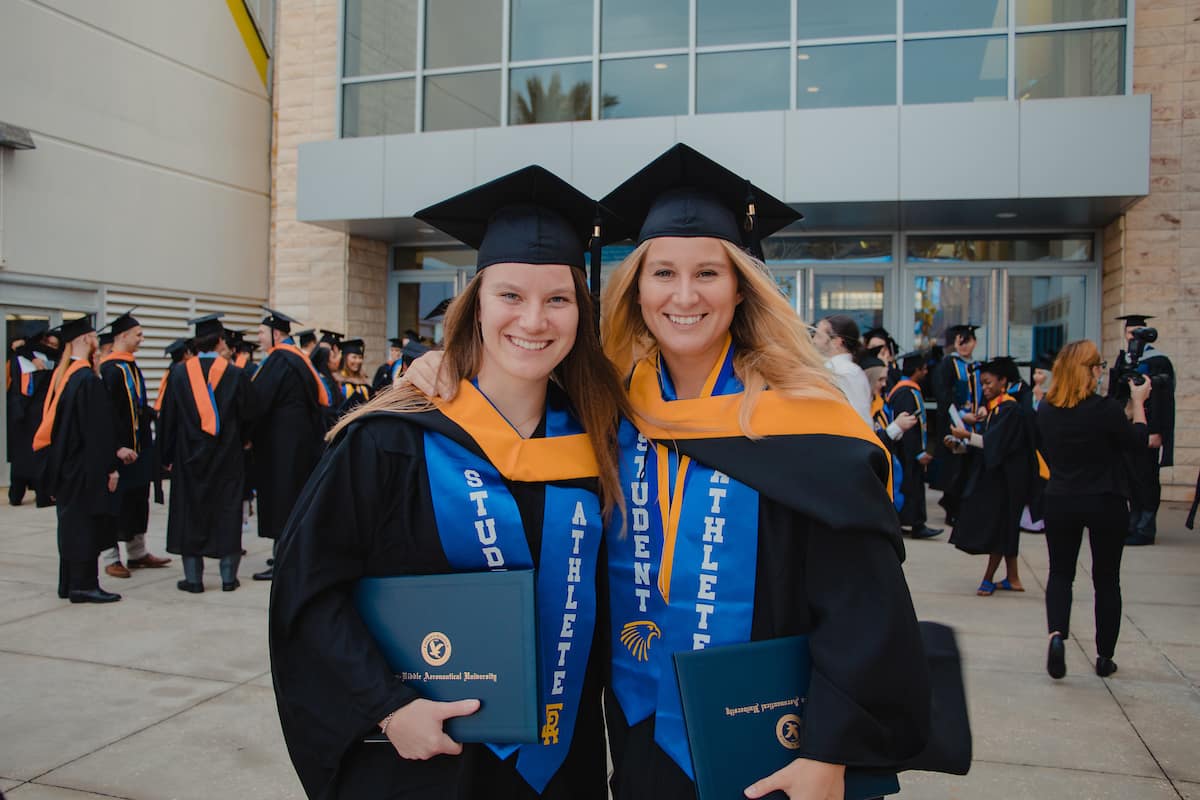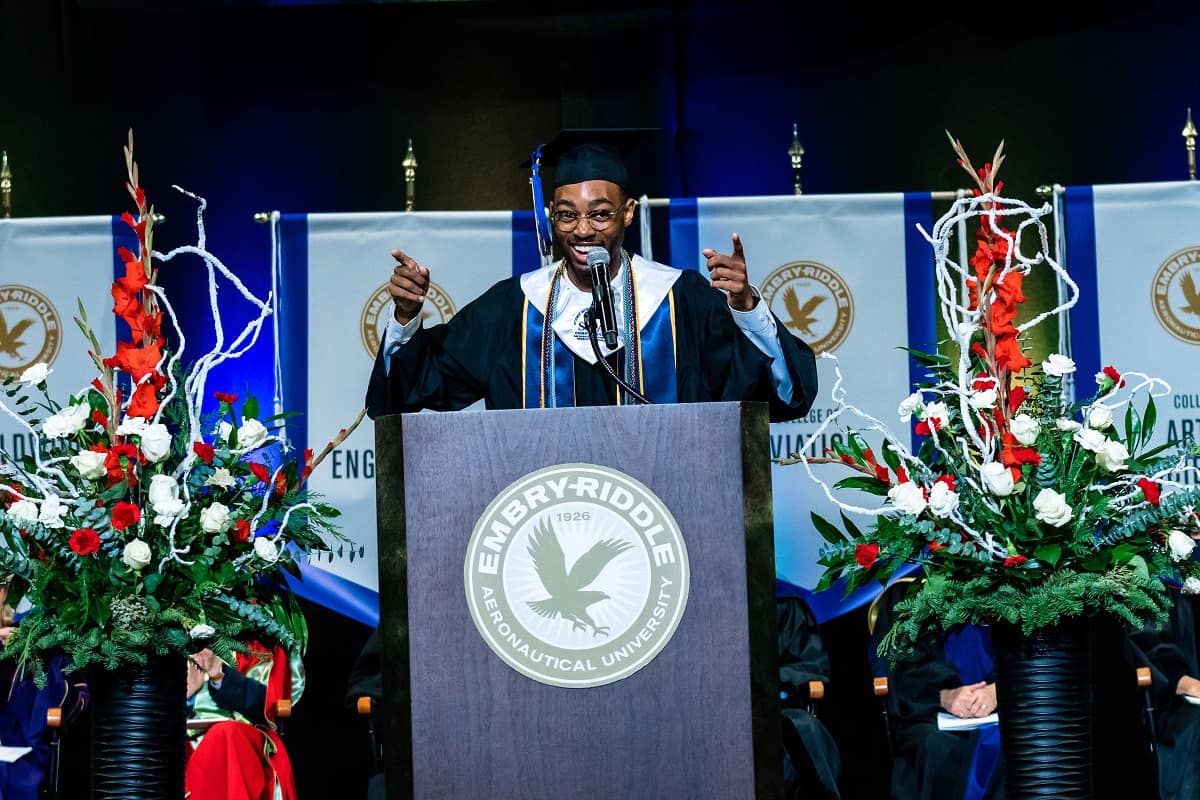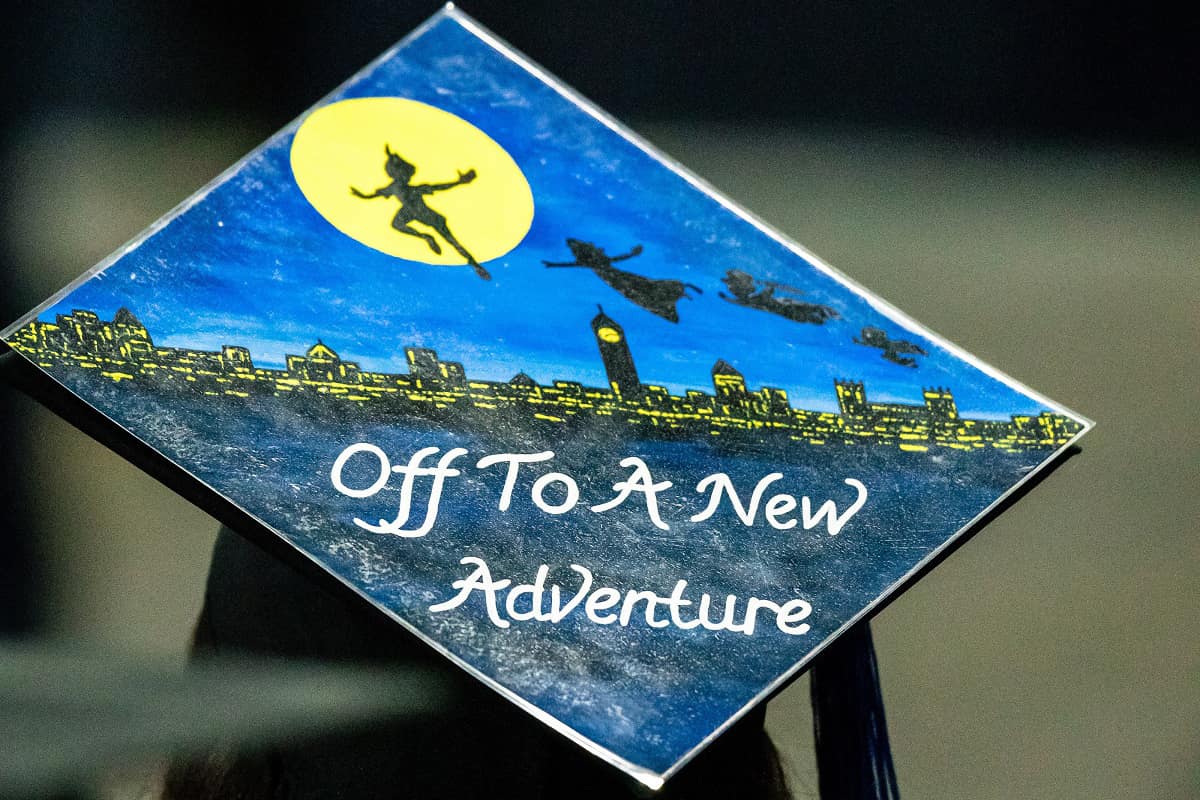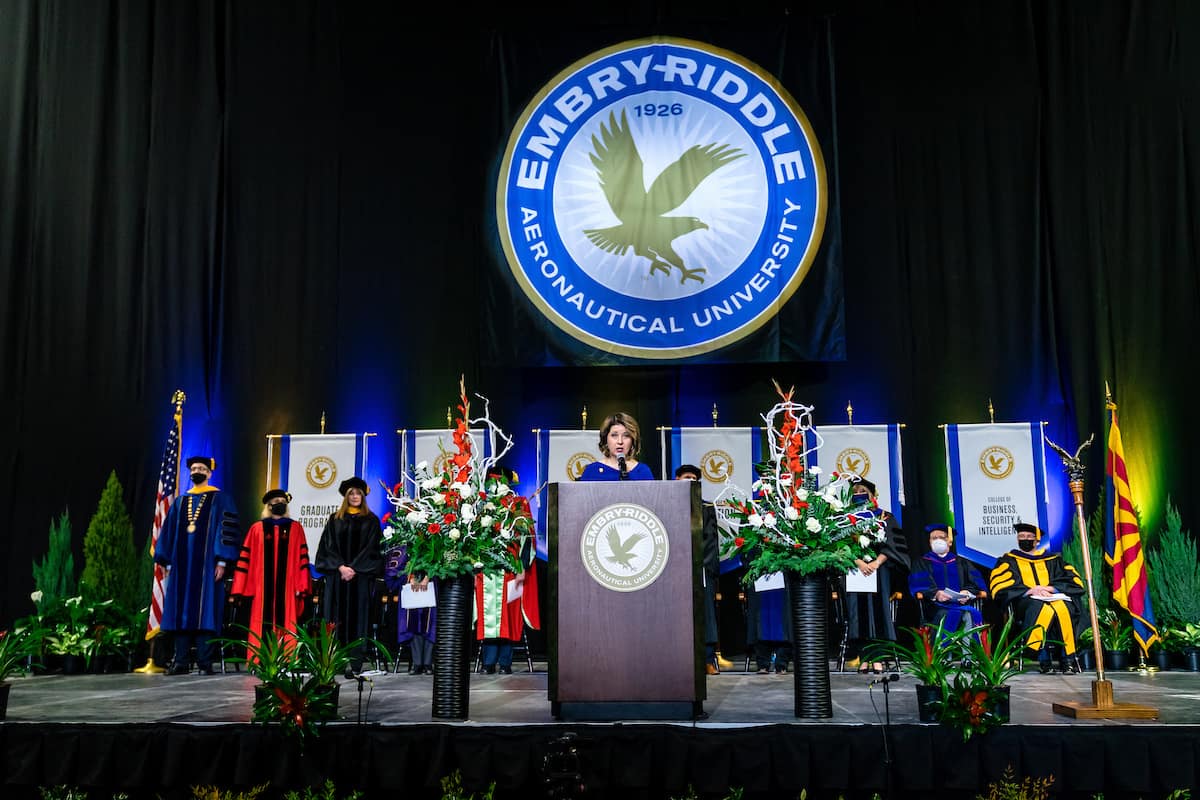 Embry-Riddle Aeronautical University celebrated 1,044 graduates in commencement ceremonies this past week in Daytona Beach, Florida, and Prescott, Arizona.
The Honorable Robert Sumwalt ('14), former chair of the National Transportation Safety Board (NTSB), spoke at the Daytona Beach Campus ceremony, while former NASA astronaut Dr. Janet Kavandi, who is also on Embry-Riddle's Board of Trustees, spoke at the Prescott Campus event.
"Obtaining a college degree is a huge accomplishment," Sumwalt told graduates, during his address. "Today you are standing on the threshold of your future – a future I am convinced will be propelled upward by your Embry-Riddle education."
Daytona Beach Campus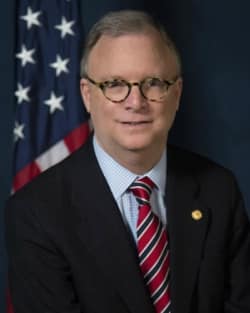 The Honorable Robert Sumwalt ('14), former chair of the National Transportation Safety Board and recently named leader of Embry-Riddle's new Center for Aviation and Aerospace Safety, delivered the keynote address at the Daytona Beach Campus Fall 2021 commencement ceremony.
In ceremonies held Thursday, Dec. 16, at the Ocean Center in Daytona Beach, Florida, 577 undergraduate students walked the commencement stage to celebrate earning their diplomas; 114 celebrated completing master's degrees; 24 earned doctoral degrees; and 15 earned associate's degrees. Among the graduating class were 21 Worldwide Campus graduates, as well as 63 Eagles who chose to walk in this event after pandemic-related scheduling changes impacted last year's ceremonies.
Watch a recording of the ceremony online — via the "On Demand" tab.
The Daytona Beach Campus also celebrated 13 Air Force ROTC, 12 Army ROTC, seven Navy ROTC and one Marine Corp. cadet who transitioned into military positions as part of their Embry-Riddle graduation.
"Remove the barriers," Sumwalt said. "Don't let anyone or anything prevent you from fulfilling your dreams."
He pointed out that wisdom is knowing the right path, integrity is taking it and professionalism is doing the right things even when no one is watching.
"Leaders have the courage to stand alone," Sumwalt added, quoting former Secretary of Transportation Andy Card, and cited moments in his career when he had to do so. "It does take courage, but in the moments we choose to go against the grain, we discover the calibration of our moral compass and find out what we are made of."
Sumwalt has recently earned two high honors from the aviation industry upon his departure from the NTSB after nearly 15 years of service. His career contributions were recognized with the National Business Aviation Association's Silk Scarf Award and the 2021 Flight Safety Foundation – Boeing Aviation Safety Lifetime Achievement Award.
The NBAA Silk Scarf Award celebrates special career contributions to the business aviation community. Embry-Riddle trustee John Rosanvallon, past former of Dassault Falcon Jet, was the 2019 honoree.
A graduate of Embry-Riddle Worldwide, Sumwalt earned a Master of Aeronautics degree. He has returned to Embry-Riddle as a guest of the Aviation Outlook webinar series hosted by the College of Aviation and will be leading Embry-Riddle's new Center for Aviation and Aerospace Safety. He is also a transportation safety analyst for CBS News.
"As you stand on the brink of a great adventure, I hope you will remember it is not the quantity of miles, it is the quality of the journey," he said. "When you do what you love and you do it well, and you do it with passion and integrity and professionalism, you will have a worthwhile journey."
In addition to Sumwalt, Engineering Physics Chair Dr. John M. Hughes and Senior Class President Raquel Villagomez Iriarte, who earned a Bachelor of Science in Aeronautics degree, addressed the class.
Prescott Campus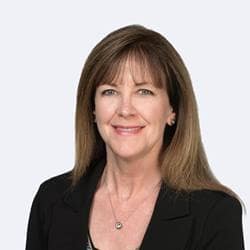 Dr. Janet Kavandi, NASA astronaut, president of Sierra Space and member of the Embry-Riddle Board of Trustees, delivered the keynote address at the Prescott Campus ceremony.
The Prescott Campus honored 314 graduates on Saturday, Dec. 18, at the Findlay Toyota Center in Prescott Valley, Arizona.
Featuring 179 students from the Prescott Campus and 52 from the Worldwide Campus, the graduating class included 12 students receiving military commissions from Air Force ROTC. In addition, 83 students impacted by pandemic-related scheduling changes returned to walk in the event.
Watch a recording of the ceremony online.
"We were so excited to once again celebrate the accomplishments of our graduates with a live, in-person commencement ceremony," said Prescott Campus Chancellor Dr. Anette Karlsson. "Their dedication, strength and perseverance in pushing forward with their studies through a global pandemic is a testament to the quality and character of our Embry-Riddle students — and it makes this group of graduates even more impressive."
The keynote speaker was Dr. Janet Kavandi, president of Sierra Space in Louisville, Colorado. There, she is responsible for the company's space programs, including the Dream Chaser spaceplane, which is under contract to deliver supplies to the International Space Station. Dream Chaser is a winged vehicle and the only resupply vehicle capable of landing on a commercial runway. SGA President Melea Tucker also addressed the class during the event.
"I was born in the year that Sputnik first flew to space," Kavandi said. "That put the whole space race into motion and, eventually, it resulted in my personal ambition of flying in space. My wish now in the final years of my career is to enable you to be that generation that lives and works in space as one of your normal job options. Instead of commuting to Phoenix, you could commute to a space station 200 miles up."
Kavandi also recently won a Lifetime Achievement Award from Women in Aerospace, a leadership and education advocacy group, and became an officer on the Commercial Spaceflight Federation board, an organization with more than 90 member companies that collaborate to create high-tech jobs and a sustainable space economy.
"You all have something within you that drives you, that makes you proud of who you are and what you want to become, and how you want to contribute to the world and make it a better place," Kavandi added. 'Use that energy to set your goals and then work really, really hard toward achieving them."
*Jason Kadah and Kim Sheeter contributed to this report.