Embry-Riddle Breaks Ground on New Eagle Learning Complex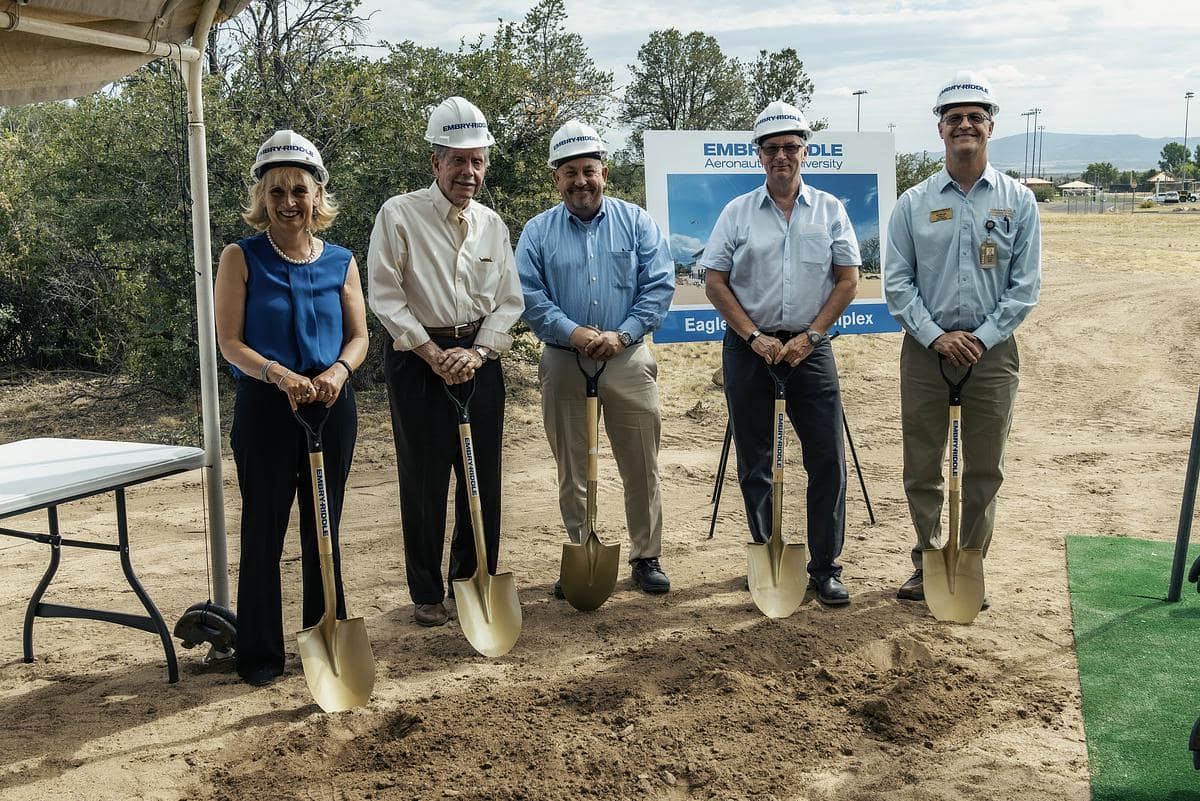 Community leaders and elected officials on July 11 joined Embry-Riddle Aeronautical University's Dr. Anette Karlsson, chancellor of the Prescott, Arizona campus, in breaking ground for an advanced learning complex designed to prepare future innovation leaders.
The Eagle Learning Complex will be part of a major, multi-year improvement plan intended to ensure that Embry-Riddle's Prescott Campus remains a shining jewel of aviation education in the American west.
"Over the past three years, Embry-Riddle has made significant investments in new aircraft and simulators for the Prescott Campus," Karlsson explained at the groundbreaking event. "Over the next three years, the university will invest even more in on-campus improvements, including a new student union and residence hall, modernized Flight Training Center, the Robertson Flight Simulation Center and a Strategic Academic Flight Education Complex (SAFE). These improvements will provide improved learning, teaching and research facilities to benefit our entire community."
With Dr. Kathy Lustyk, vice chancellor and associate chief academic officer, Chancellor Karlsson welcomed these and other supporters at the event:
Chairman James Gregory, Yavapai County Supervisor
Chino Valley Mayor Jack Miller
Chino Valley City Manager Cindy Blackmore
Sheri Heiney, Prescott Chamber of Commerce
Board of Visitors

Tonia Fortner
Kathy Sischka
Jim Lee

Tracy and Nancy Doryland, Doryland Wind Tunnel Sponsors
Local and Phoenix friends
Dane Cusimano (Philanthropy Council member)
Ron James
Patty Newton
Matt Pruett
Encompassing 11,000 square feet, the Eagle Learning Complex will feature a new 8,600 square foot wind tunnel laboratory and a 2,400 square foot propulsion lab, said Dr. Ron Madler, longtime dean of the College of Engineering. "As demand in the aerospace industry remains strong, we look to support growth in areas such as rocket propulsion, commercial space, urban air mobility and autonomous systems," Madler said. "This new learning center allows us to provide outstanding opportunities for hands-on education and research."
Madler was joined at the ceremony by Dr. Dietmar Rempfer, who will take over as dean of the College of Engineering this fall. Rempfer commended the new Eagle Learning Complex because it will provide students with hands-on experiences. "To become exceptional engineers," he said, "our students need not only to grasp mathematics and science but also to intimately understand the physical phenomena their designs aim to harness. This visceral understanding is what sets apart a good engineer from a great one. The facilities we are celebrating today will provide our students with precisely that kind of experiential learning."
Additional information on the Prescott Campus Improvement plan can be found
online
.
Posted In: Institutional News